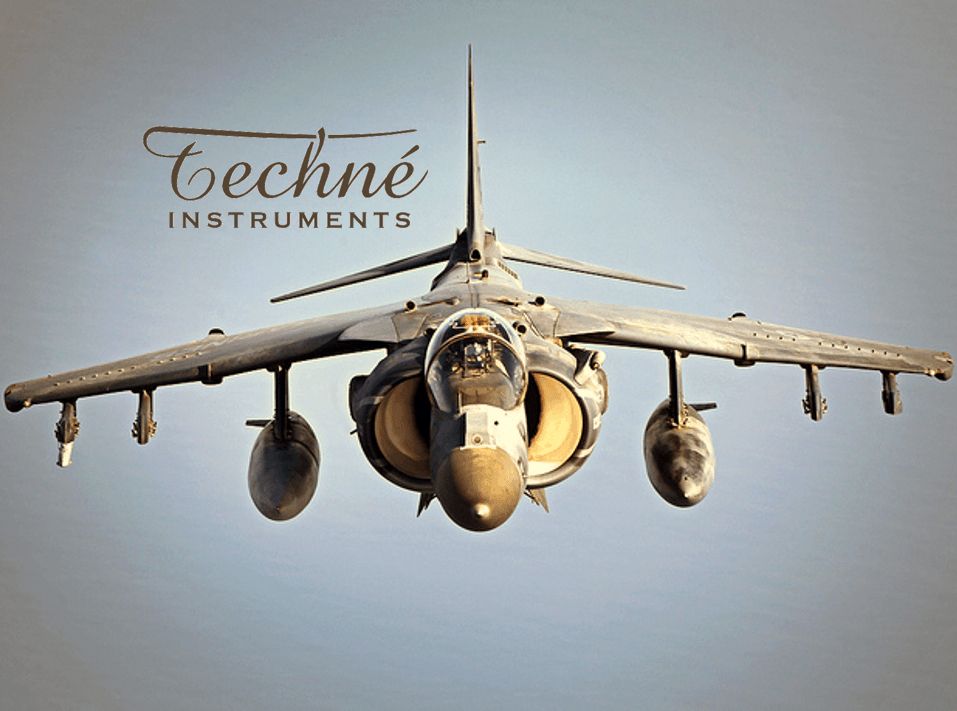 Name of Reviewer:
Mike W aka UKWolfeman
Watch Being Reviewed:
Techné Instruments Harrier TE-363.042 (Miyota 9015)
watch donated for review
Company Information:
Email:

[email protected]


Website: http://www.technewatches.com/en
Facebook: https://www.facebook.com/technewatches?v=wall
Twitter: https://twitter.com/technewatches
About/History:
"The word "techné" comes from the Ancient Greek [texni], which translates to craftsmanship or craft, « the rational method involved in producing an object through art ». Launched in Autumn 2009, the watches designed by and manufactured for Techné Instruments have enjoyed a growing popularity on Horological forums in merit of their quality and retro-inspired utilitarian design. Each timepiece signed by Techné Instruments is the result of a careful design process that blends ergonomics and style.
At Techné Instruments, we try to uphold accountability and sustainability:
* Whenever possible, we use watch calibres with a renewable energy source
* We compensate for our carbon emissions through a partnership with CarbonFund.org
* Whenever possible, we try to run our business' Web site and electronic correspondence on carbon-neutral servers.
* Whenever possible, we use recycled paper for our printed literature; and recycled cardboard for our shipping boxes
* We donate to the Asia Foundation, a nonprofit committed to the development of a peaceful, prosperous, just, and open Asia-Pacific region."
Specifications:
Smallest unit displayed 4 Hz
Calibre Miyota 9015
Autonomy (hours) 42
Accuracy (minutes per year) 190
Measurements Ø 41 x 51 x 11.1 mm
Water-resistance 5 bar (50 m / 199 ft. static) ISO 2281 certified
Jewel count 24
Time base Inline Lever Escapement
Limited Warranty 12 months
Measure between horns (lugs) 20 mm
Crystal Scratch-proof sapphire with inner anti-reflective coating
Anti-magnetism 4'800 A/m (ISO 764 certified)
Price: $430 USD
Stock Photo: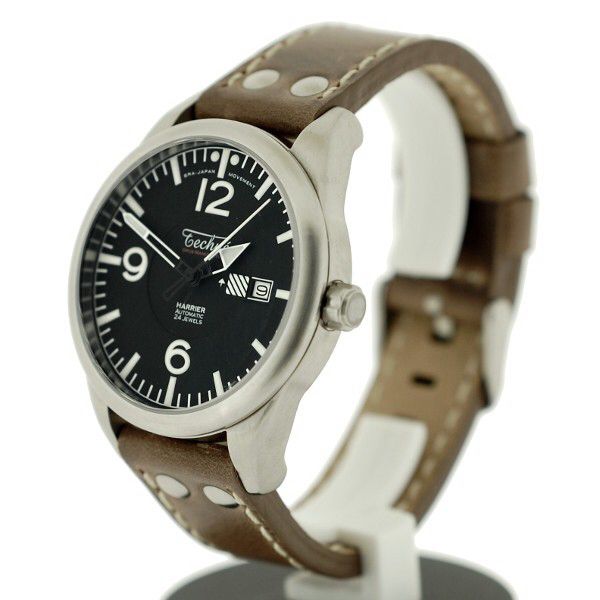 Packaging and First Impressions:
"Wow, Impressive little pilot watch", were the first thoughts that crossed my mind. However before I even glanced at the Harrier I was quite impressed with the brand new packaging from Techné. All new watches beginning in November will be packaged in a very nice looking bamboo jewelry box. The box contains a plush pillow and is lined well for protecting the watch during shipping. If you like a nice presentation box with your watch purchases you will get exactly that beginning in November.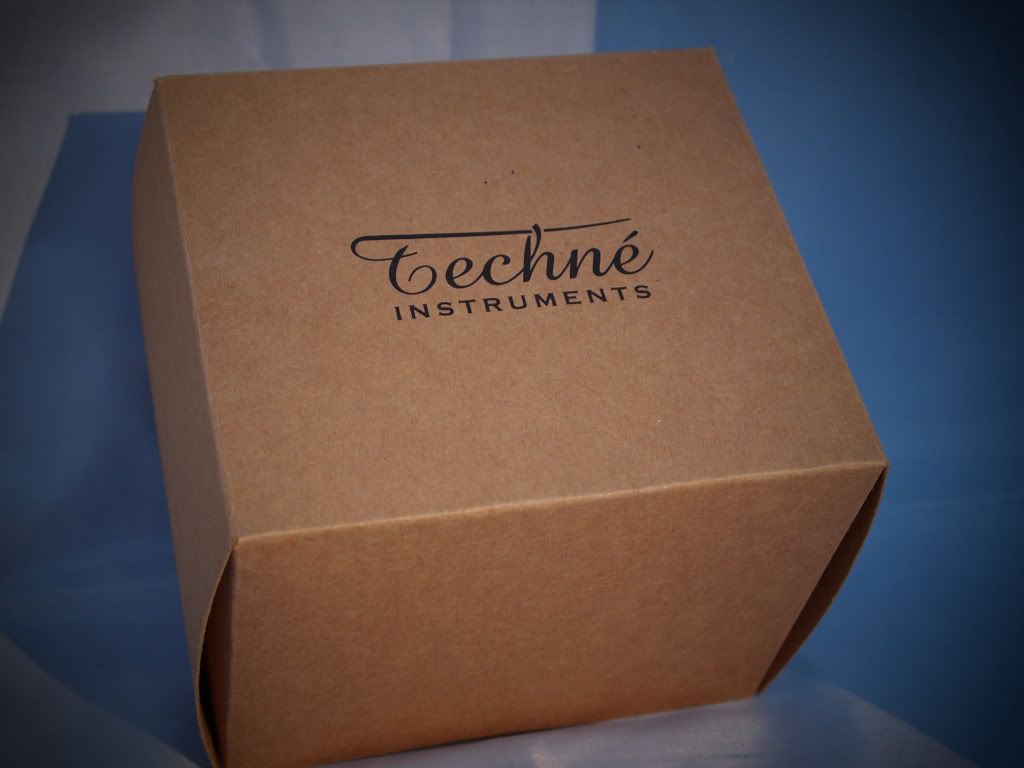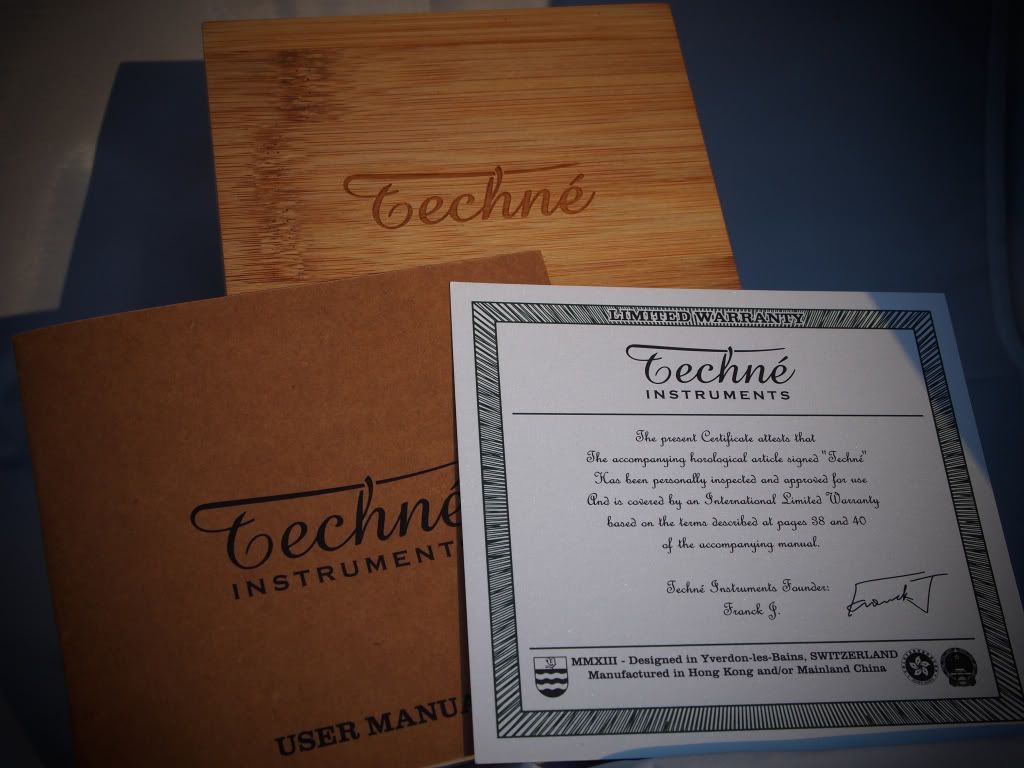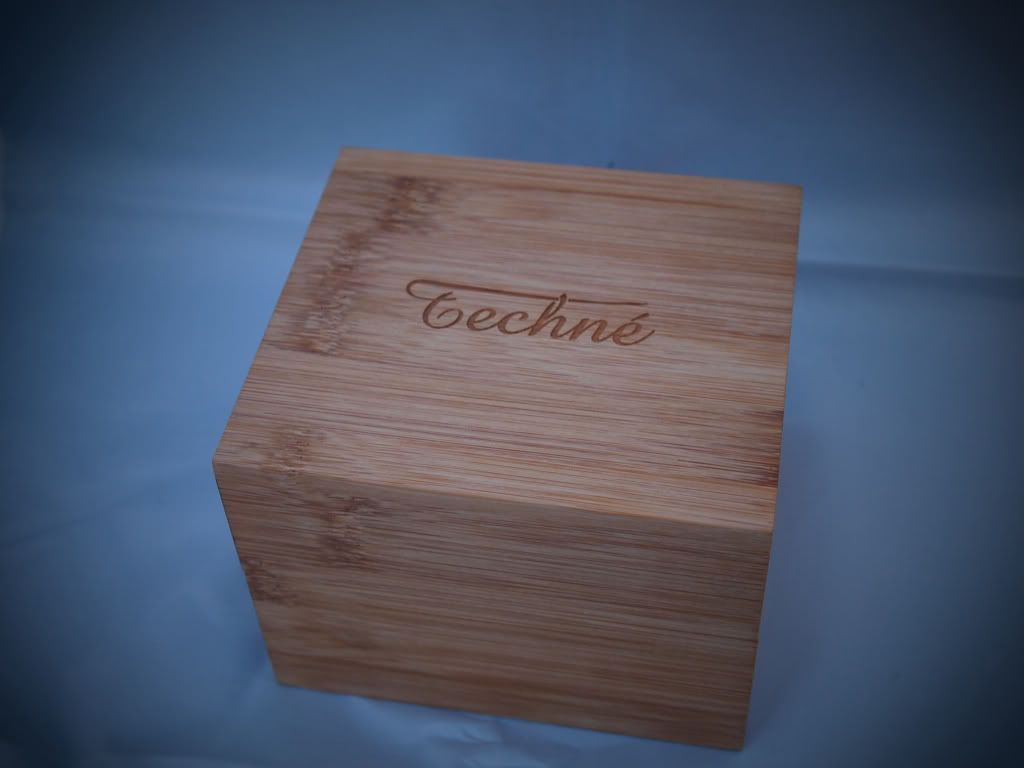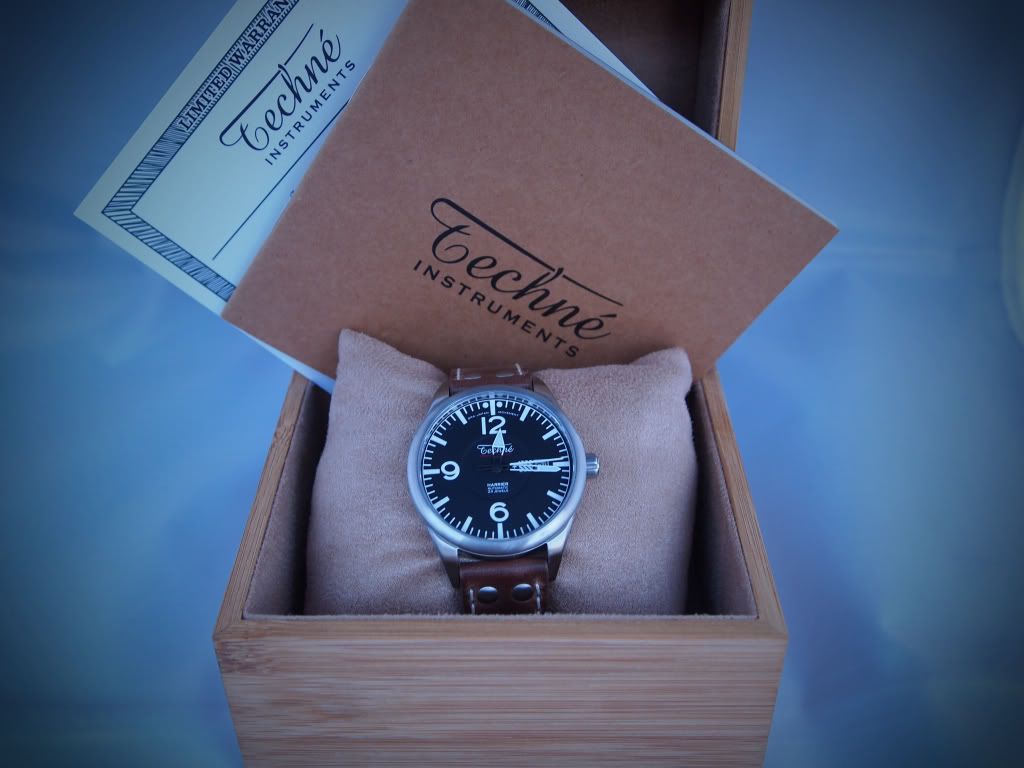 Case:
The Harrier case is forged in brushed 316L stainless steel. I want to point out the multi-angle lug design which provide a rather unique look over many other off the shelf cases. The case does measure
41mm
and with the crown right around
44mm
. The case measure just slightly over
11mm
in overall thickness providing for a slim look on the wrist. The
lug to lug
measures around
50mm
which is a nice size that will look very nice on a wide array of wrist sizes.
The signed screw-down crown measures almost
6mm
. The scalloped shape of the crown makes the crown rather easy to grasp and rotate. I found the crown rotation on this particular sample slightly rough and requires a bit of care backing out slightly to prevent a possible miss thread but with care no real problem. The crown engages in two positions the first for date setting and the second for the time. Both positions are smooth and work precisely as needed. The most interesting aspect of the crown is the dive helmet logo. According to Techné they wanted to emphasize the water resistance of the pilot watch at
50 meters
meeting ISO 2281 standards. Future productions the dive helmet logo will be replaced with a script font "T". Overall the Harrier case has a very appealing case design, screw down crown and some decent water resistance for a pilot watch.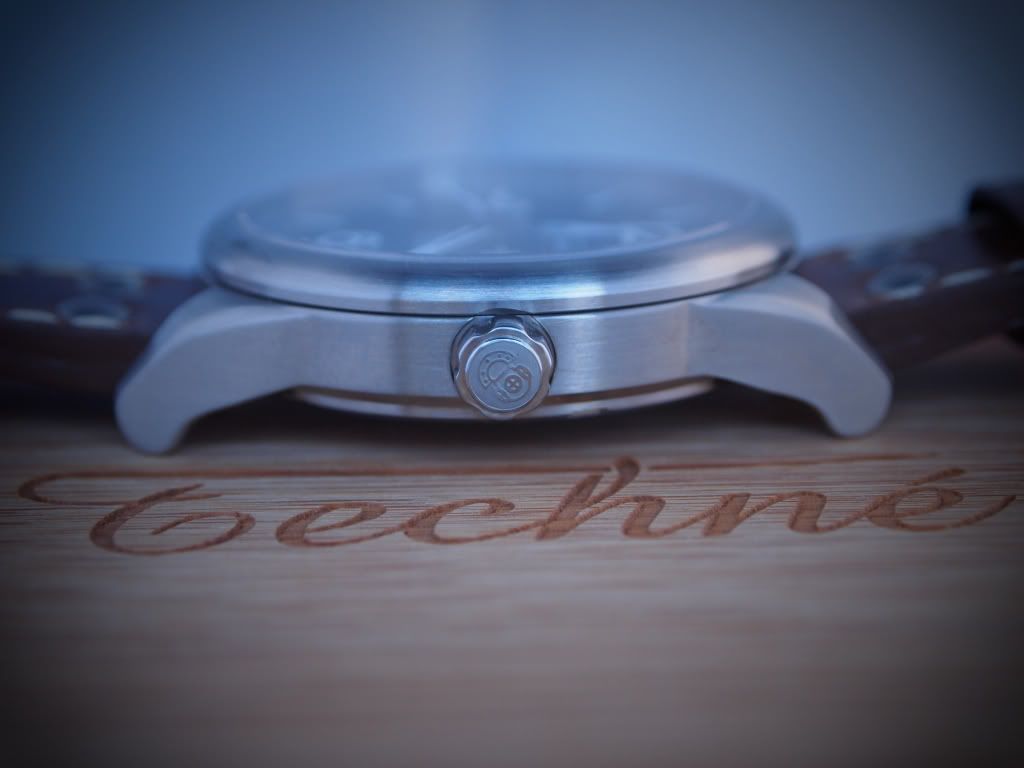 Bezel, Crystal, Dial and Hands:
The bezel is fixed as with many pilot watches. The watch is fitted with an interior AR coated
sapphire crystal
with an opening measuring approximately
35mm
. The nice dial opening size aids in the illusion of a slightly larger than 41mm case. The Harrier dial design draws inspiration from plane cockpit instruments and is uncluttered enhancing legibility. The most unique feature of the dial I believe is "Opus Manufactum" marked in red above center dial which is Latin for "hand-worked". All Techné watches are assembled by hand thus the notation on the dial. Various additional information such as the company name, model, and movement information are also neatly painted on the dial.
The dial features luminous and oversized minute marks and numerals painted with C1 Superluminova that aid in dim lighting legibility. The dial features dots on either side of the 12 o'clock position which allows for rather quick visual orientation similar to many watches carried by military troops in the early 20th century. A date window is positioned at the 3 o'clock position and is of appropriate size for easy legibility. Great choice of white date wheel and black numerals to correspond with the dial layout. The hour and minute hands are outlined in white enamel and contain lume near their tips. The hour and minute hands are skeletonized which allows the wearer to see the dial beneath. Great dial layout (airplane instrument panel inspired), sapphire crystal, and decent lume are fantastic features for a sub $450 watch.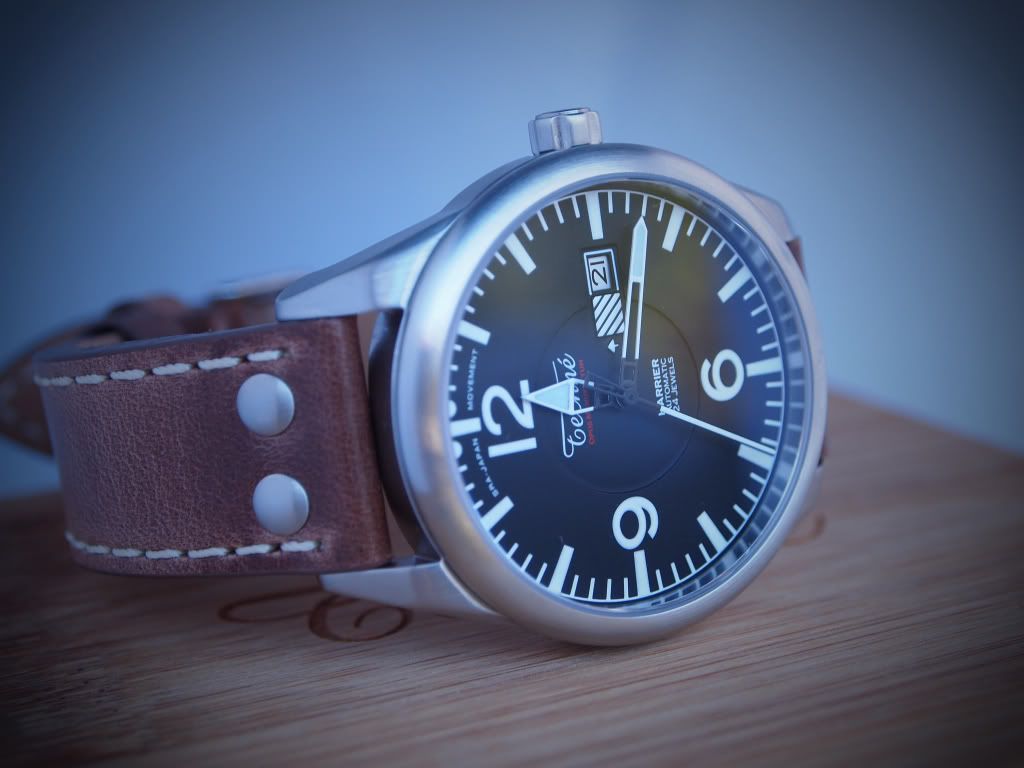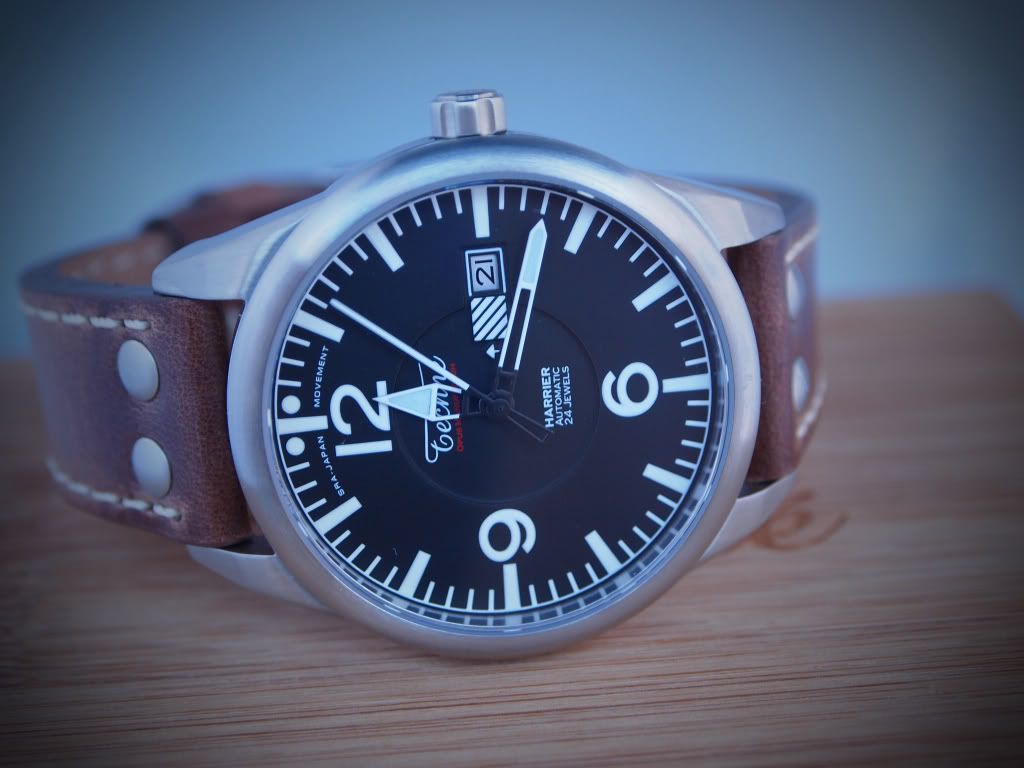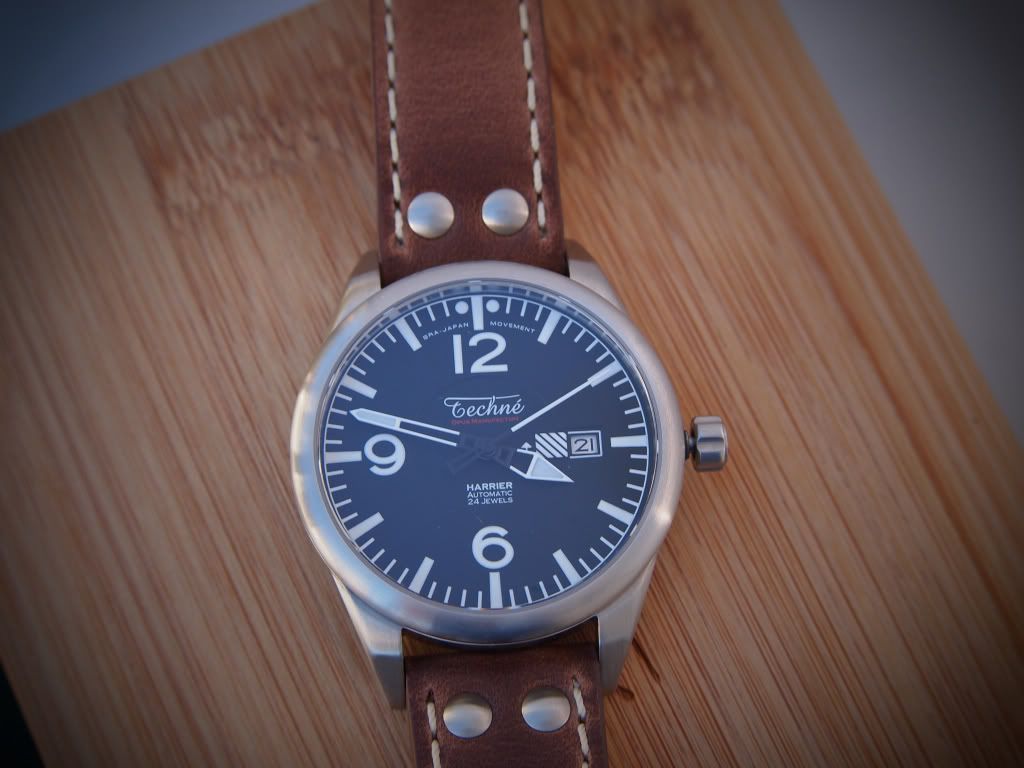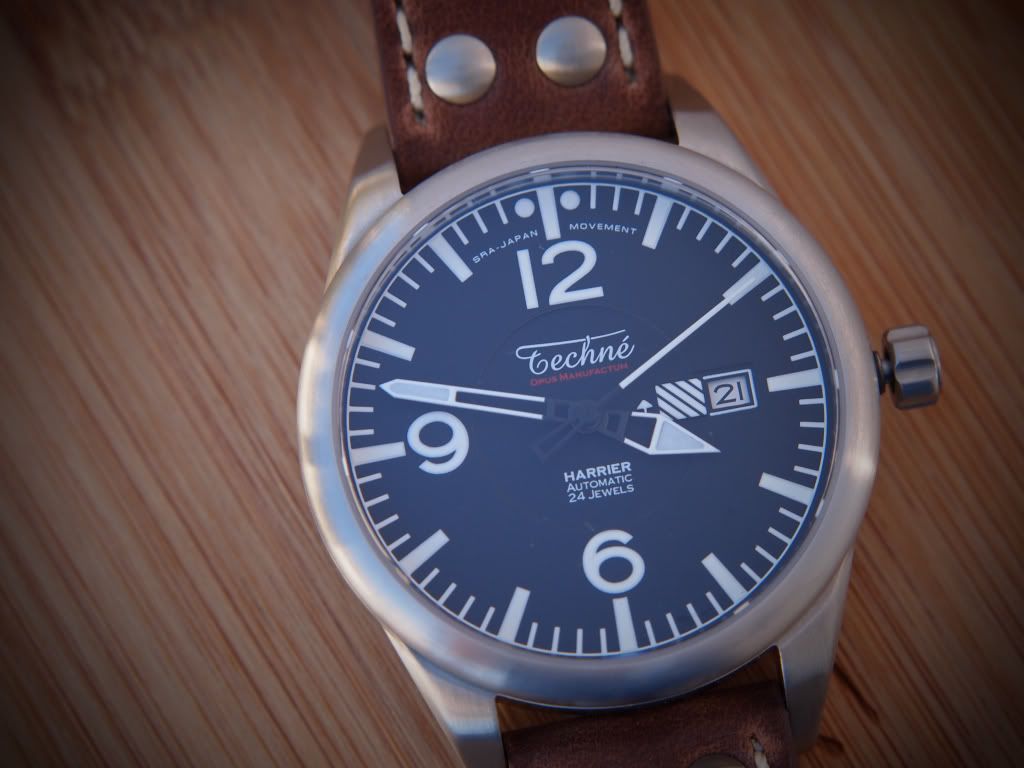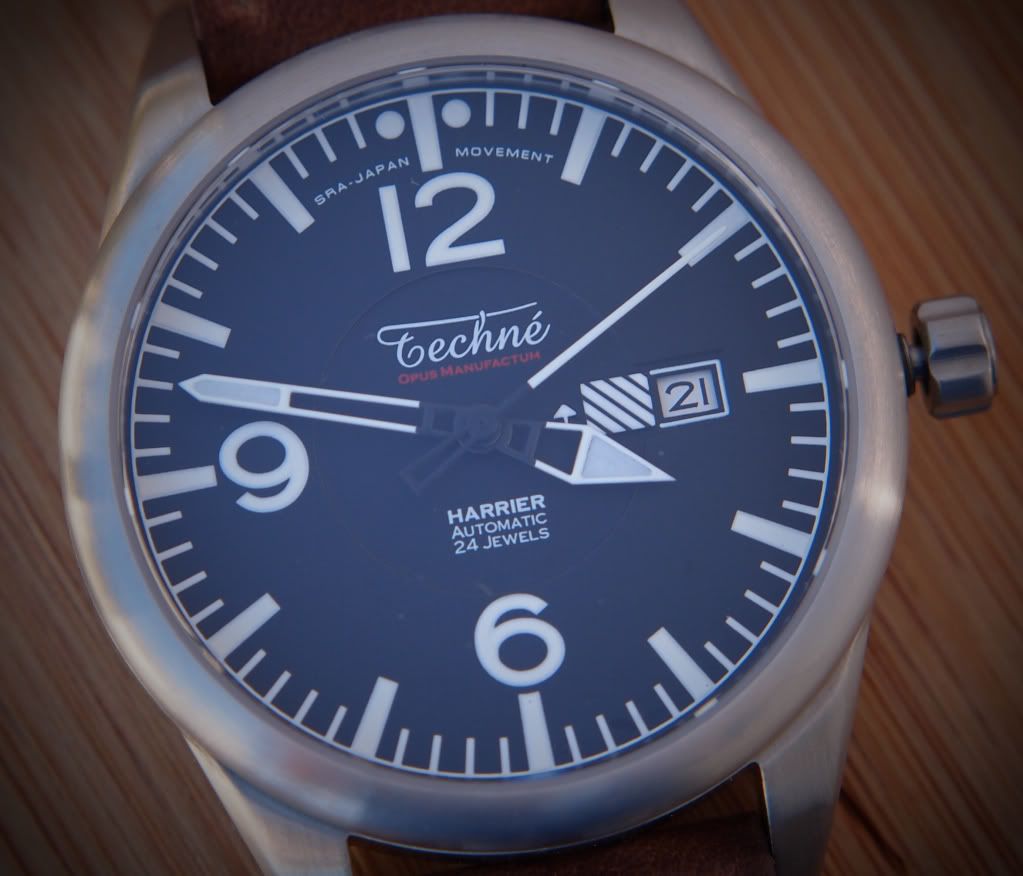 Case Back:
The Harrier has a display back with the display area measuring approximately
24mm
. Beneath the display crystal beats a Miyota 9015 movement of this particular model which according to Techné has been fine-tuned personally by the company owner to stay within -4 and +6 seconds of deviation per day prior to leaving the workshop. The outer rim of the case back is loaded with pretty much all the specification information on the watch from comaony name, model, serial, water resistance, and more. I appreciate the effort made by Techné to use a display back so the movement can be viewed rather than slapping a solid case back on the watch.
As far the accuracy of the movement is concerned I can report with confidence an average around +3 or +4 a day tops. This accuracy is fantastic for a Miyota 9015 and the fine tuning by Techné before shipping even makes the Harrier a greater value. I own and have owned a great many Miyota 9015s with none performing as accurately as the Harrier.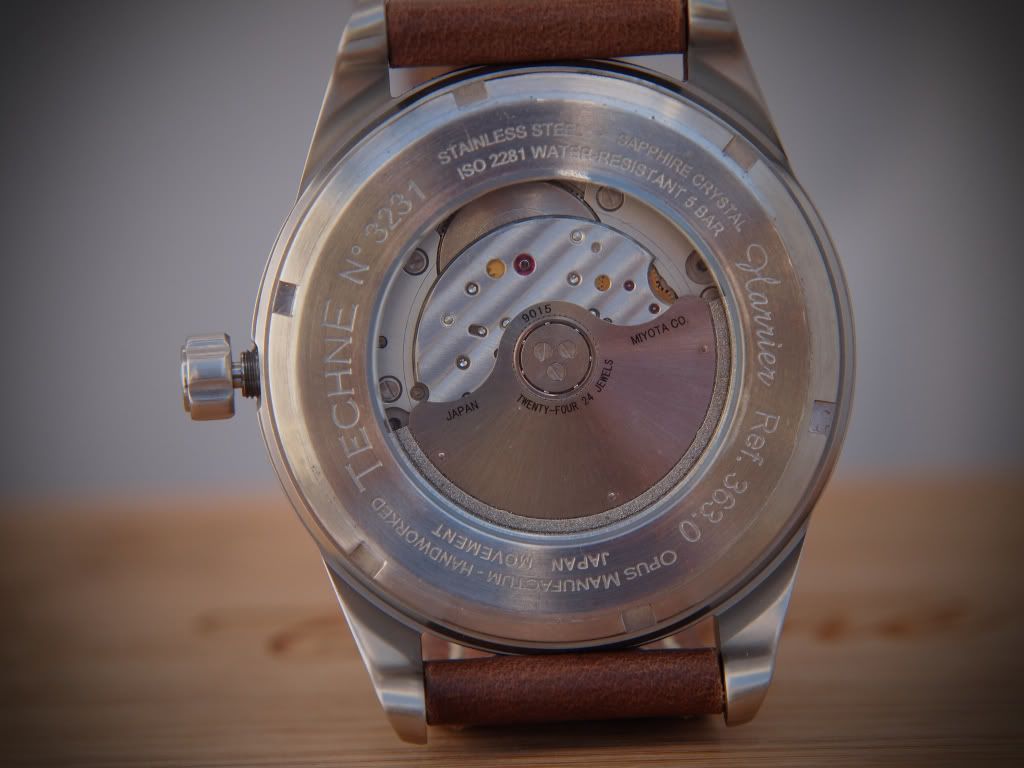 Strap:
. I am quite pleased overall with the strap. The riveted strap is made of weather-proof calf leather, ivory stitching and breathe-through leather lining. The strap measures
20mm/18mm
in width,
120mm/80mm
in length and approximately
3.5mm
in thickness. So you will get a fairly substantial strap with this configuration. I can report that even with a 7 1/2 - 7 3/4 inch wrist I can easy wear the 120/80 strap which is due to the sizing hole configuration. I wish more strap vendors would take note and start their sizing holes slightly closer to the tail of the strap which I have found is another way to aid in getting a more precise fit. The strap comes with a brushed stainless steel buckle signed Techné which is appropriate for the strap. If I nit pick my only wish would be for a non-tapering strap but that is just my personal preference. Overall great choice of strap by Techné.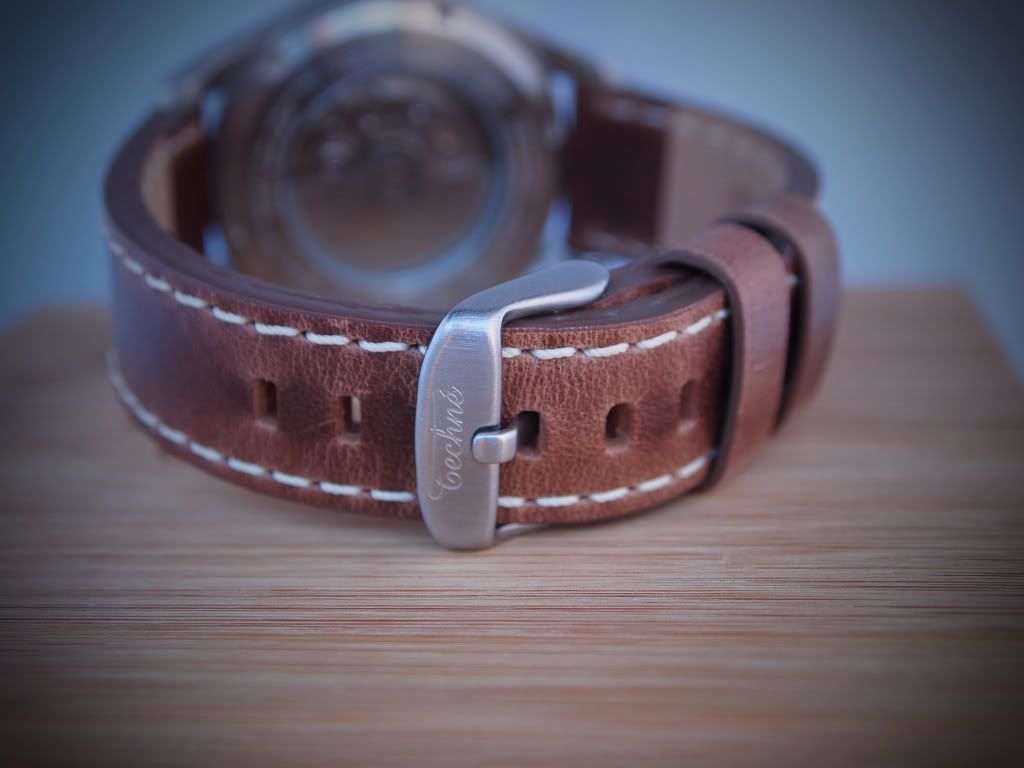 On the wrist (7 1/2 - 7 3/4in): Great feel on the wrist. Slim profile and light weight.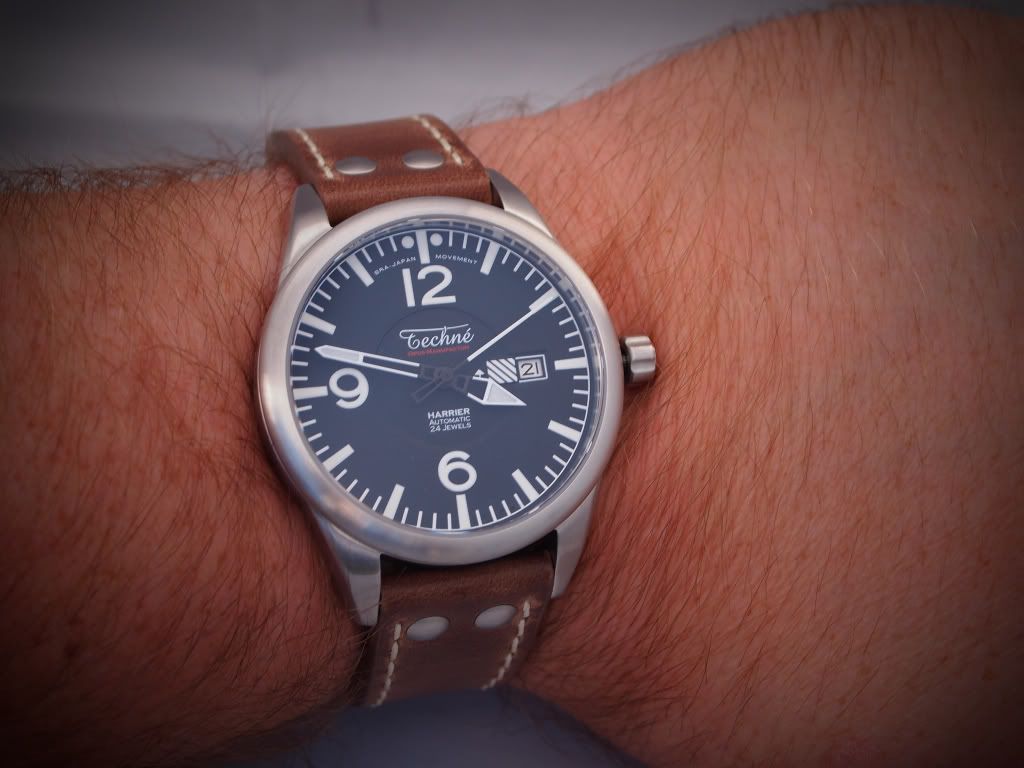 Lume: The Harrier appears to have C1 Superluminova which is perfect for the watch style and just provides a great white look on the black dial. The lume strength is as expected with C1 so the initial charge is fairly bright but fades rather quickly. Afterglow in a dark setting is good and last for hours. I have no serious issue with the lume but as always I wish that any company would consider BGW9 over C1 because the markers would have the same great white appearance with a longer lasting compound. Of course I am unsure how the use of BGW9 would impact cost.




Summary: All I can really say is that Techné has really provided a great automatic model with the Harrier. For a reasonable $430 cost the Harrier comes with quality specifications from top to bottom with a nice somewhat different style case design, screw down crown, water resistance, sapphire crystal, water resistant strap, and a Miyota 9015 automatic movement. There are very few companies with similar or same specifications that can come in under the Harrier automatic price point. The overall functionality of the Harrier has been fantastic as the watch is quite legible and performing well above Miyota 9015 accuracy standards. The only concern for me is the crown as it is not quite as smooth as I believe it could be but feels like it is working in nicely over time. I would personally love to see a 44mm case size version of this pilot watch as well as I am certain it would be a hit also. Two thumbs up overall!

Thanks for reading and as always I look forward to your comments an experience with a Harrier.