Watch Reviewed:
Reactor Poseidon Titanium
---------------------------------------------------------------------------------------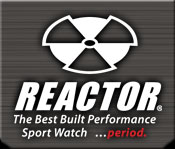 Company Information:
Reactor Watches
5312 Derry Ave., Suite B
Agoura Hills, CA 91301
Website:
http://reactorwatch.com/index.html
Contact:
[email protected]
Facebook:

https://www.facebook.com/reactorwatch


Phone:
(800) 291-6600
About Reactor Watches:


In 2003 we set out on a mission to design a line of sport watches that would exceed the demands of the action sports athlete, while creating a style uniquely different from the norm. In short, we wanted to push well beyond what the watch industry had to offer and create a product that would truly set a new standard. Bold components, uncompromising quality and unconventional styling have combined to create Reactor.

Reactor watches are designed to meet, or exceed, demanding Swiss standards. Cases are forged from solid stainless steel or titanium. Multiple o-ring seals and water-tight screw-down crowns are used throughout. To ensure that a Reactor will survive the decidedly non-sedentary lifestyle of our target customer, we developed new standards. Swiss sapphire crystals gave way to the more impact-resistant K1 hardened high-ceramic glass. The delicate precision of a Swiss movement gave way to the robust accuracy of Japanese quartz. An entirely new case-to-band fastening system was devised to keep these watches firmly in place during the worst unplanned events. REACTOR truly represents the best of what the world of watches has to offer.

As we continue on this journey, we know that a brand cannot flourish in today's marketplace without the loyalty of its customers. Our total dedication and commitment to service begins with the unprecedented level of support we offer our select group of retail accounts, and radiates down by exceeding the expectations of our end consumers. In short, we will do whatever it takes to make all our customers "raving fans."


-----------------------------------------------------------------------------------------

Reactor Poseidon Titanium - #54008 Black/Orange, Ti Bracelet
Stock Photo: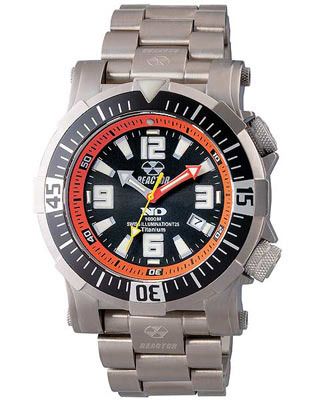 Description of Watch from Company Website:

Since our founding in 2003, Reactor has endeavored to push the limits of sport watch design. We believe we have reached a new pinnacle with Poseidon Titanium. A natural extension of the highly successful stainless model, Poseidon Ti offers all the same toughness with a 40% reduction in weight, absolute resistance to corrosion from salt water and
Never Dark® technology
in every model. Taking it even further, the limited edition model features a first for Reactor - a true mechanical automatic movement. While normally too fragile for our standards, Poseidon Ti Limited is fitted with the newest mechanical movement from Japan which has proven highly accurate, and is the first mechanical to withstand our testing.


Watch Specifications:



·Case Material: Titanium
·
Case Diameter: 47mm (excluding crowns)
·Case Thickness: 17.75mm
·Case Length: 50.0mm (pin to pin)
·Dial Color: Black
·Lug Width: 22mm
·Water Resistence Rating: 1000m (Meets or exceeds the ISO 6425 Standard)
·Movement: Japanese Quartz, 10 year lithium battery
·Weight: 190g
Price:

$899.95





-----------------------------------------------------------------------------------------


Packaging:


The Poseidon comes packaged in a unique metal tube. The tube is branded on with a removable paper label, which contains the company name and logo as well as other pertinent information regarding the company. The top of the tube has a nice cutout section at its center, which replicates the Reactor "radioactive material warning" logo. T
The tube has a pressure fit lid, which opens with just a quarter turn.
Once opened, you simply pull up the container to expose the watch, which is mounted on a bracket that is attached to the underside of the lid.
This is certainly a very safe way to ship the watch and the watch is very well protected by the metal tube's foam interior.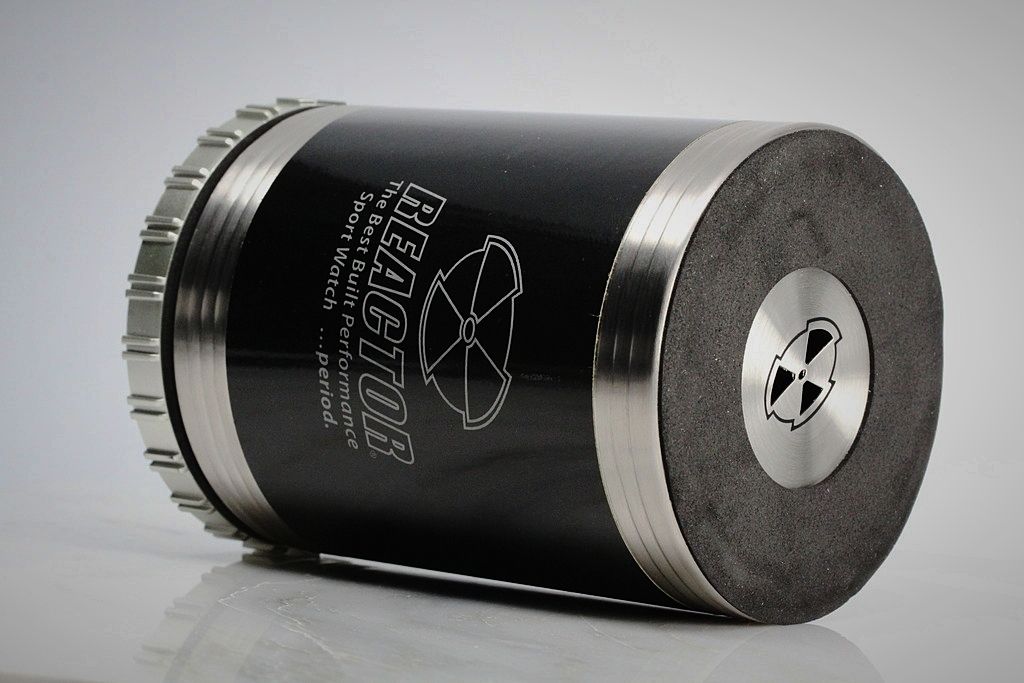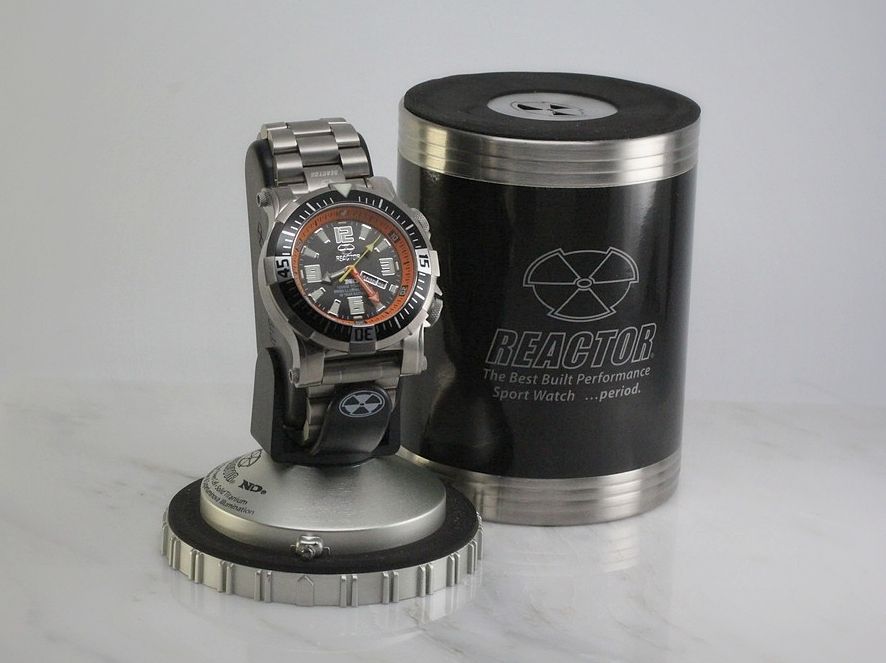 Normally, I find packaging to be rather uninteresting and more fluff than anything. Well, in this case, Reactor has turned their packaging into something quite interesting. The interesting part is what the tube can do once the watch is removed. They took the initiative to design this case to double as a beverage holder or "Koozie" so that it can be repurposed after the watch reaches its new owner. This is certainly an innovative and green way to address packaging that often gets stored in a dark closet!
Case and Crystal:

As a company, Reactor prides itself on its watch's build quality as well as their durability. As a result, they have developed a system that they have termed "Reactor DNA" to address known weak points in watches and incorporate these engineering innovations into their watch designs. Below is a diagram from the company that shows the various areas where they have focused their efforts.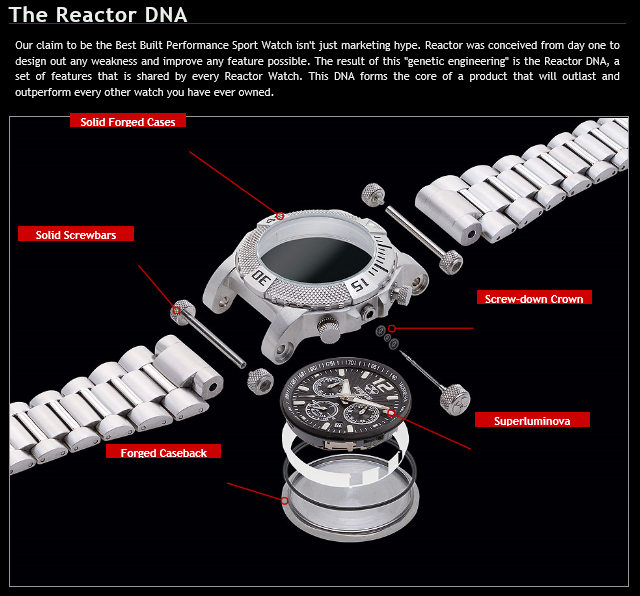 Below are descriptions of how Reactor has addressed each of the areas identified above to achieve "Reactor DNA" while attempting to build the "best build performance sports watch":
Solid Forged Cases:
Forging produces a stronger part, and we forge all our cases from either titanium or type 316L marine-grade stainless steel for the ultimate in corrosion resistance and longevity.

Solid Screwbars:
Springbars are the weak point of most watches, so we eliminated them entirely. All our bands attach via a solid, threaded screwbar, providing at least a 500% increase in strength.


Screw-down Crown:
Every Reactor uses a unique screw down crown system that maintains water resistance when unscrewed, and every crown is protected by crown guards integral to the case, eliminating the most common causes of water intrusion.

Superluminova:
For superior low light visibility, we use this unique Swiss material on all our dial markings and hands. Our exclusive application method makes our watches the brightest in the world.

Forged Caseback:
Like fine Swiss watches, every Reactor features a caseback forged from the same material as the case. This provides a rigid, watertight seal, even after a battery replacement.

The Poseidon's case is constructed of titanium, with a brushed finish applied throughout its surfaces. The case has a very unique design, which would be best described as having a tool diver appearance, with its angular lines and aggressive appearance. The watch case is fairly thick at 17.75mm, but, due to its titanium construction, it is not overly heavy. In addition, the combination of the relatively short 50.5mm bar to bar length, straight endlinks and downturned lugs, it tends to sit down on wrist when worn.
The overall case design is very unique. The utilization of a rounded case shape, knurled fasteners/crowns and an angular cut bezel really create a great looking design. There is really nothing else in the market that looks like it – This is a good thing, in my opinion.
The crown at the 4 o'clock position is utilized to adjust time, day and date. The crown at the 2 o'clock position is used to adjust the Poseidon's internal bezel. Both crown's screw down and, with the stem's triple ring seals, the watch is watertight even if they are left unscrewed.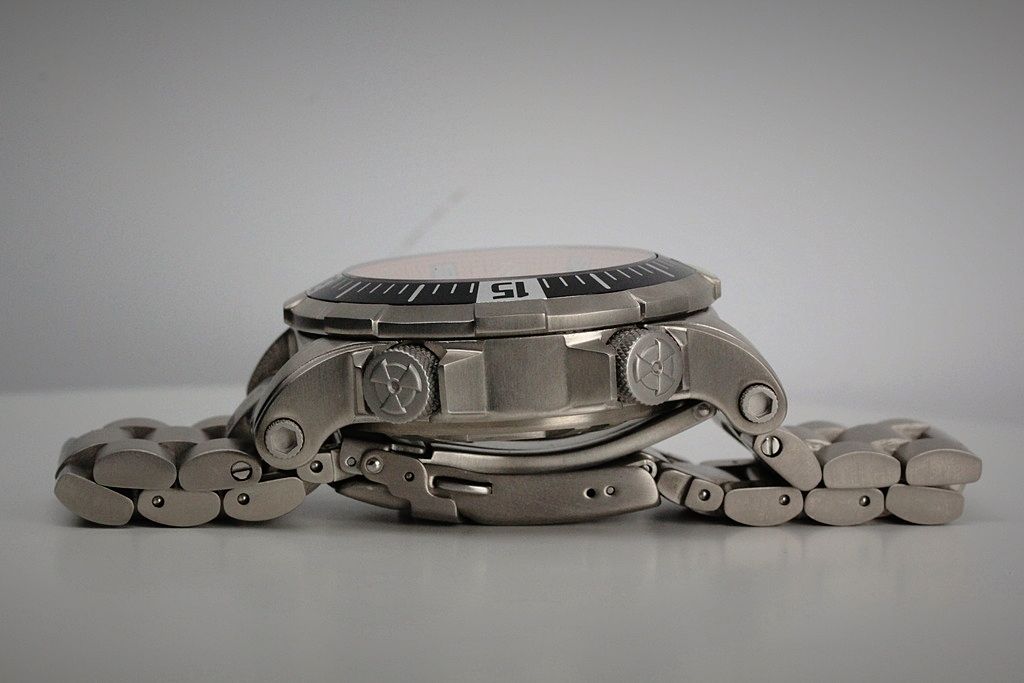 The photo below provides a nice view of the Poseidon's downward sloping lugs. In addition, you can see the hex heads for the solid lug bars.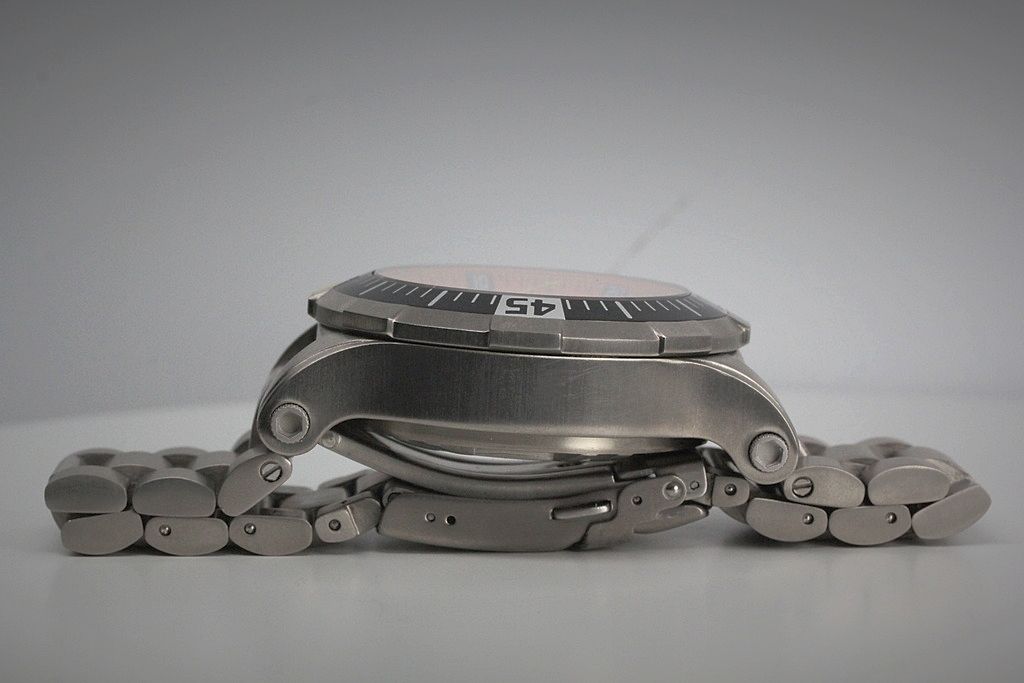 The bezel has large, cutout grips around its circumference. In addition, the outer edge of the bezel has a 45 degree bevel, which has a nice polished finish. This provides a nice bit of refinement to the watch.

Due to the large grip surfaces, the bezel is very easy to maneuver. The bezel action is nice and smooth, with firm clicks throughout each of its 120 positions. There is little to no play in the bezel action.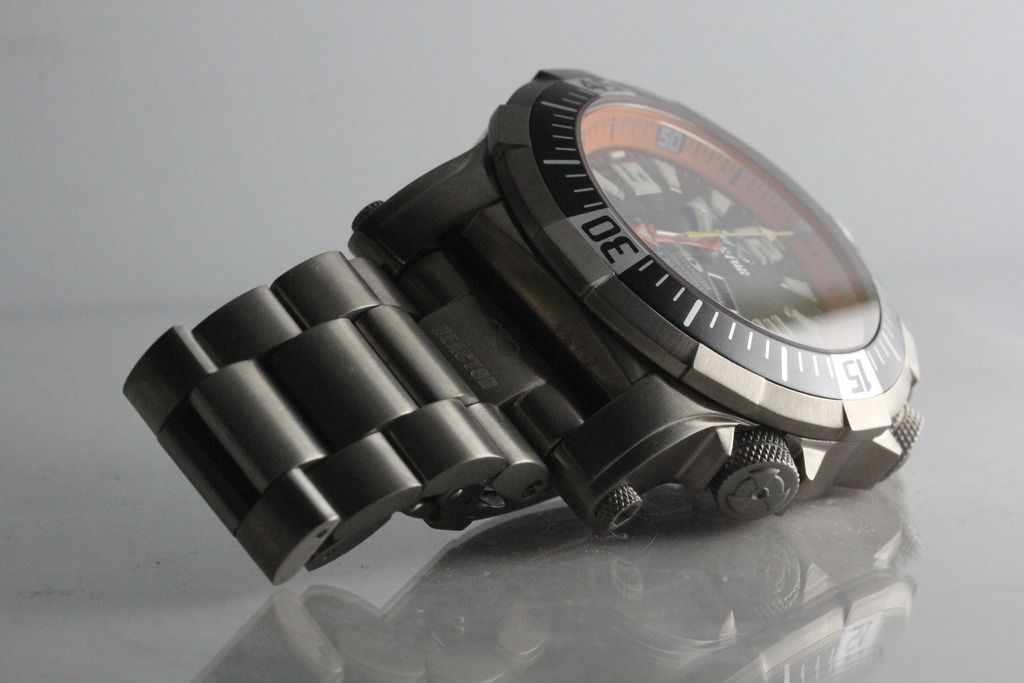 The watch's screw-in forged titanium case back has a circular brushed finish, with the brand's name and logo engraved into its center. The typical technical information is engraved around its perimeter, but it contains an obvious error stating that the watch contains an automatic movement. However, I feel that the overall design is actually quite attractive and the Reactor logo design really pops out at you as light shifts across its surface.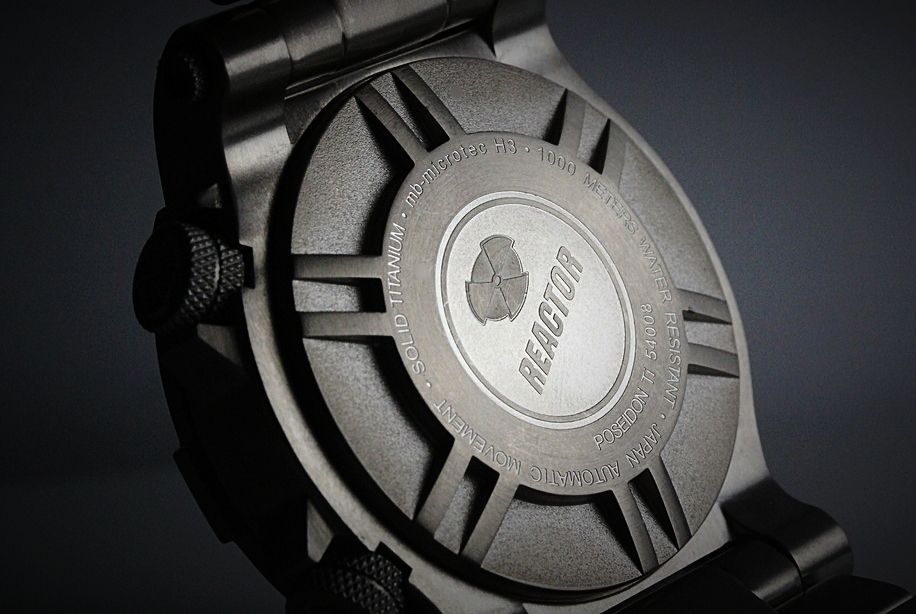 The Poseidon has two nicely sized, 7.75mm crowns, with the company's logo embossed into its end. The crowns each have knurled grips, with line engraved halfway down their outside circumference. The knurled surface is extremely easy to grip and the engraved line is very helpful when pulling each of the crowns out to make adjustments.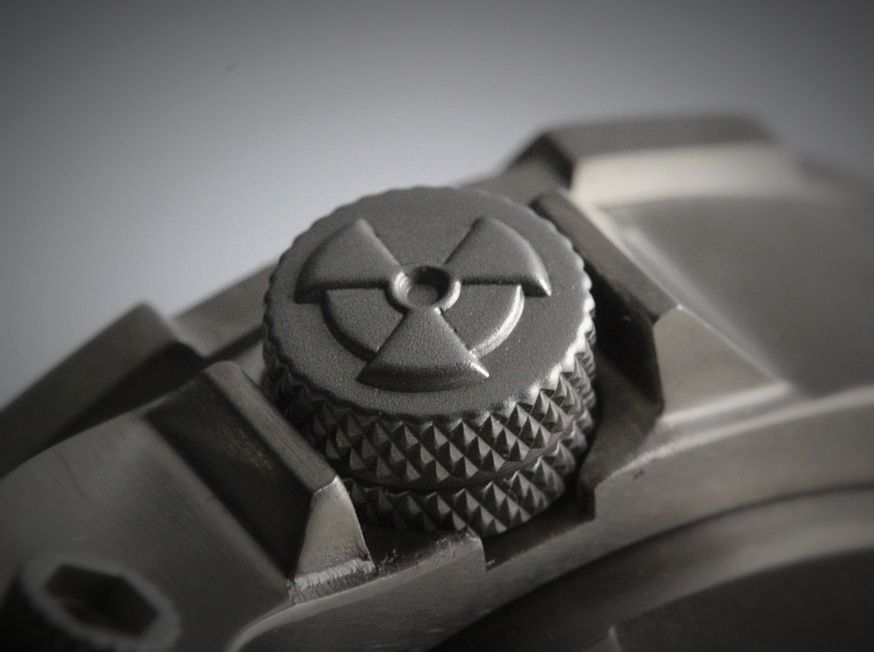 Dial:


The dial has a black or dark grey tone with white accents throughout. Although it is difficult to see in the photos, and in person for that matter, the dial actually has a very subtle sunray pattern design in its surface, which I really enjoy. This adds a great bit of interest to the dial.

The overall design of the dial can be best described is busy. There is a lot going on throughout the surface of the dial with the large hour indices, day/date complication, branding and other informational text on the dial. If you are a fan of clean, uncluttered dials…well, look away….this may not be the one for you.

The dial features very large alpha and stick style hour markers. This allows Reactor to heap on the Superluminova paint, which is thickly and evenly applied. In addition, the markers have nice polished stainless steel surrounds, which are also utilized to frame the day/date windows at the 4 o'clock position on the dial.
Around the outer circumference of the dial is another prominent feature of the watch, its internal bezel. This is the second bezel on this watch, which means that it can either be used for diving or be used for a secondary time zone. The bezel ring is painted bright orange, which matches the Poseidon's minute hand. The bezel has a 60-minute track around its entire surface, which has black painted hash marks as well as black painted boxes with silver numbers at 10 minute increments. In addition, there is an illuminated pip/pearl featured at the 0/60 position of the bezel.
The hour, minute and second hands on the watch are all arrow/pointer style in shape. Each hand, however, has its own distinct finish -- The hour hand has a polished, stainless steel border, the minute hand has a glossy orange painted border and the second hand is painted glossy, yellow painted finish.
The hour and minute hand feature both Superluminova paint and tritium tube illumination, whereas the second hand only features Superluminova paint.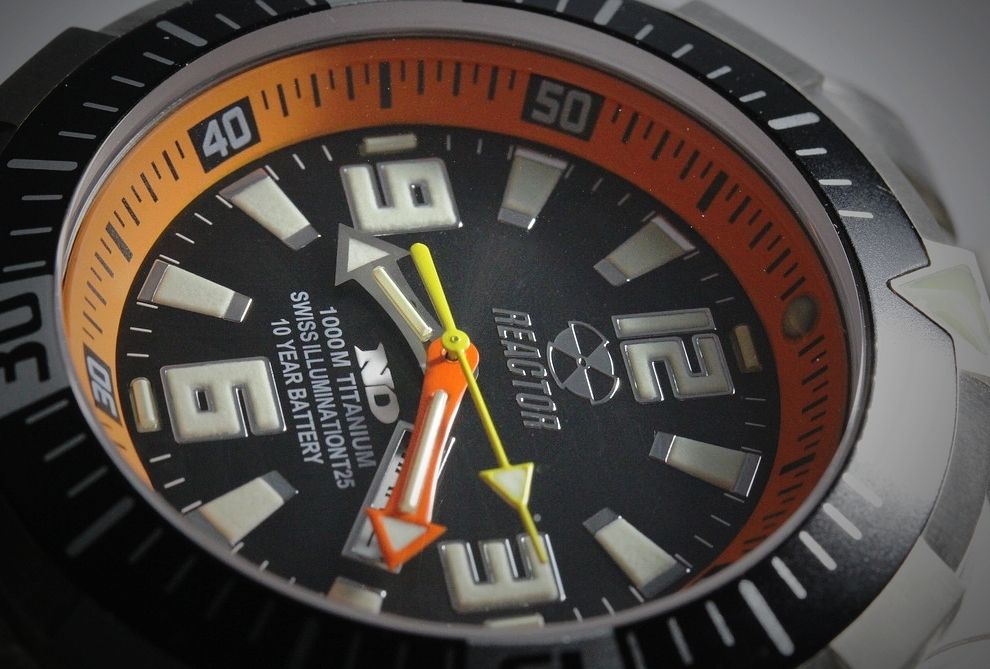 The Poseidon utilizes Reactor's "Patented
Never Dark
illumination". This robust illumination system, which will be described in more detail below, utilizes a combination of Superluminova luminous paint and tritium tubes.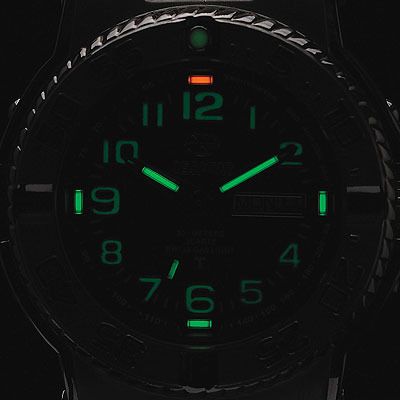 This graph illustrates the performance of each illumination source over time. While tritium remains at a constant level, Superluminova gets extremely bright then fades over several hours, but recharges very quickly when re-exposed to light. Never Dark® is the only watch illumination to "self-adjust" to conditions, with a response curve similar to that of the human eye. At its peak, the glow of Superluminova is easily visible, even at dusk or in difficult, partially lit conditions. With a full charge, it produces five to ten times the light output of tritium. But, as that brightness fades, the tritium will continue to glow for at least ten years.
As you can see from the photos, the C3 Superluminova used on the dial and hands has a nice greenish tone. The lume is fairly bright when fully charged, and fades slowly. As you can see from the photos below, when it is fully charged it glows nicely.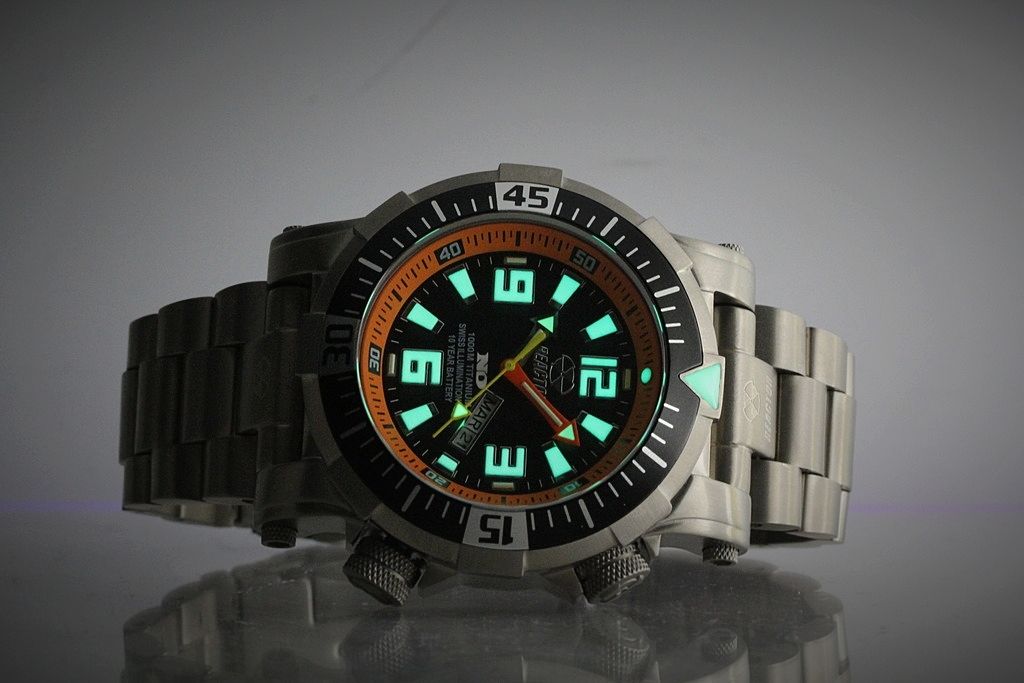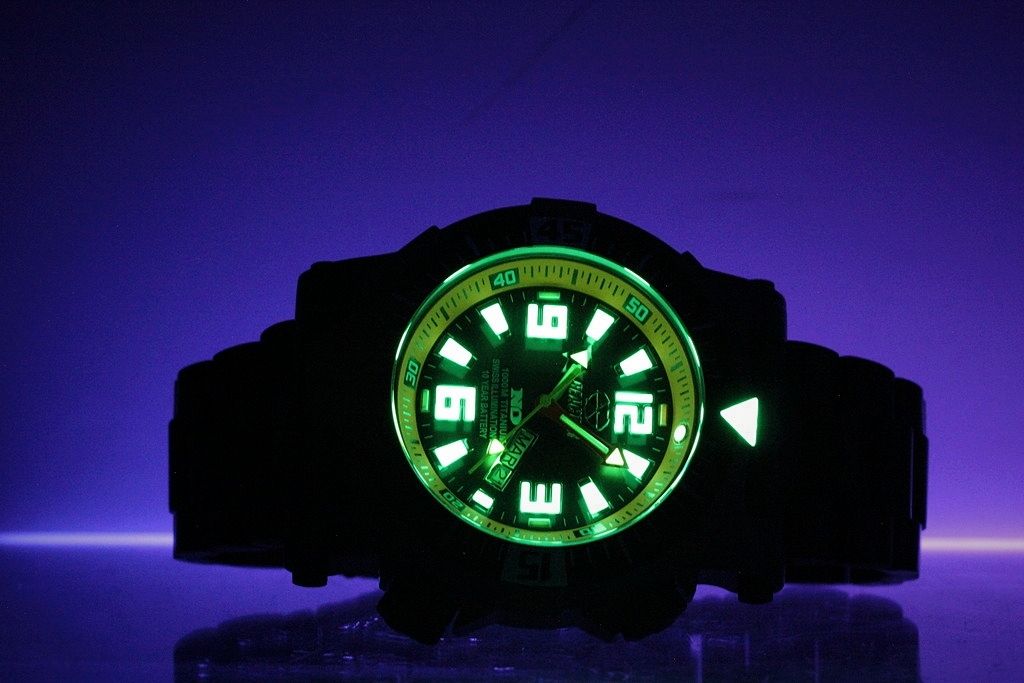 Bracelet:
The Poseidon's bracelet is constructed of titanium and fairly aggressive appearance. The bracelet has a tapered design, which flares out to 26mm at the case and goes all the way down to 22mm at the clasp. The three piece links have a rounded design, which mimics the curve of watch lugs and have are held together with pins.


The Reactor logo is engraved into the bracelet in three separate positions. On each of the endlinks, the brand's logo and name are engraved into its center link. In addition, the Reactor name is separately engraved into the diver's safety clasp and the brand's logo is engraved into the top surface of the clasp.
The Poseidon has two great features, which provides a very comfortable experience on the wrist – The downward sloping lugs and the use of a non-fitted, straight endlinks. Both of these provide a great transition for the bracelet to move smoothly down from the watch case to the wrist. In addition, the links are fairly small in size, which help the bracelet drape better on the wrist when worn.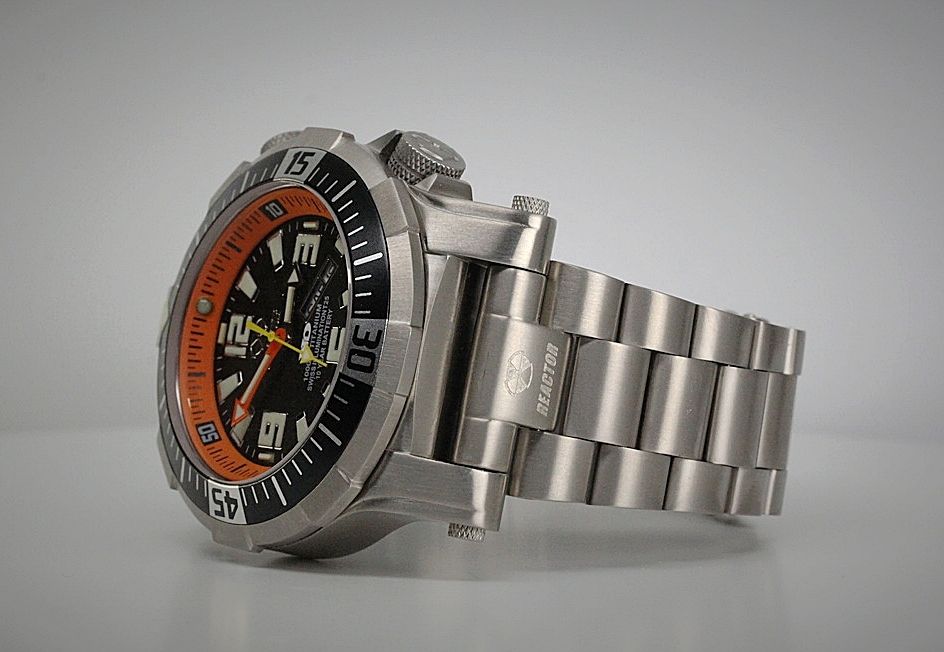 T
he endlinks are held in place by two solid lug bars. The pins have hex screw heads with knurled grips, which match the finish of the watch's crowns.
-----------------------------------------------------------------------------------------

Wrist Shots:


For reference purposes, my wrist is 7.25 inches.
The Poseidon measures 47.0mm (without crowns) in diameter and 50.0mm in length (pin to pin). With these dimensions a watch would typically wear large on my wrist. Well, in this case, it does and it doesn't. The watch's large diameter and relatively thick case does tend to appear oversized on my wrist, but this is mitigated by the watch's relatively short 50.0mm length as well as its lug design.

Overall, I have to say, this watch has an "aggressive" wrist presence in person. With this being said it is a large watch, so I do not want to give the impression that it is a dainty watch and folks should already expect this. Given its relatively short lug to lug length and downturned lugs, the watch's design allow it to sit closer to the wrist and avoid the overhang that plague many other large diameter watches. The main point of this is that all of these things combine make it able to be worn on a medium sized wrist, such as my own.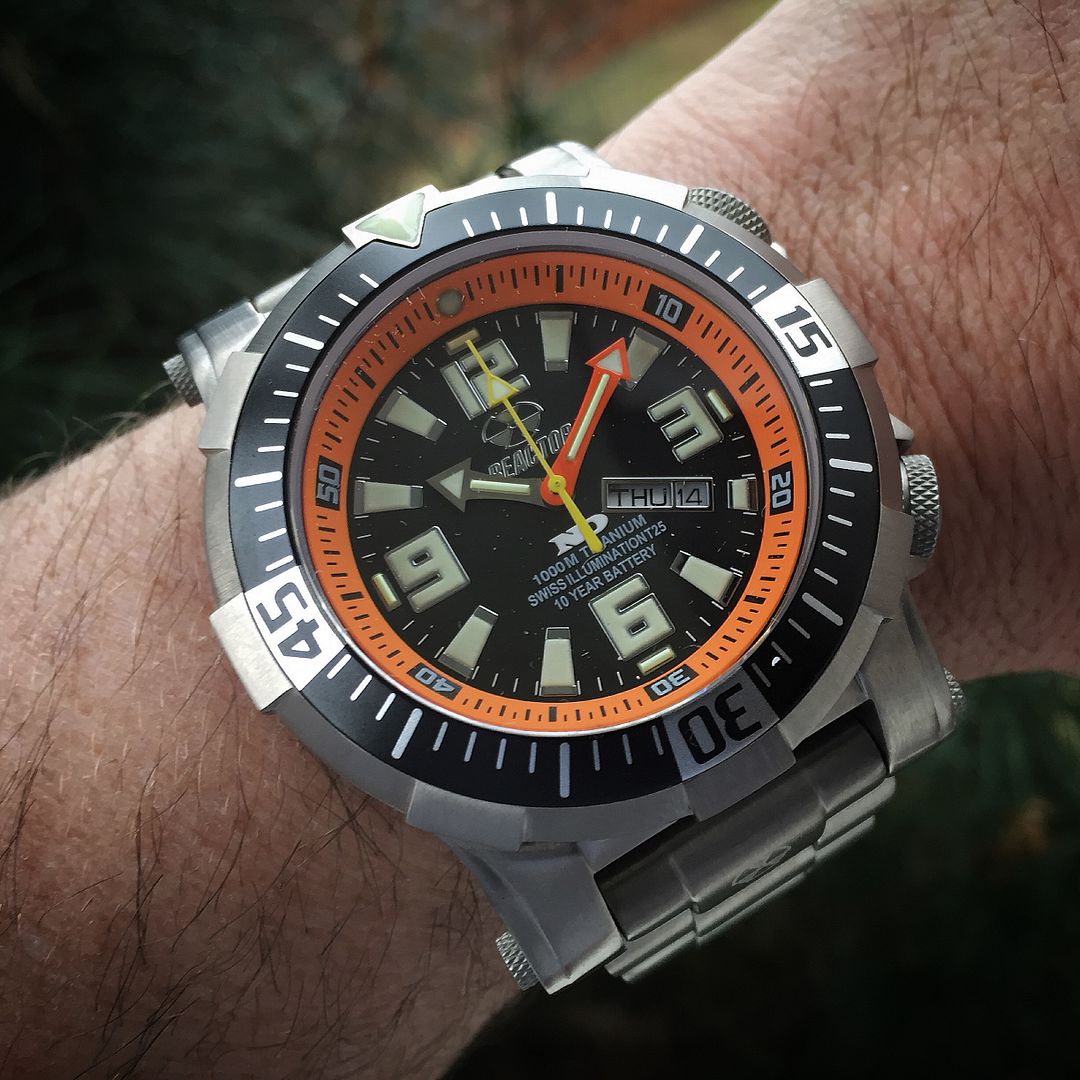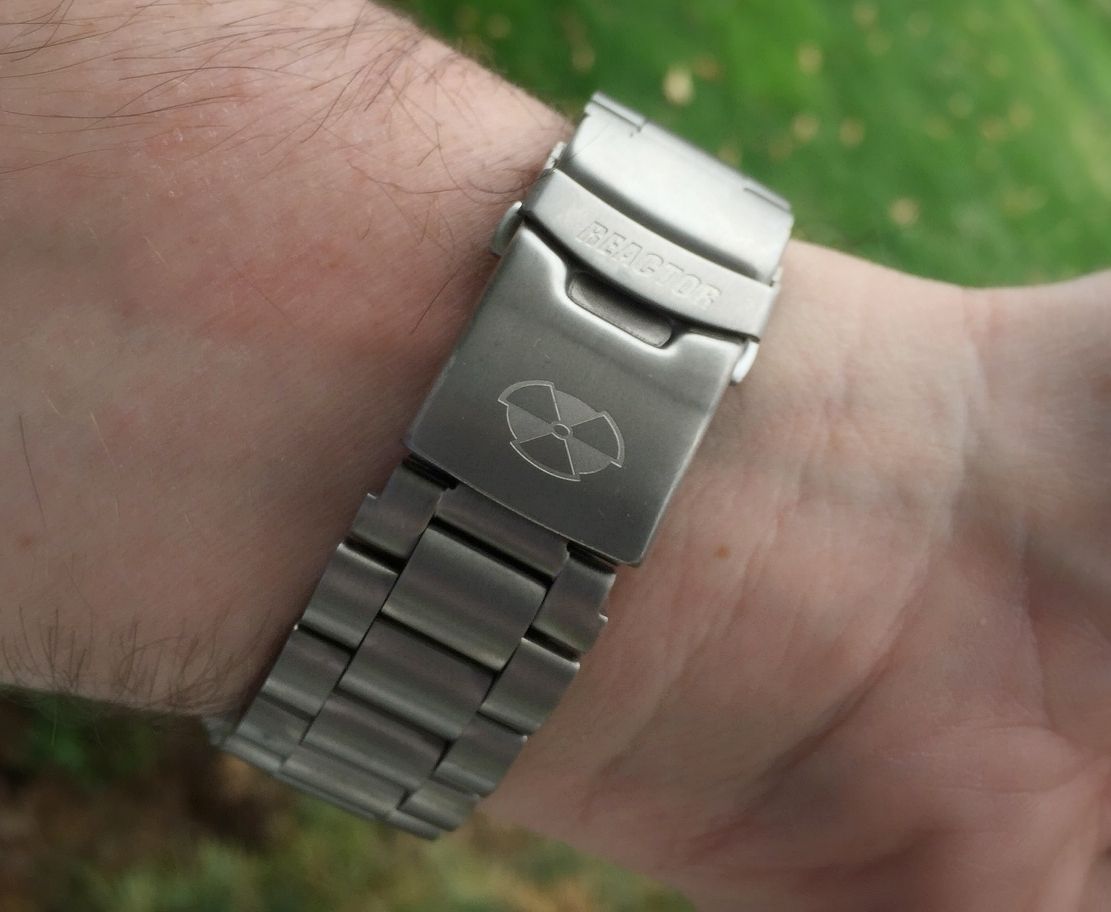 -----------------------------------------------------------------------------------------

Overall impression and final thoughts:




The Reactor Poseidon was designed to be a rugged diver with great functionality. During my review, I had the opportunity to put this watch through a full range of functionality tests and paid close attention to the quality of its components as well as the quality of its finishing. Based on these observations, I feel that this is a very nicely made watch and definitely will serve its purpose, be it a dive or a trip overseas.




With this being said, this watch is definitely not for everyone. Well, why? I feel this is primarily due to the Poseidon's case dimensions and bold design. I do not make this point as a slight, just an observation as I know some at this forum may have this thought and some may not feel comfortable wearing watches of this size or bold design, that is all.
Now with that out of the way I can now move onto the rest of the review summary. As I always do, during my review of the watch, I have compiled a list of things that I noticed that I feel could be improved or changed to accentuate the look and/or functionality of the watch. Please note, these points tend to be fairly nit-picky nature and the quality of the watch is certainly nice, notwithstanding these few points:


·The watch comes equipped with only a metal bracelet. Given its relatively high price point as compared to other quartz dive watches in the market, I would have preferred that it would have come with additional straps. By adding at least a rubber divers strap would provide some variety as well as a great option for times where you want a more casual look to the watch.
·The bracelet links currently have a pin construction. I prefer to have screw connections for my bracelets. It would even be nice to incorporate hex heads to tie in the bracelet to the overall watch design.

·The diver's clasp on the bracelet currently only has one micro-adjustment. In order to get the best fit, there should either be more adjustment holes made or, perhaps, a new ratcheting clasp added to the bracelet. This would enable the owners to get the perfect fit and avoid having the watch either too tight or too loose.


Well, that concludes my review …Thanks for reading and I look forward to your comments ~
Mark