Name of Reviewer: Mark (AKA andrema)
Watch Reviewed: Miro Creme Automatic
-----------------------------------------------------------------------------------------
Company Information:
Miro Watch Company
Email:
[email protected]
Website:
http://www.mirowatches.com
Facebook:
https://www.facebook.com/mirowatches
Instagram:
https://instagram.com/mirowatches
Twitter:
https://twitter.com/mirowatches
"Our Story" from Miro website:
Time is a fascinating phenomenon. Over the years, it has divided many smart philosophers. Some say it's real, some say it's not. To be honest, we don't know what to believe. Something we do know is that we love watches. We really do. A lot of the watches out there are way too big and heavy for our taste, and we don't like messy dials with too much stuff on them. So we decided to make a watch of our own. Something clean and simplistic – elegant yet stylish.
Countless days, weeks and months have gone into creating something that we can be truly proud of.
Inspired by Nordic design, we believe that is clean lines, smooth leather strap and slightly domed glass will appeal to almost everyone with a sense for classic and timeless style.
When it came to picking a name, it made sense to get some inspiration from something else that we love. Miró was a great Catalonian painter, with a style that we can relate to and admire.
Now it's a great watch too!
Miro Creme Automatic
Stock Photo:
Description from the company website:
We are very proud to realease our classic watch with an automatic movement. It also comes fitted with a sapphire crystal for that extra quality feel.
The model is our classic, beautiful and timeless design, but with a hint of extra soul when it comes to the machinery behind. With a see through caseback behind to admire the movement, the look is complete.
An automatic movement is a mechanical movement that doesn't need a battery to run. Instead it is an intricate little machine that is powered by your hands movements.
Watch Specifications:
· Case Material: 316L Stainless Steel
· Case Diameter (mm): 40.0
· Case Length Total (mm): 48.0
· Case Thickness (mm): 11.5
· Crystal Material: Sapphire
· Dial Color: Creme
· Push-pull Crown
· Crown Diameter (mm): 6.0
· Strap Material: Leather
· Lug Width (mm): 20.0
· Movement: Citizen Miyota 9015
· Water Resistance: 5 ATM / 50 Meters
Price:
$273
-----------------------------------------------------------------------------------------
Miro is a Sweedish watch company, which was founded in 2012. For this watch review, the company has provided one of its automatic models for review. This is a stainless steel dress watch, with an automatic movement and sapphire crystals.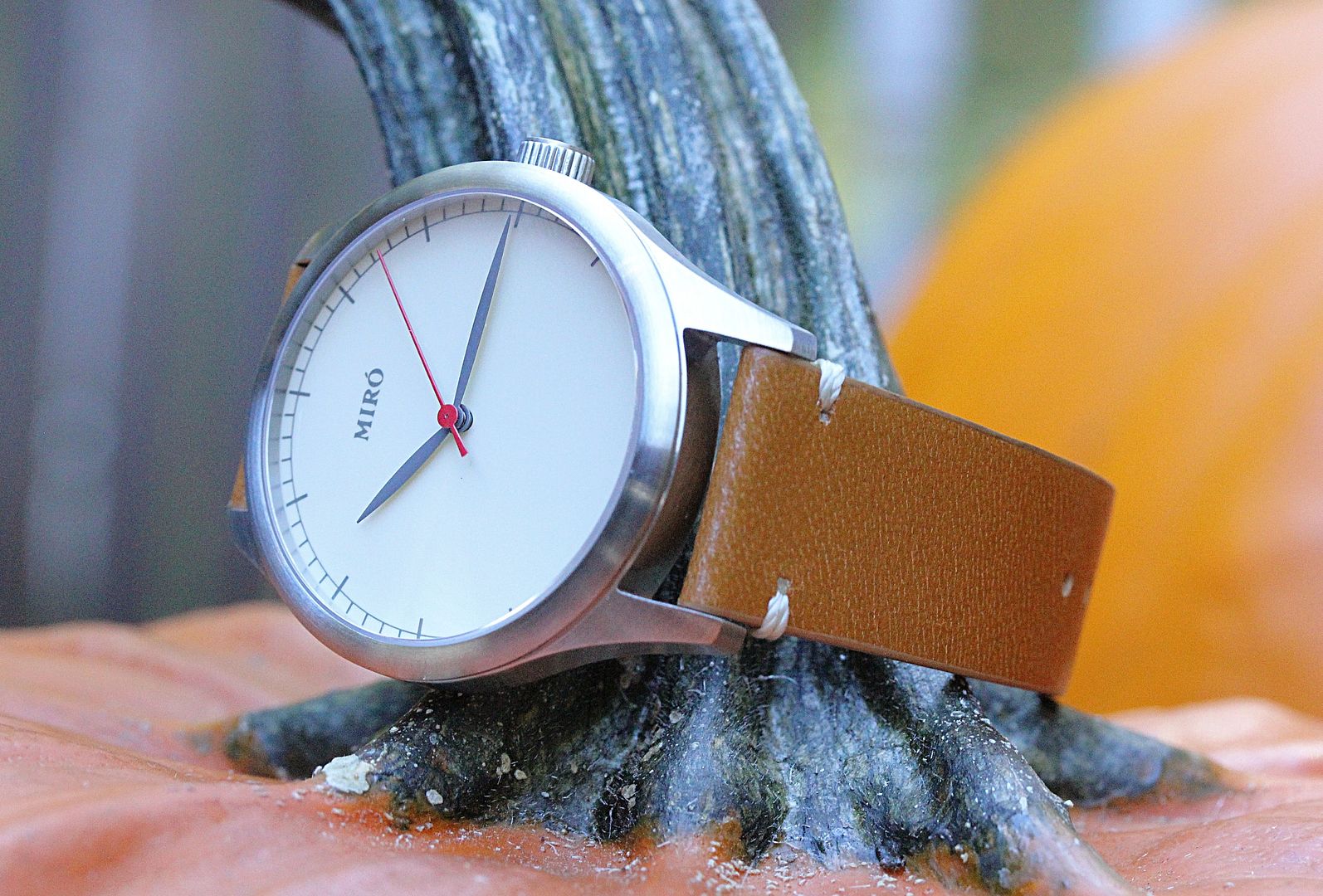 Packaging:
The Miro comes packaged in a traditional styled "clamshell" box, with the "Miro Watches" printed in white on its lid. The case is lined with a matte vinyl material and padded, so it's soft to the touch. The inside of the box has a black velour lining and circular attachment point, which provides a nice soft environment for the watch during transit. The overall quality of the box is nice and certainly adequate, given the low price point of this automatic timepiece.
Case and Crystal:
The Miro's case is constructed of 316L stainless steel and has a classically inspired design, with no crown guards. The case has a nice brushed finished pattern applied uniformly across its entire surface, including its fixed bezel.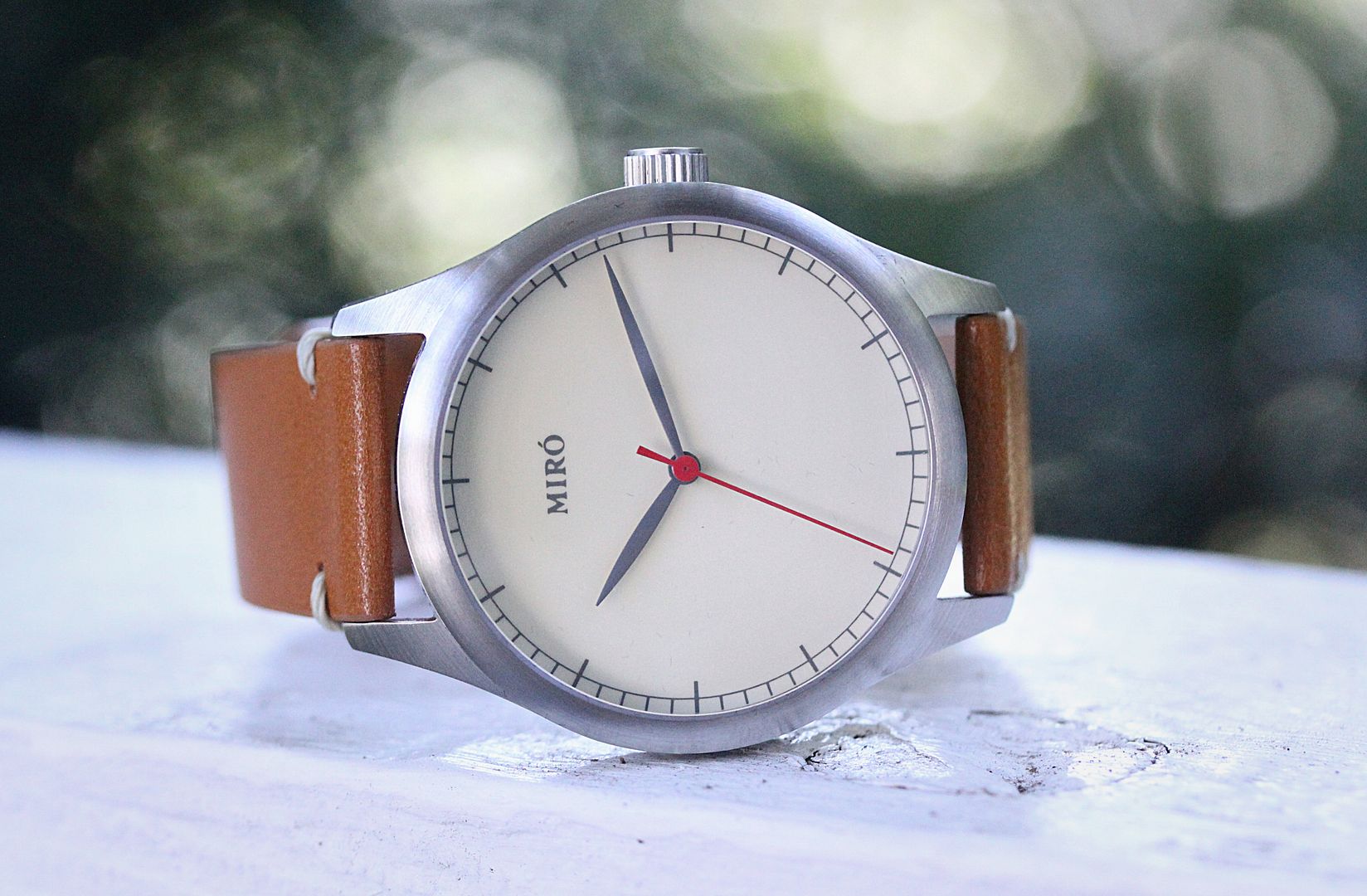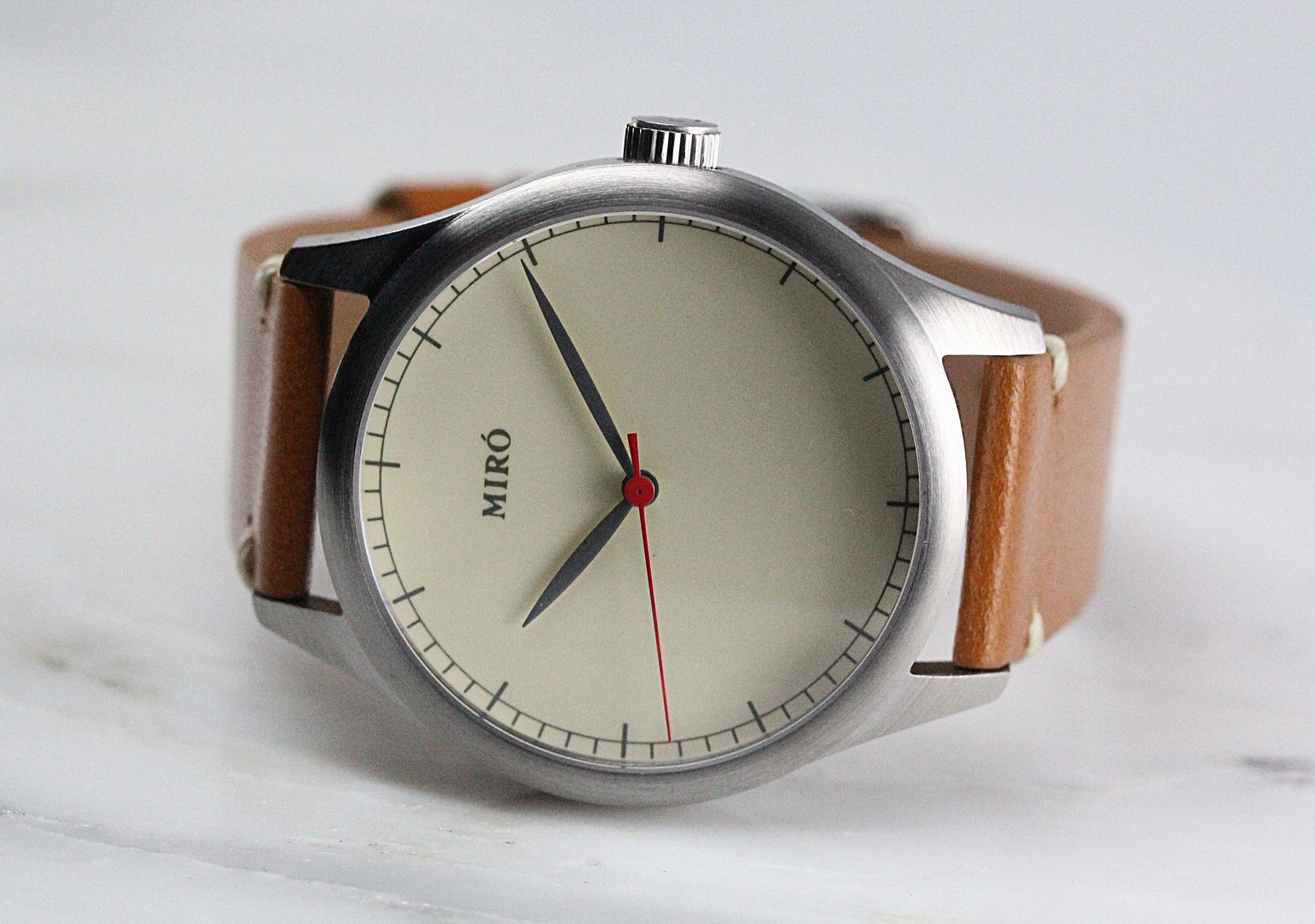 The case has a nice profile, with sharp lines downward sloping lugs. The lug shape allows the watch to wear very close to the wrist.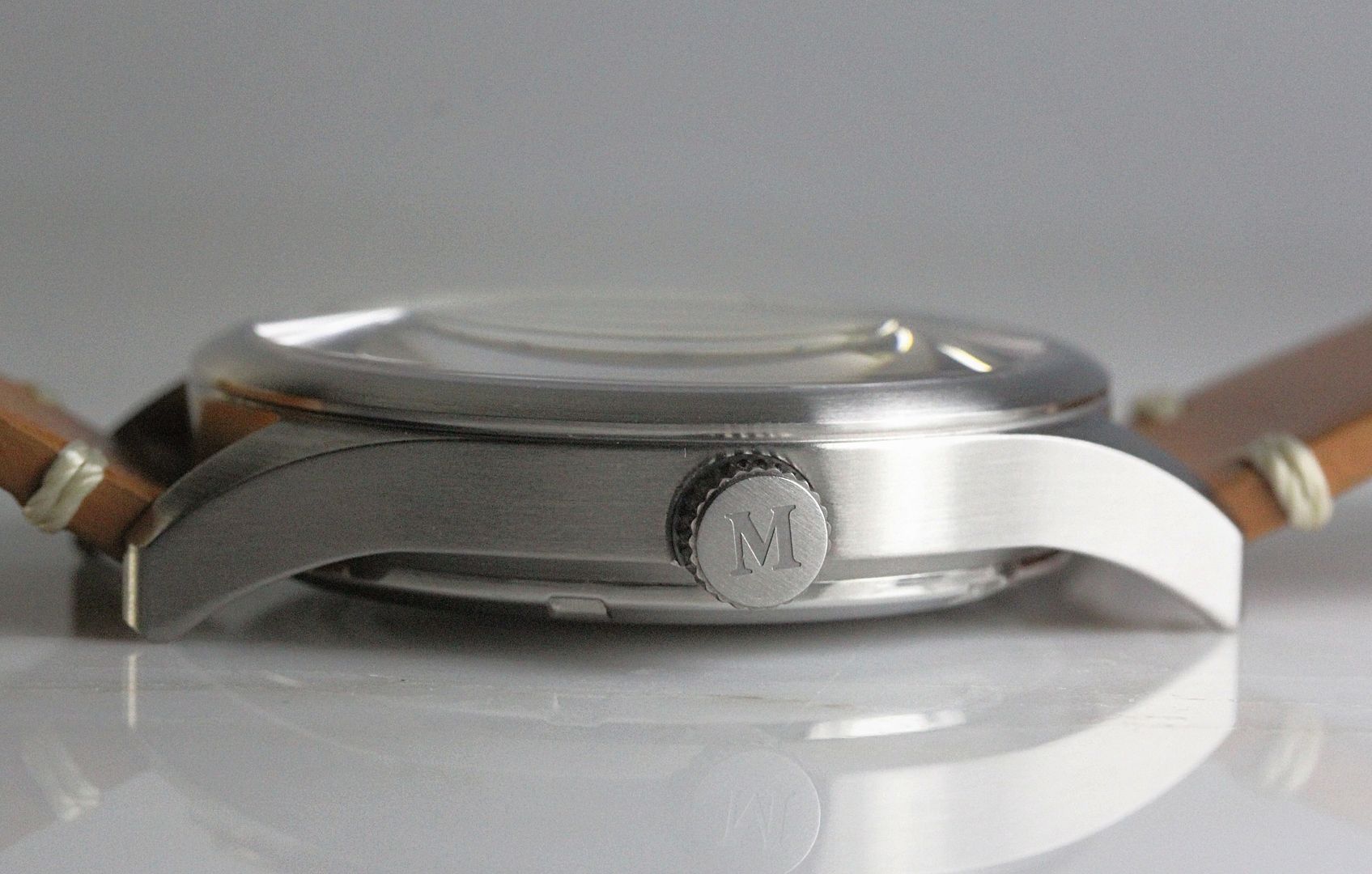 The Miro's sapphire dome crystal sits slightly above the watch's fixed bezel and raises upwards to create a nice silhouette. As you can see from the photo below, at certain angles, it creates an interesting distortion.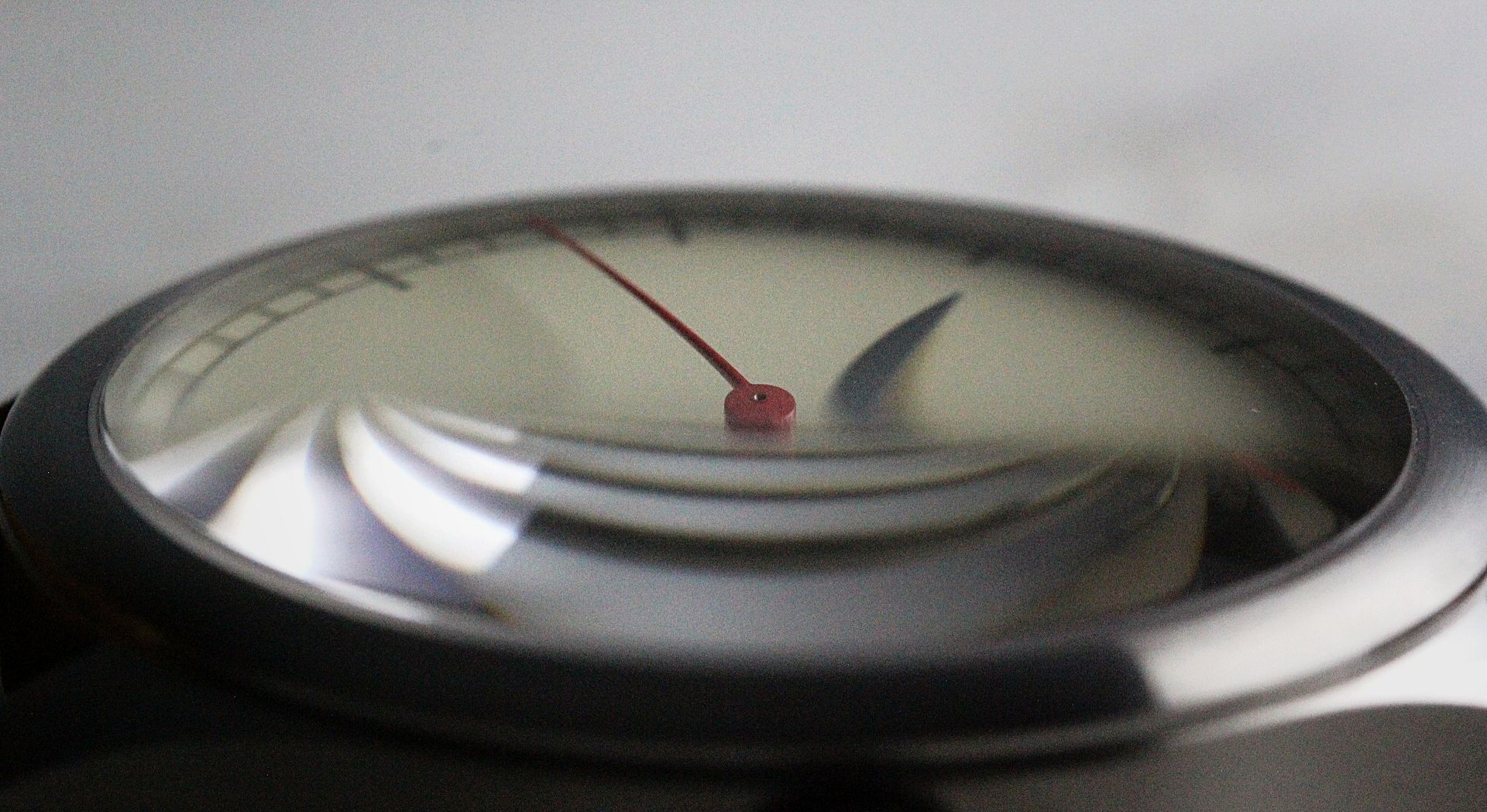 The watch is built with a 316L stainless steel display style caseback, with a sapphire crystal installed. The crystal enables the nicely finished movement to be clearly seen. The watch's technical data as well as model number is engraved nicely around the perimeter of the polished caseback.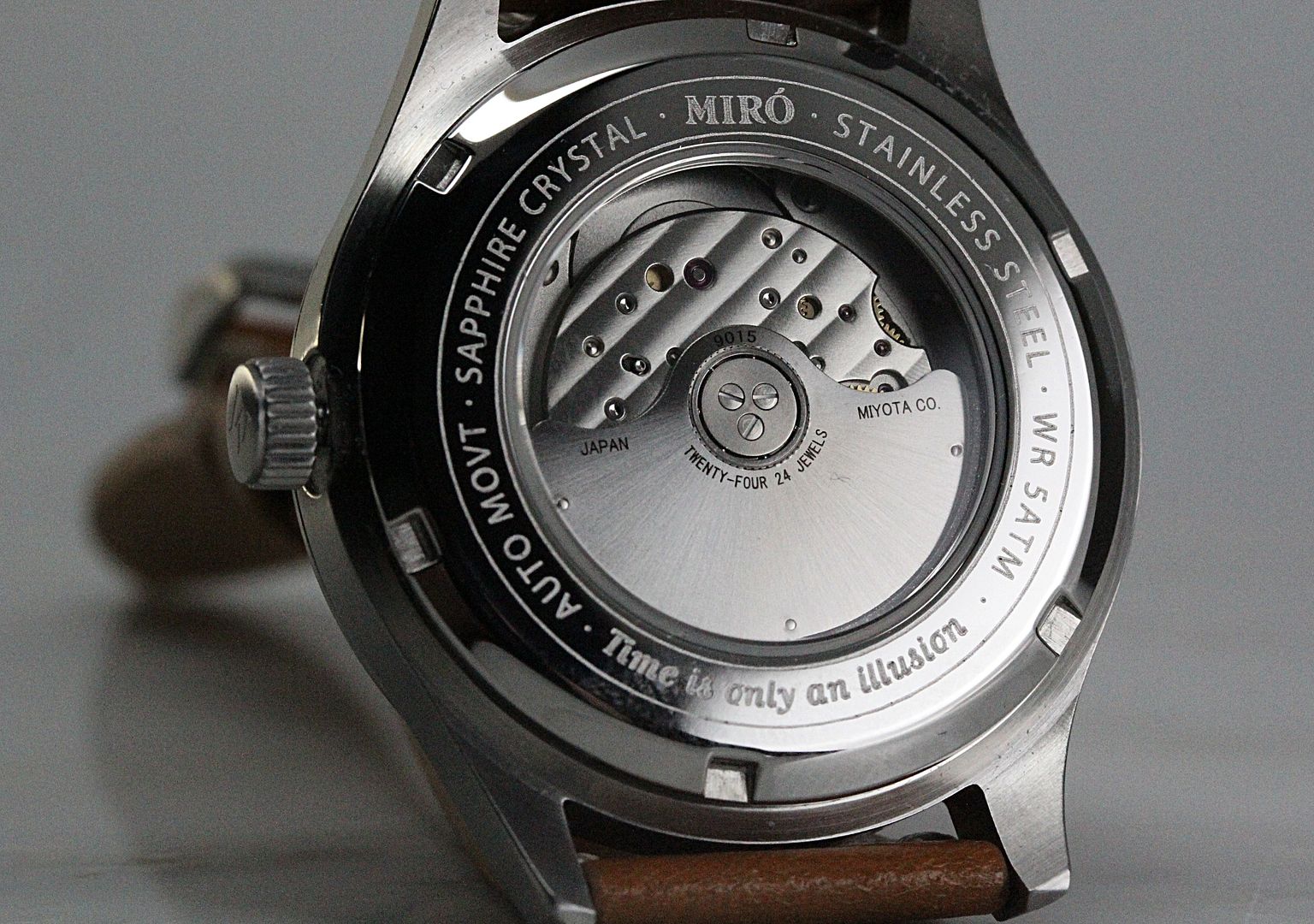 The Miro has a nicely sized, 6.0mm push-pull crown, with an M engraved into its brushed end. The crown itself easy to manipulate when setting the time and it has a nice feel as well as nice action.
Dial and Hands:
The dial is warm cream color in color with silver hour markings and company logo painted at the 12 o'clock position on the dial. Along the outside of the dial, the watch includes a minute chapter ring with silver painted hash markings. The chapter ring integrates nicely with the hour marker surrounds as well as coordinates nicely with the cream dial.
The minute and hour hands are traditional "feuille" style. For those who are not familiar with this term, this is a style which resembles a thin leaf in shape. The second hand is a traditional post style hand.
The hands have a silver painted finish, which matches the paint applied to the dial for the hour indices and Miro logo. The second hand is painted red, which works very nicely with the cream dial color as well as the tone of the tan strap used on the watch.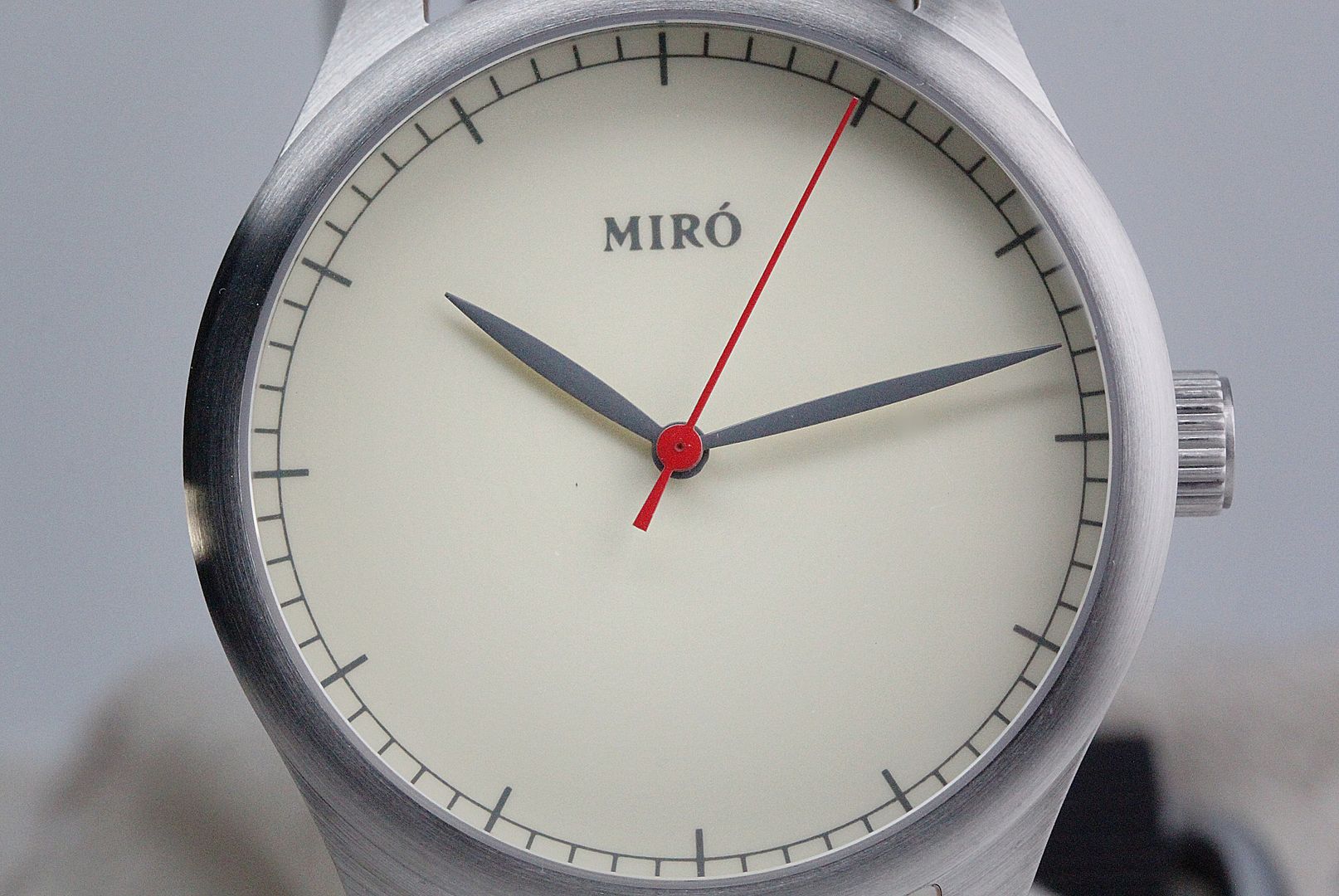 Neither the dial or hands of the watch have luminous material applied. This is very appropriate as this is a casual/dress style watch.
Straps:
The Miro comes with a custom "honey" brown or dark tan leather strap installed. The 20mm strap has a smooth texture along its length, with minimal creme stitching at the lugs. Despite its 3.5mm thickness, the strap is actually quite supple and conforms nicely to the wrist when worn.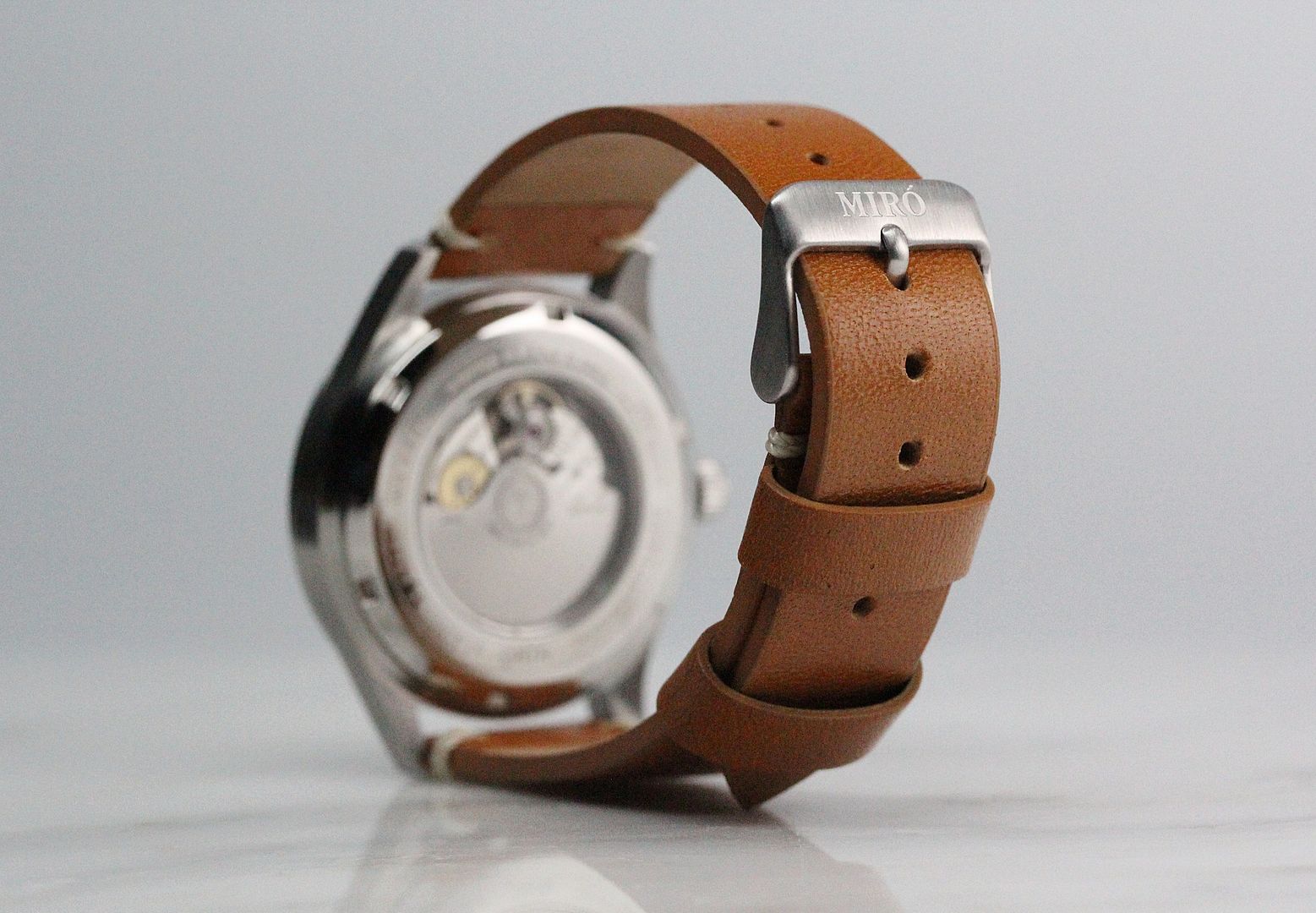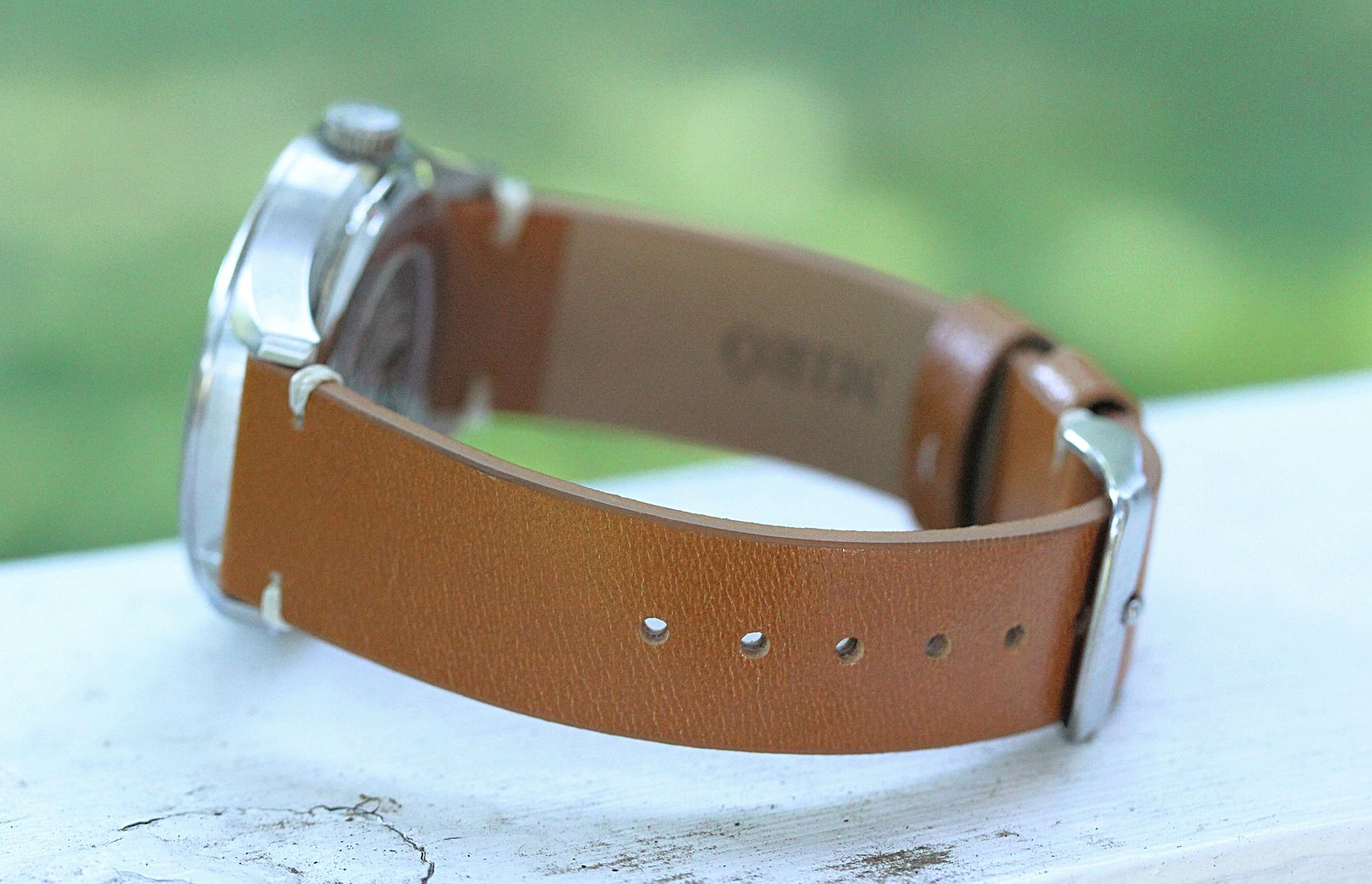 The strap comes with two leather keepers. One keeper is fixed and the other is a floating keeper. This helps keep the strap secure and the tail of the strap secure and close to the wrist.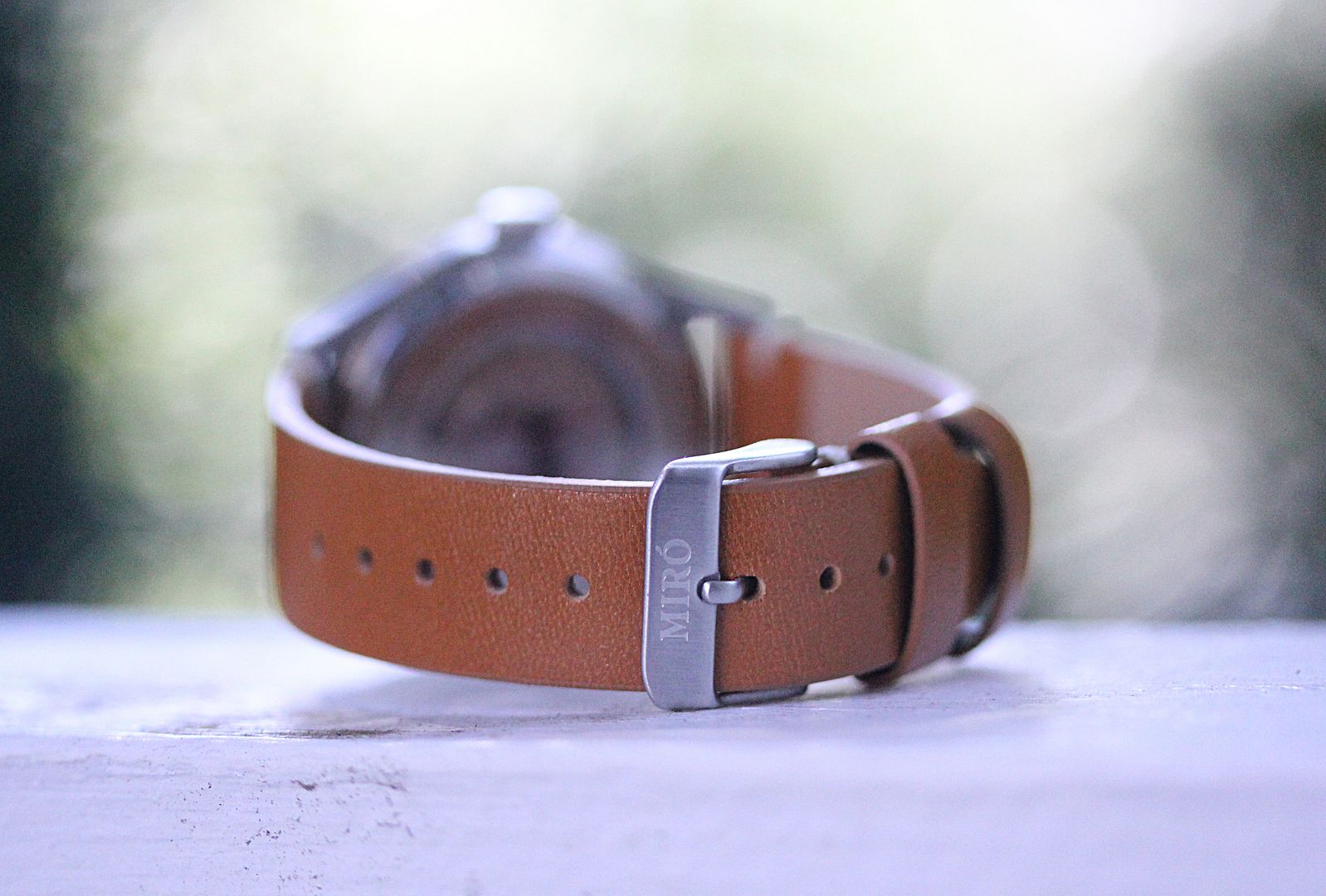 The Miro strap comes with many nice features, such as: a nicely embossed branding on it's underside, sealed edges and nicely applied, minimal stitching.
The Miro comes with a good quality 316L stainless steel thumbnail style buckle with a brushed finish. The company logo is nicely etched into the buckle's top surface.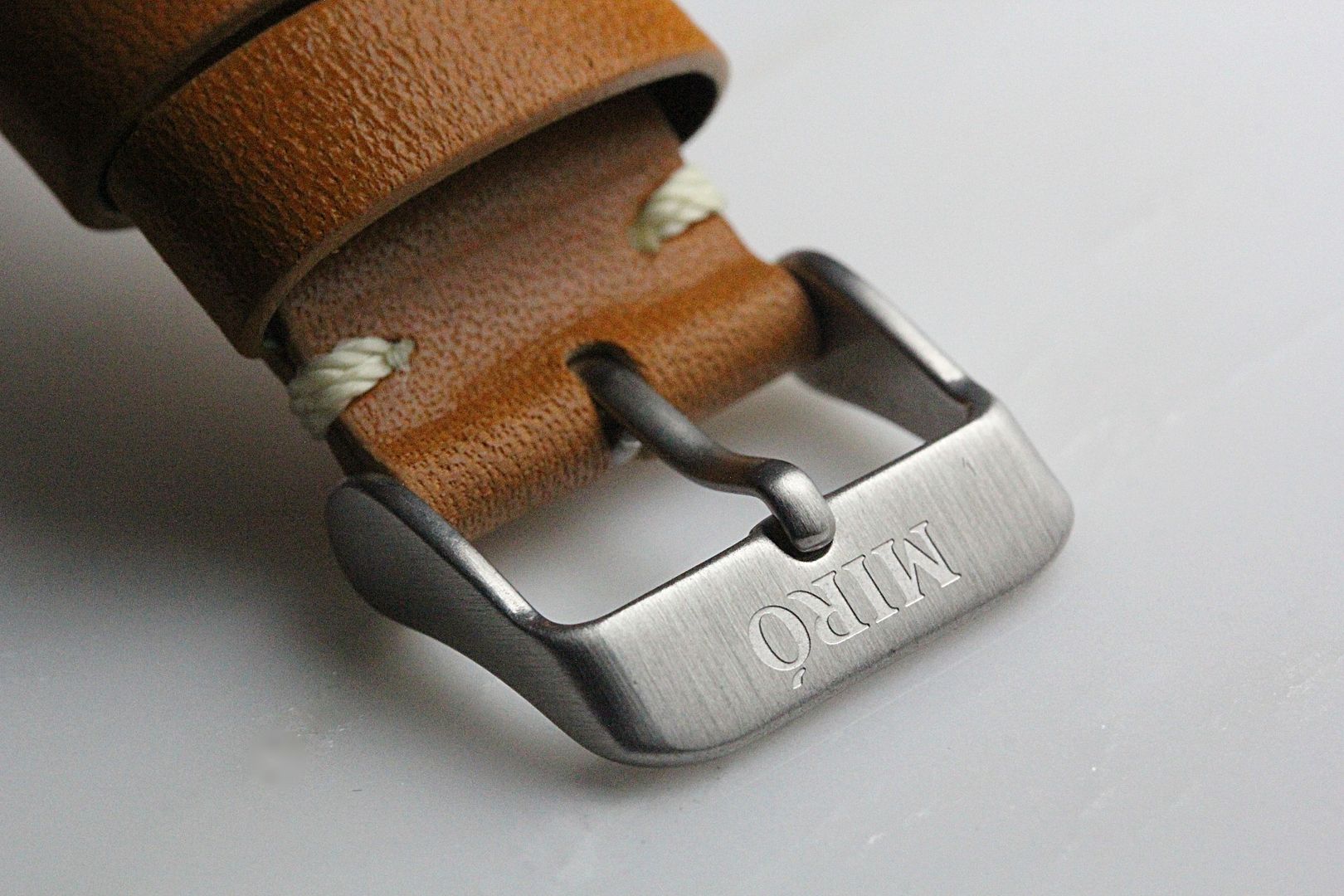 Movement:
The Miro utilizes a Citizen Miyota 9015 automatic watch movement. This is a very reliable movement and is well regarded within the watch industry.
Citizen Miyota 9015
(Stock photo)
Technical Specifications:
For more information on the movement, please refer to the following link:
http://www.citizen.co.jp/miyota_mvt/...c.html#cal9015
Performance:
I timed the review watch on my timegrapher to check its accuracy. The timing results were +9 to +10 seconds per day, which is actually at the bottom of the range for the movements stated accuracy specifications from the manufacturer.
-----------------------------------------------------------------------------------------
Wrist Shots:
For reference purposes, my wrist is 7.25 inches.
The Otago measures 40.0mm in diameter and 48.0mm in length. With these dimensions, the watch is the perfect size for MANY and is certainly a popular size in the WIS community. It wears very comfortably on the wrist and will fit nicely on most wrist sizes.
Overall, I have to say, this watch is outstanding on the wrist. It has great balance, fantastic proportions and its overall appearance in person is excellent.
-----------------------------------------------------------------------------------------
Overall impression and final thoughts:
The Miro Creme Automatic is a great casual watch. While preparing my review and evaluating the watch, I found it difficult to find many things to find that I would change about this watch, especially at its very reasonable price point.
During my evaluation of the watch, I found it refreshing that Miro has designed a watch that has an appearance that is outside the "norms" of what we commonly see in the market. Not only did they design a unique looking watch, they did it with quality components that the WIS community consistently ask for -- Quality automatic movements (9015), sapphire crystals...etc.
The only point that I will note is the crystal. BUT, this can be said of ALL domed crystals...they are often difficult to view from the side. So, if I had my choice, I would have suggested a flat sapphire. With this being said, I think that the domed crystal provides the watch with a vintage vibe and I believe that is what Miro was striving for with their design...so I believe that it would be a moot point to change it.
With all this being said, I think that this is a great value and would suggest it for somebody looking for a nicely priced casual watch! It comes is a bunch of cool colors and different finishes (see below), which also give the watch a completely different vibe.
Well, that concludes my review …Thanks for reading and I look forward to your comments ~ Mark