Name of Reviewer: Mark (AKA andrema)
Watch Reviewed: Magrette Dual Time
-----------------------------------------------------------------------------------------
Magrette Timepieces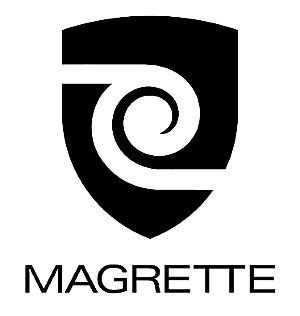 Company Information:
Website:
http://magrette.com/index.php
Contact:
http://magrette.com/contact-magrette.php
Instagram:
https://instagram.com/magrette_timepieces/
About from Company Website:
How it started..
The MAGRETTE story began while I was working as Managing Director of a Creative Agency. I was busy working on designs for a French-Canadian watch company when the inkling of an idea was born...why not build my own watch brand?
The first thing I had to do was conceive of my brand. What were to be its design features & principles? What allusions & associations would my brand suggest? How could I capture my vision in a name?
I was thinking of an older world & the stories in the lines on the faces of elderly people. I imagined black Italian suits & stark white shirts. I saw cobblestone roads & the well worn buildings of days gone by…the simplicity of the past. These images were to inform my vision of a timepiece that wouldn`t be influenced by trends, but something that was time tested & true. Indeed, something that might still be stylish when our grandkids are all growing up. Oneday by chance, I glimpsed a name that spoke these words to me - Mysterious, Alluring, Old World, Strong – that name was MAGRETTE (MAR-GRET-TEE).
Next had to come the New Zealand connection. As a fan of classic yachts I knew my brand had to associate itself with yachting & that`s when I felt the package was finally coming together.
Now that I had a plan of where I wanted to go with MAGRETTE I began work on my first website. I had the skills to do it myself but not the skills to take it to the level I wanted. It was therefore necessary to test the market with a minimum of outlay to see if my concept was viable. As it turned out this phase has become a part of Magrette history. I ended up selling out of my first model, the Marcus Chronograph Manual Wind, & still have people asking for it today. Without that initial success I would have ended up with gifts for a lot of male friends! Once it became clear that a market existed I knew just the guy who could build my website to the high standard you see today.
When you are selling on the internet you have to make it easy for people to come to you if they have a problem & have faith that it won't take forever to fix. For example, the stopwatch tended to stick on my first prototype but that was soon fixed - all part of the learning experience! Now, all Magrette watches come with a 12 month guarantee so in the unlikely event of there being a malfunction, components are quickly replaced at no cost to the customer.
I then moved on to the Vintage Series model & simplified. This watch has an uncomplicated movement & has been a great seller as well. I decided the case on this model should become my signature case for all new models. With that in mind, my next design was the Bacchus. This is when I realized I could grow a real future in the watch profession. I reinvested all my profit back into the business by stocking up on components and movements.
I have had good luck running into the right people at the right time. I was lucky in the sense that these key people approached me through my website just as I was planning to look for them. The best thing of all is that they are good at what they do & they have a passion for timepieces. I think this makes it a lot easier to get your vision across when people already have an understanding.
Of course this is not to suggest I haven`t encountered strategic difficulties along the way. For example I would spend hours every day reading watch forums & watch news articles. I often found myself being dragged in other directions by new inventions & designs. But at the end of the day you have to stick to the vision that stimulated you in the first place - mysterious, alluring, old world, strong.
At first I struggled with finding suppliers that would take me seriously with such small runs of components. I also had to search long and hard for a case manufacture who could produce a small run. The first few companies I tried just laughed at me, but in the end I found one that has worked for me well . Our Vintage Style roll case is made to a very high quality here in Auckland while all the watch components are sourced from overseas. Currently we have straps made by a specialist in Canada, graphic design work done by a kiwi in Taiwan & dials supplied from Germany!
My vision of Magrette from the start has always been long term. It is a business I want to work in till a ripe old age. Flexibility is important. My business is set up so I can work with all my key people remotely. These include case maker, movement supplier, dial maker, metal band supplier, leather strap maker, buckle maker, photographer, copy writer, graphic designer & technical advisor. This is how MAGRETTE will continue to grow into the future.
Magrette Dual Time - Green with PVD Case.
Stock Photo:
Description from the company website:
The new Dual Time features a new 42mm (without crowns) size case, allowing more people to enjoy wearing this eloquent looking watch than before.
The inner bezel ring can be adjusted by the upper crown to act as second time zone. A feature that is very functional for the frequent traveller or people with business partners in another time zone.
The watch comes in 4 different color combinations, all limited to 500 pieces worldwide. The stainless steel versions have a brushed case with polished bezel. The black PVD versions look matte because of the bead blasted finish of the stainless steel beneath.
The dials are made of two discs on top of each other with cut-outs for the indices and date, often referred to as a "sandwich-dial". Super Luminova (C3 greenish and Vintage radium color) will ensure visibility in dark conditions.
The back side shows an engraving of the Frigatebird. A bird that also appears on ancient polynesian star compass maps for navigation.
The Frigatebird, with a wingspan that can reach 2-3 meters, is known to stay in the air for up to a week, feeding itself by snatching prey from the sea surface. A great symbol for exploration and freedom, the spirit of this watch in a nutshell.
The engine of this timepiece is a self-winding movement with hacking feature (MIYOTA 9015). It is reliable and accurate and is a very durable movement. This movement is positioned between the well known ETA 2824 and more luxurious 2892 movements.
Watch Specifications:
- Case: 316L Stainless Steel with PVD coating
- Crystal: Sapphire, double domed with anti-reflective coating
- Caseback: 316L stainless steel, screwed-in
- Movement: Miyota 9015, automatic, 28800 bhp
- Functions: Hours, minutes, seconds, elapsed time
- Dial: Dark green
- Diameter: 42 mm
- Length: 50 mm
- Thickness: 12 mm
- Weight: 96g with strap
- Water resistance: 20 ATM / 200 Meters
Price:
$575 - $605
-----------------------------------------------------------------------------------------
Magrette is a Auckland, New Zealand based watch company, which was founded in 2006. For this watch review, the company has provided one of its new dual time models for review. This is a pvd dual crown watch, with an automatic movement and sapphire crystals.
Magrette Dual Time
Packaging:
Normally, I prefer simple packaging, provided it is sufficient to protect the watch while shipping and storage. However, in the case of the new Magrette packaging which was provided with the Dual Time, I must say...holy cow. This packaging is some of the nicest and most practical that I have come across in a long while!
The watch comes "double boxed", with a nice, branded pressboard outer box. The outer box is black and has the Magrette name a logo printed in white on its top. Inside, the company's new travel case holds the Dual Time safely snug in place.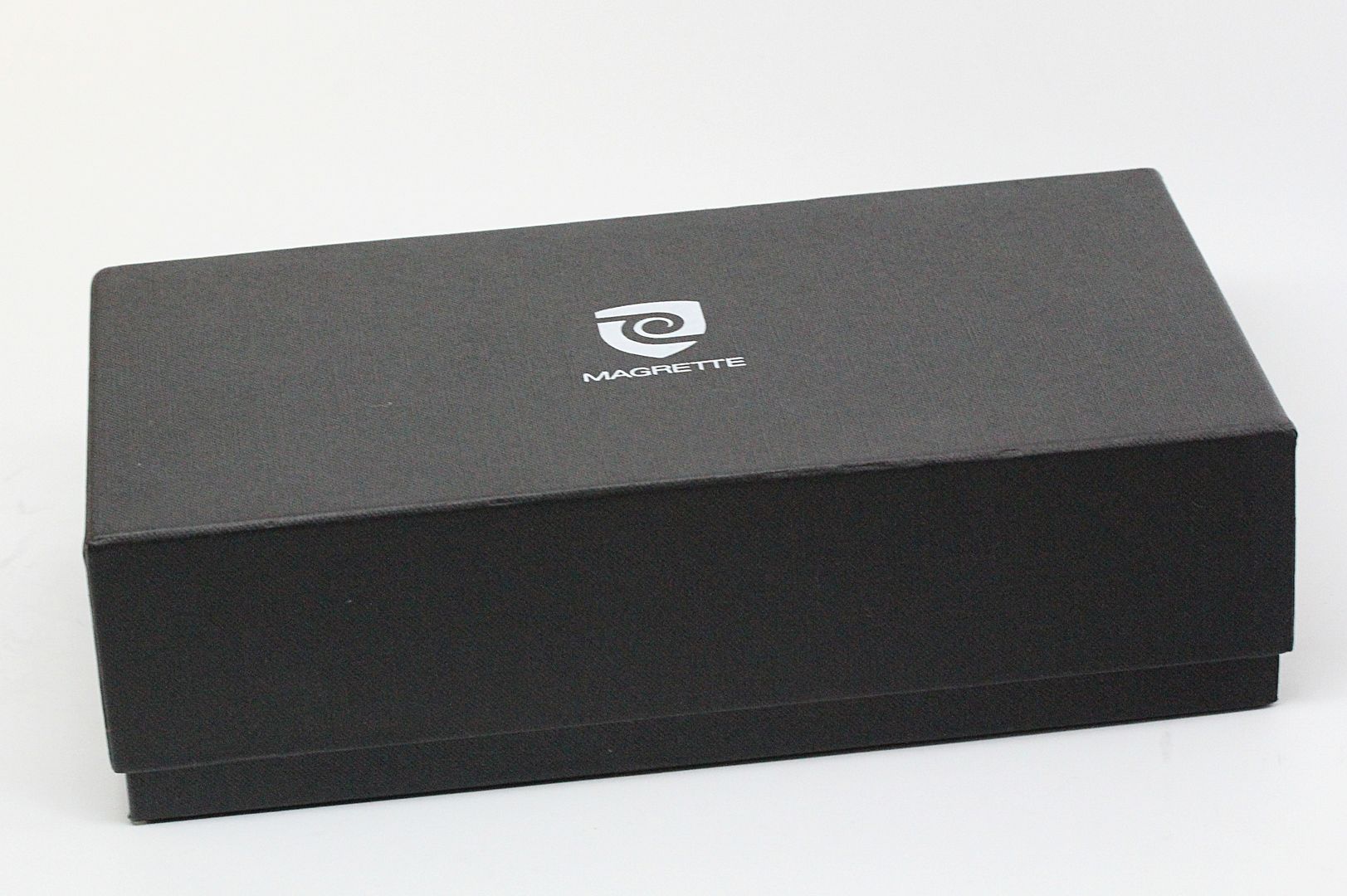 The leather travel case is one of the stars of the show...with an outside cover of textured, black leather with tan stitching. The case is padded underneath the leather, which gives the case a nice, supple feel in your hand. The case is finished with Magrette's name and logo embossed on its lid as well as matching zippered enclosure.
The inside of the travel case is lined entirely with camel colored suede (medium tan). The material is very nice and the stitching inside is well done. The case has two sections, with a divider and removable "strap wallet". With this being said, the case can be used to transport two watches safely, with extra straps and tools.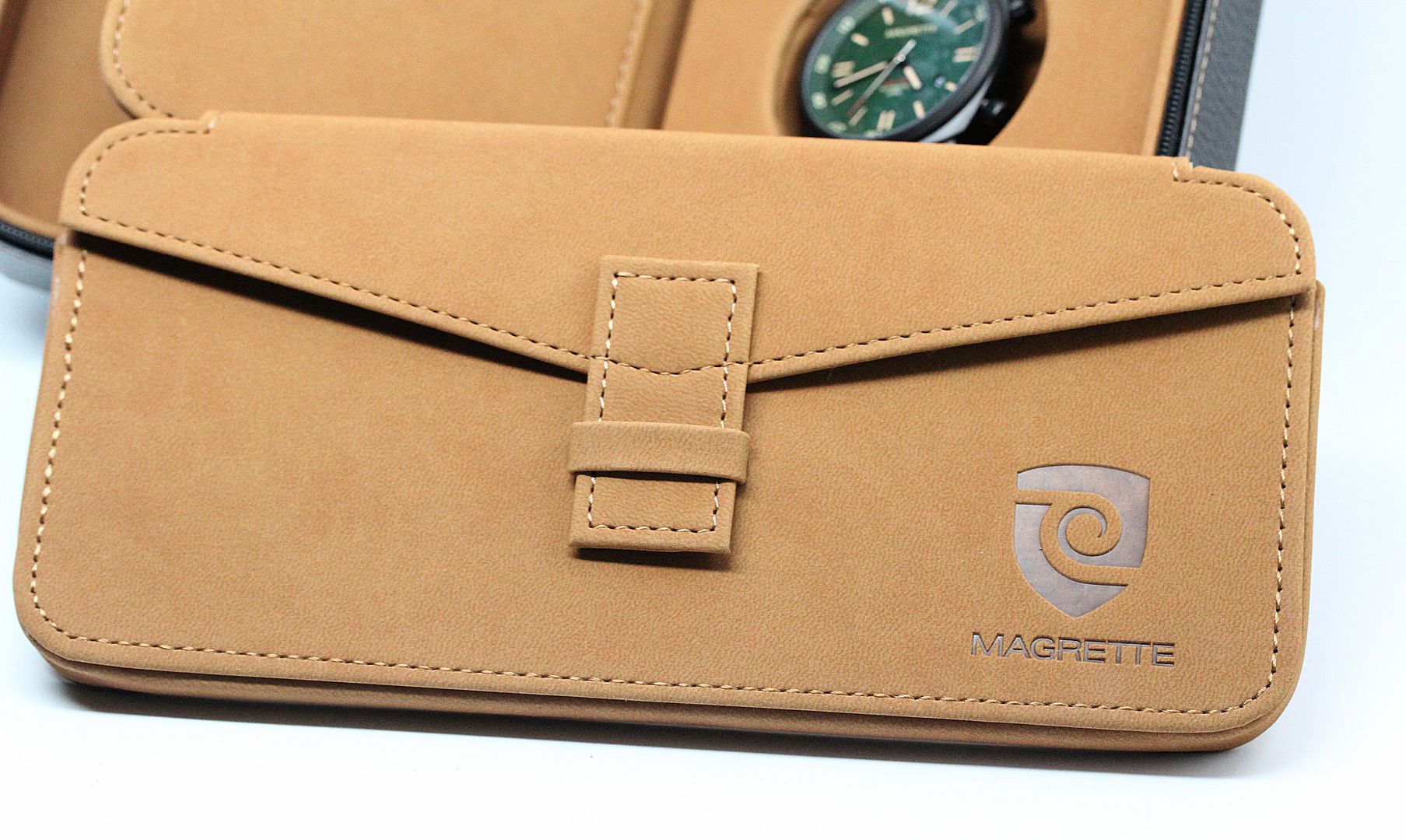 These travel cases are actually now offered for sale separately by Magrette. Please follow the following link for more details -->>
http://magrette.com/travel-case.php
Case and Crystal:
The Magrette Dual Time is designed with a cushion style 316L satinless steel case. The case itself has been completely bead blasted, to create a satin finish. In addition, this model has a black PVD finish. The finish on the watch is nicely done and evenly applied throughout the entire surface of the case.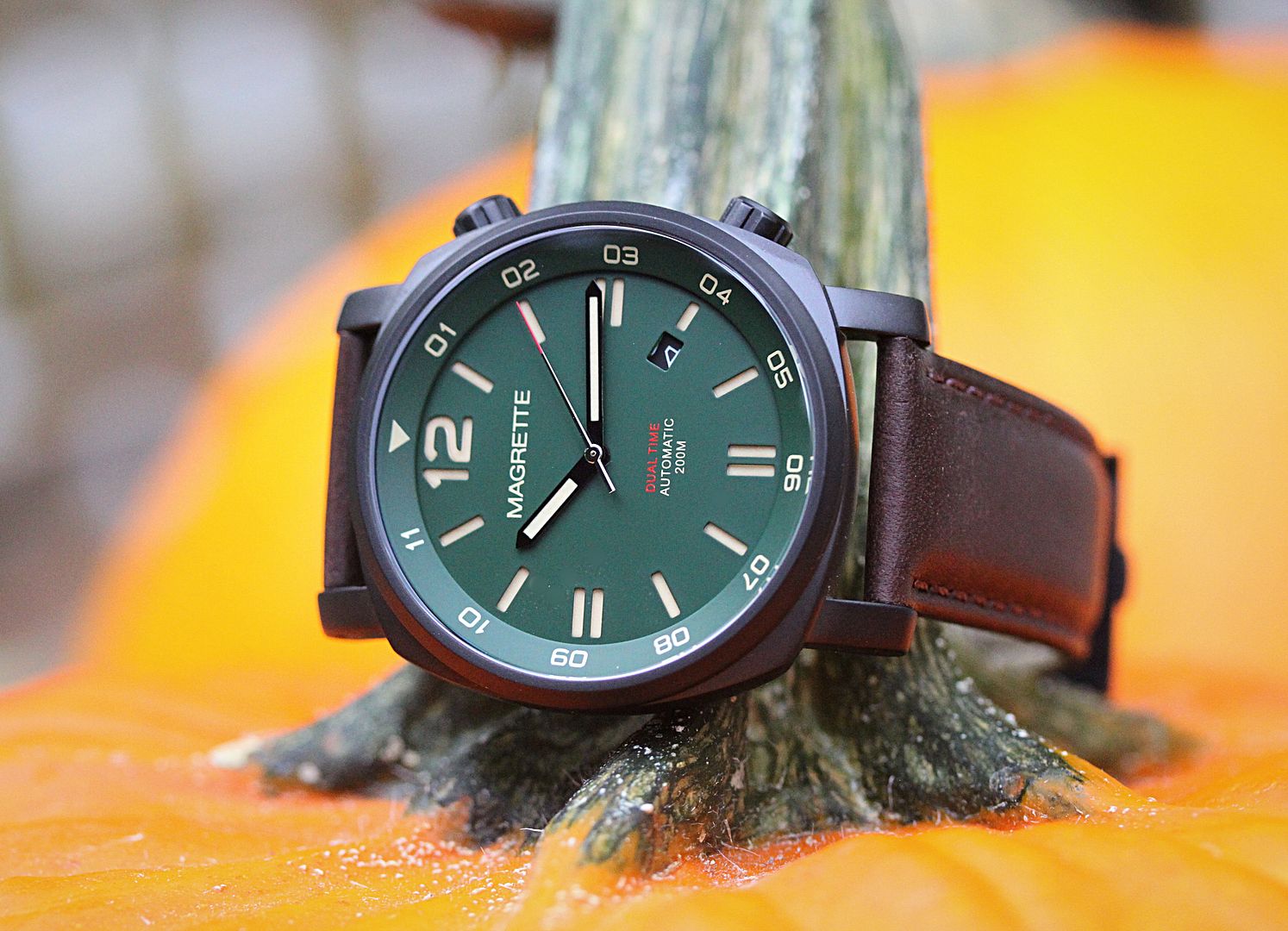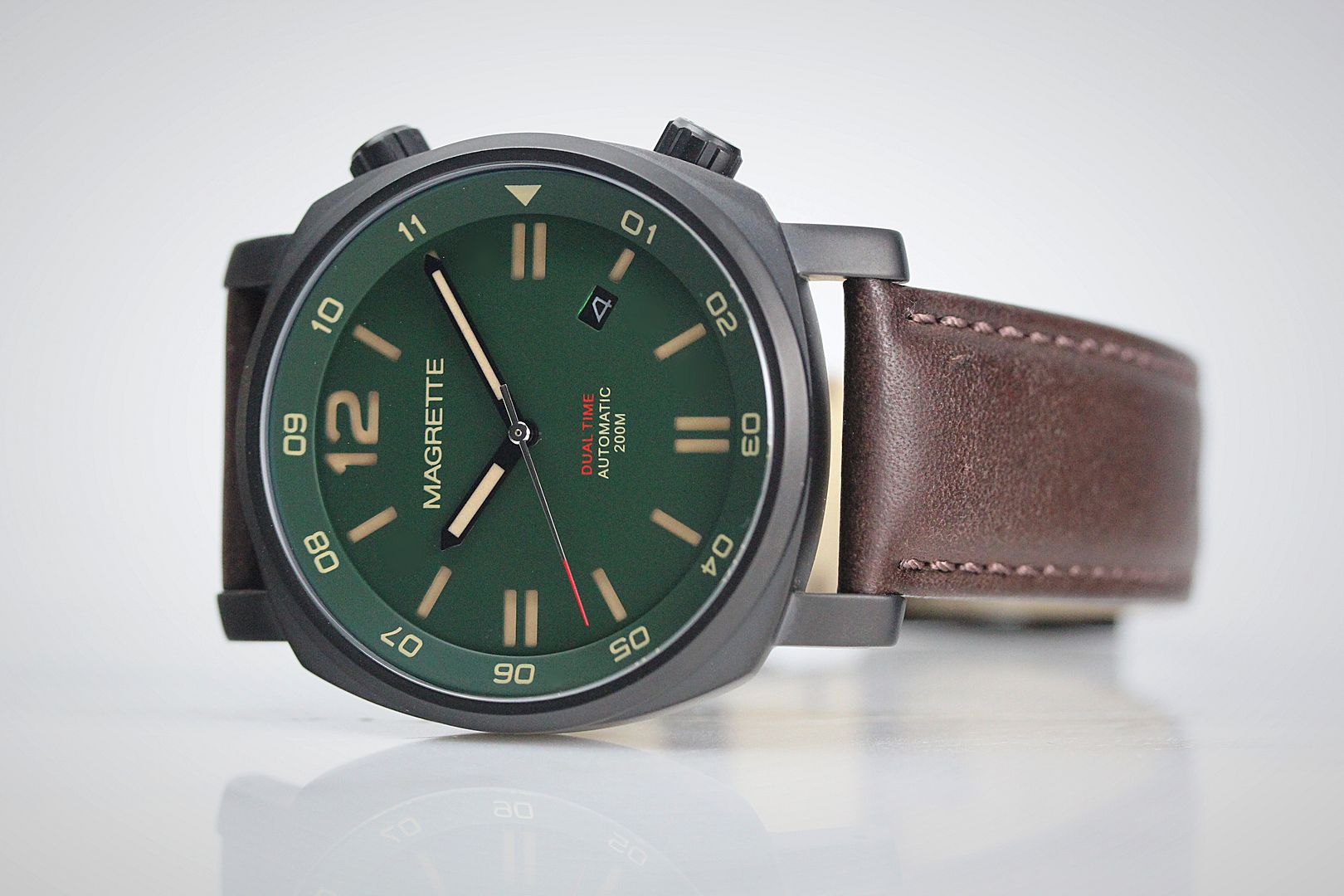 The watch is designed with a fixed external bezel, with an internal bezel for tracing time in a second time zone. The lugs of the watch include drilled holes, which come in very handy for quick strap changes and helping to avoid scratches from having to change straps from the back side of the watch.
The watch comes equipped with two crowns, one at the 2 o'clock position and a second at the 4 o'clock position. The lower crown is used for adjusting the time, setting the date and winding the watch, where the top crown is solely used for adjusting the position of the watch's internal bezel. Both crowns screw down with a few turns, which helps keep the watch water tight.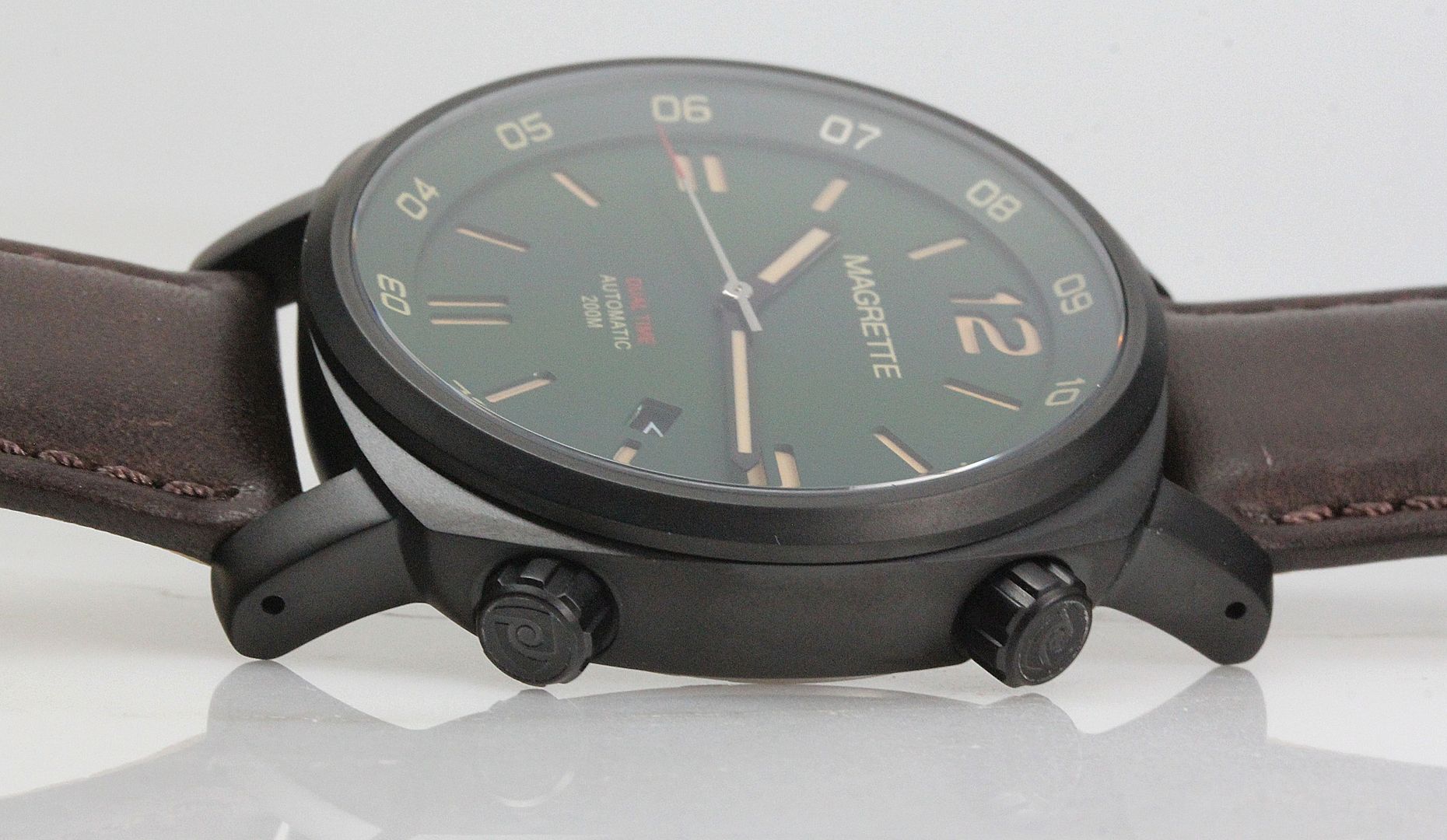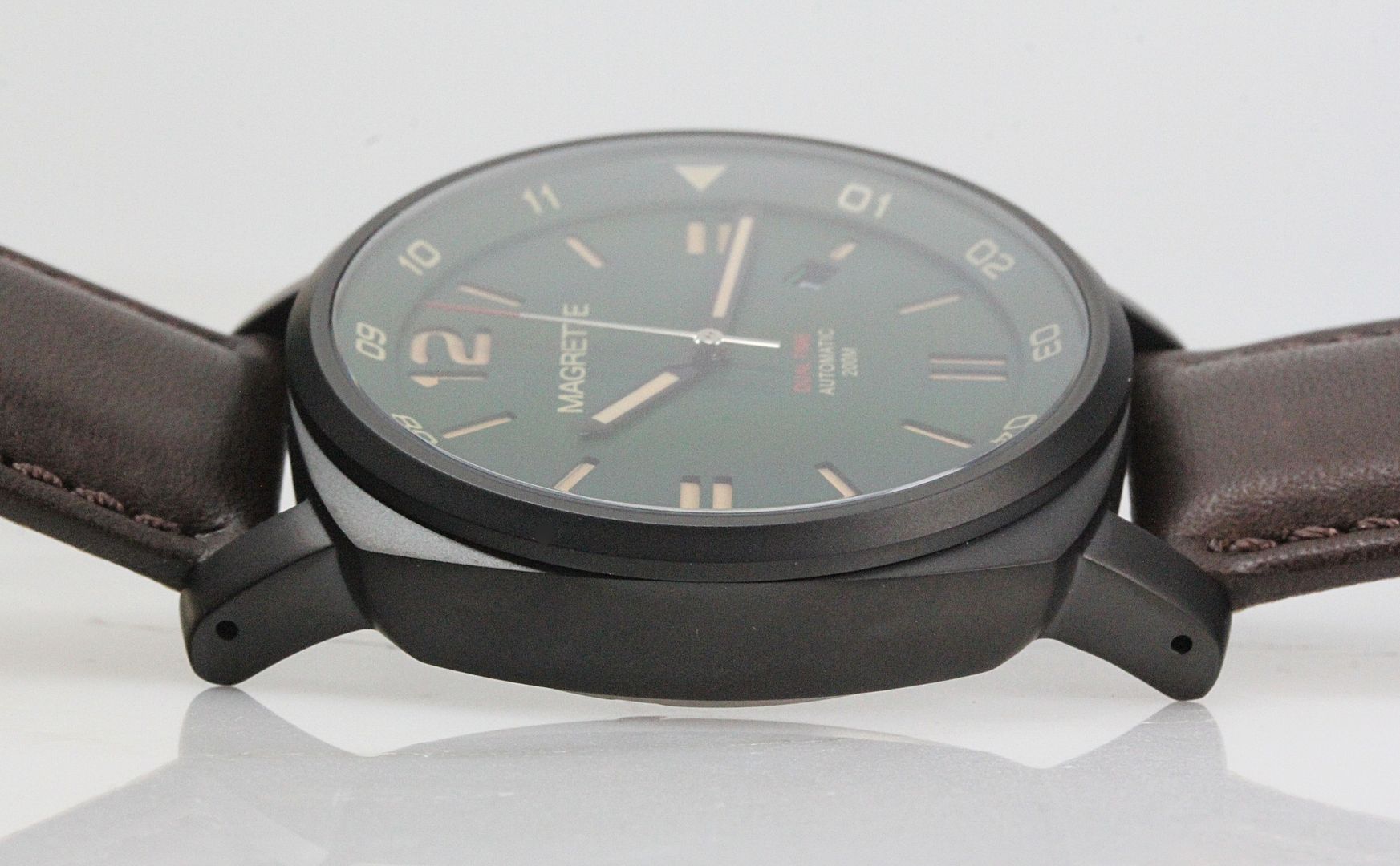 The internal bezel includes a twelve hour register, with a triangle indicating the 12 o'clock position. As you can see in the photo below as well as photos throughout this review, the triangle just needs to be rotated (in either direction) to the desired second time zone and locked into place by screwing down the crown. The photo below shows no difference in the two time zones.
The watch's screwed-in 316L stainless steel case back has a circular brushed finish, with the silhouette of a frigatebird engraved into its center. The case back is attached to the case with four stainless steel screws. The overall design in actually quite attractive and the silhouette design really pops out at you.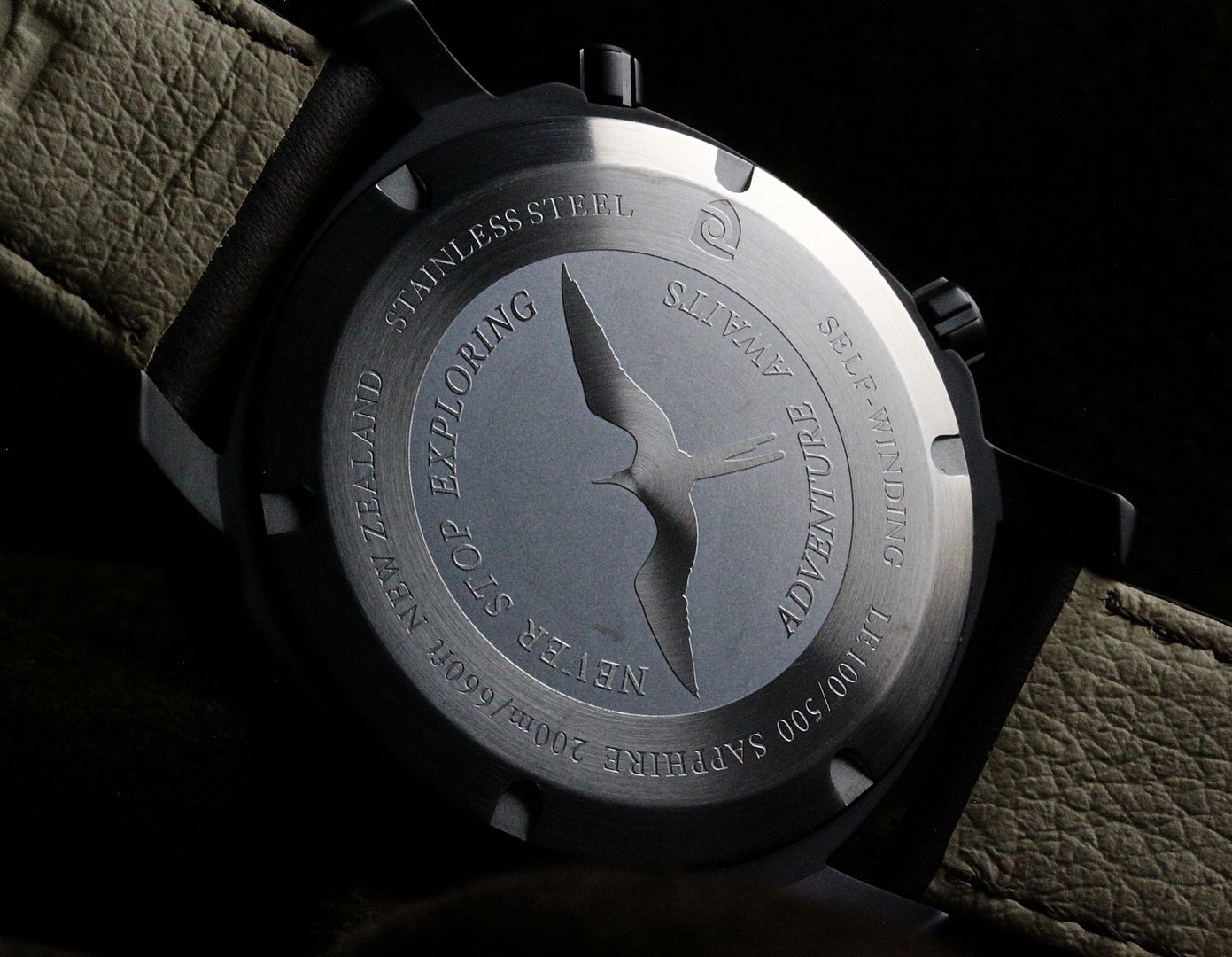 The Dual time has two nicely sized, 6.0mm crowns, with the Magrette logo engraved into their ends. The notches engraved into each crown's sides provide an excellent gripping surface, and easy to manipulate them while making adjustments.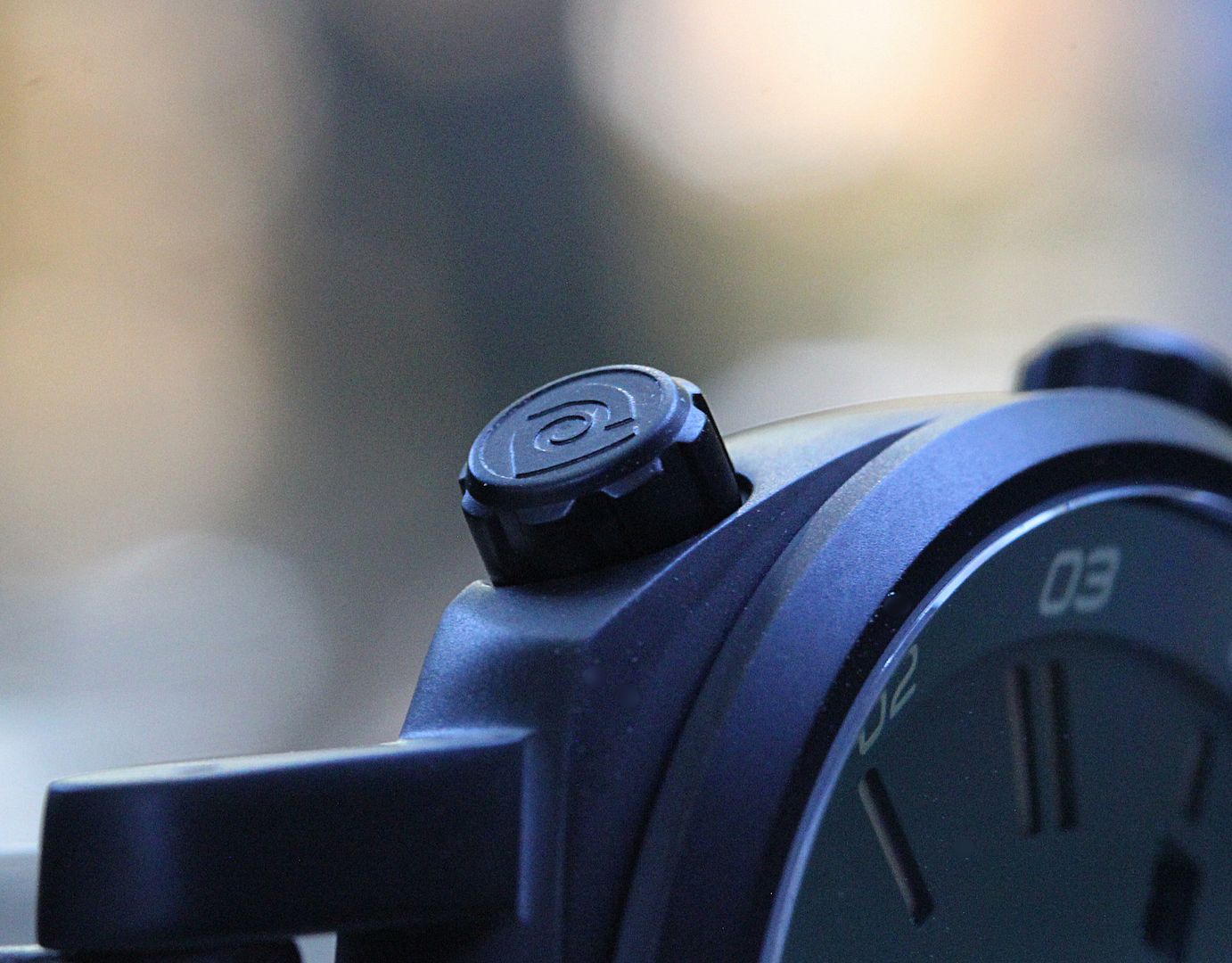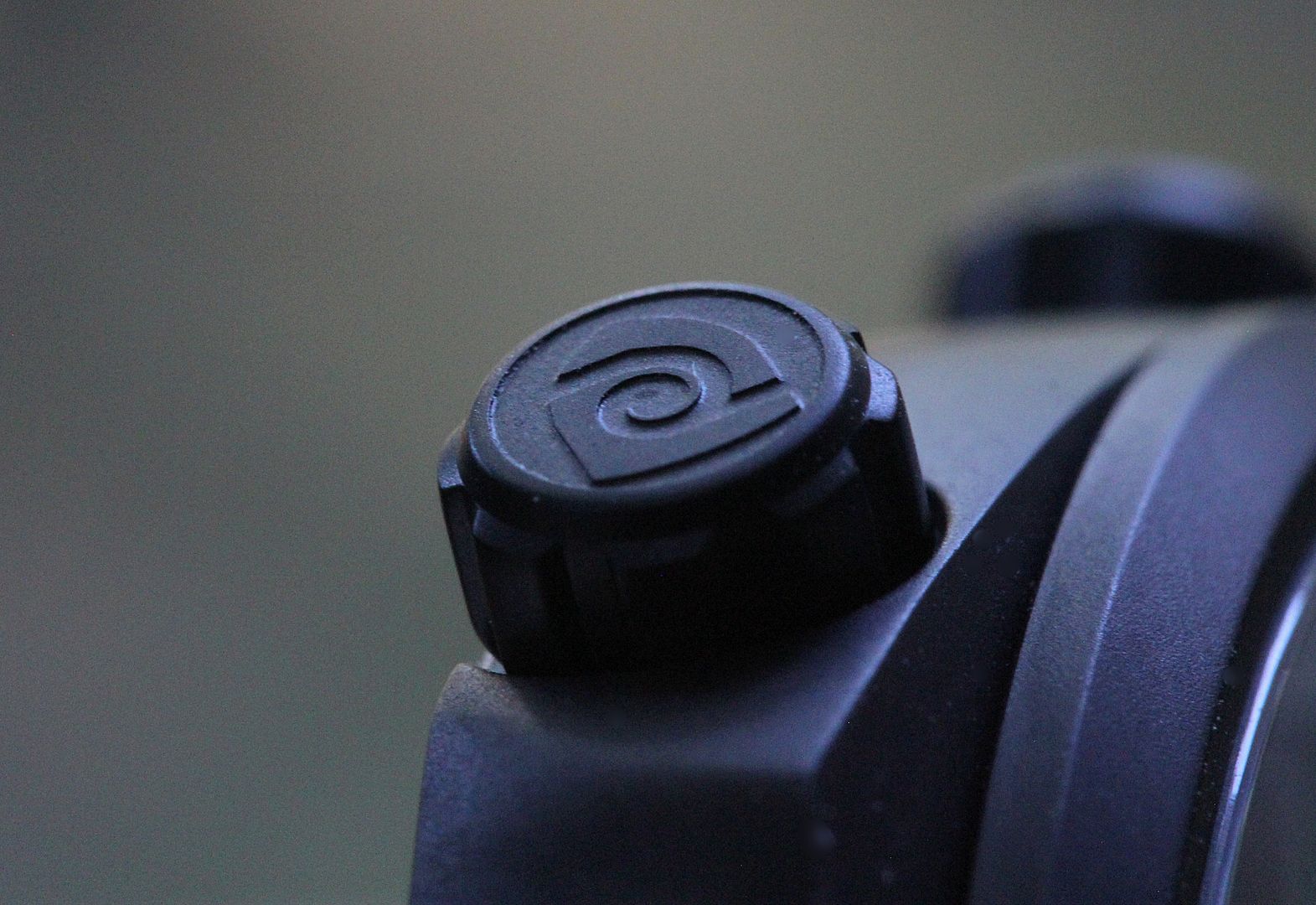 Dial and Hands:
The dial design itself is very clean looking and uncluttered. It is a sandwich style design, with large hour ion the dial. The design incorporates C3 Superluminova painted recessed hour indices, which have a tan tint applied that give it a vintage/patina appearance the company name painted in at the 12 o'clock position on the dial and the model name painted in red at 6.
I would describe the dial as being hunter or dark green in color. The tone of the dial works great with the PVD case as well as the tan lume and red accents incorporated into the dial design.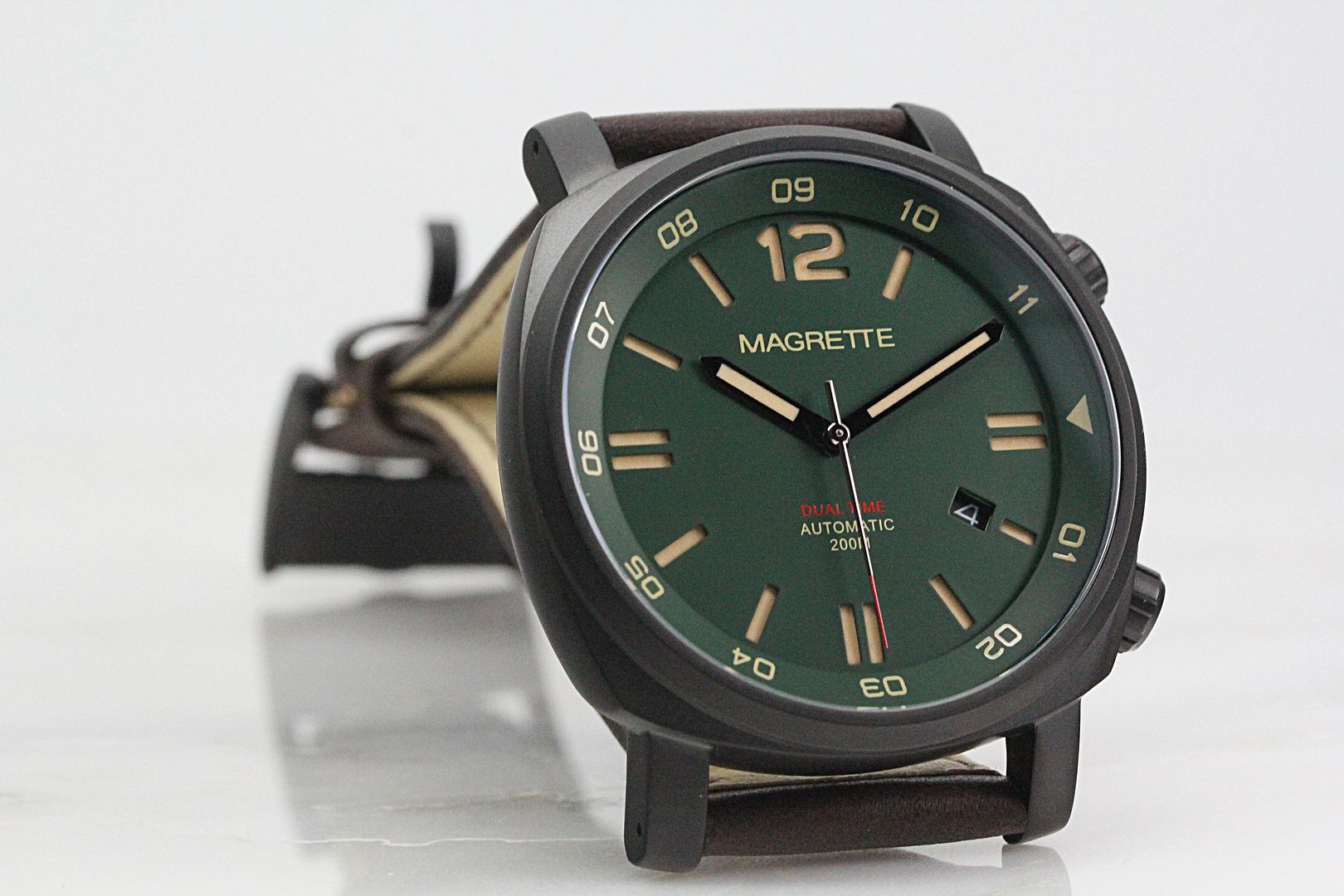 Below is a closer shot of the information painted at the 6 o'clock position on the dial. The colors used really work nicely with the green dial.
The photo provides a closer look at the dial's sandwich style hour indices. They are well executed and work nicely with the overall design of the watch.
In addition, in the photo below, the internal bezel has been adjusted to the three o'clock position.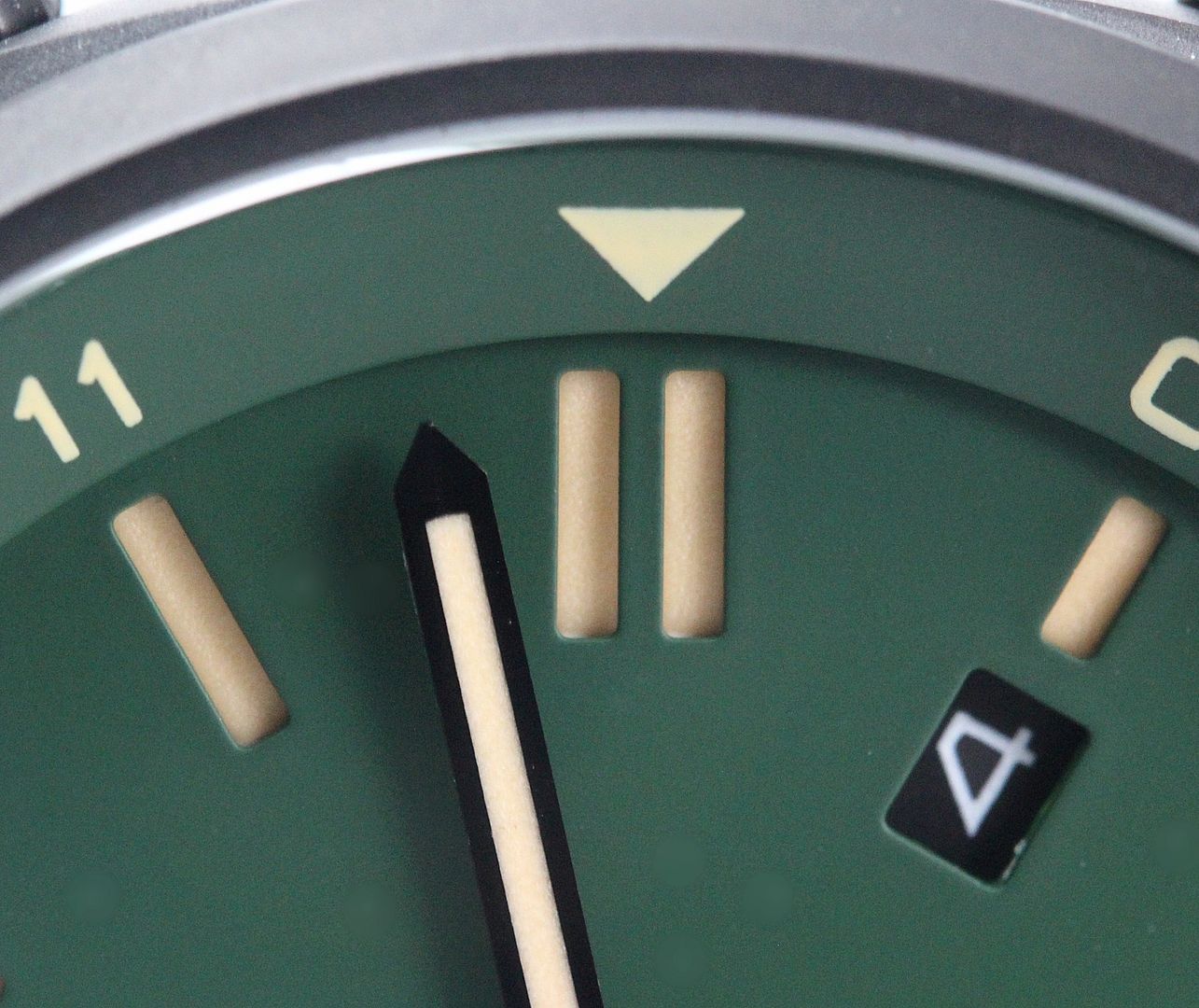 As you can see from the photos, the C3 Superluminova used on the dial and hands has a nice tan tint, which gives them the appearance of having patina. The lume lights and has a nice green glow when fully charged. The lume is very strong and fades slowly over time. As you can see from the photos below, when it is fully charged it lights up like a torch.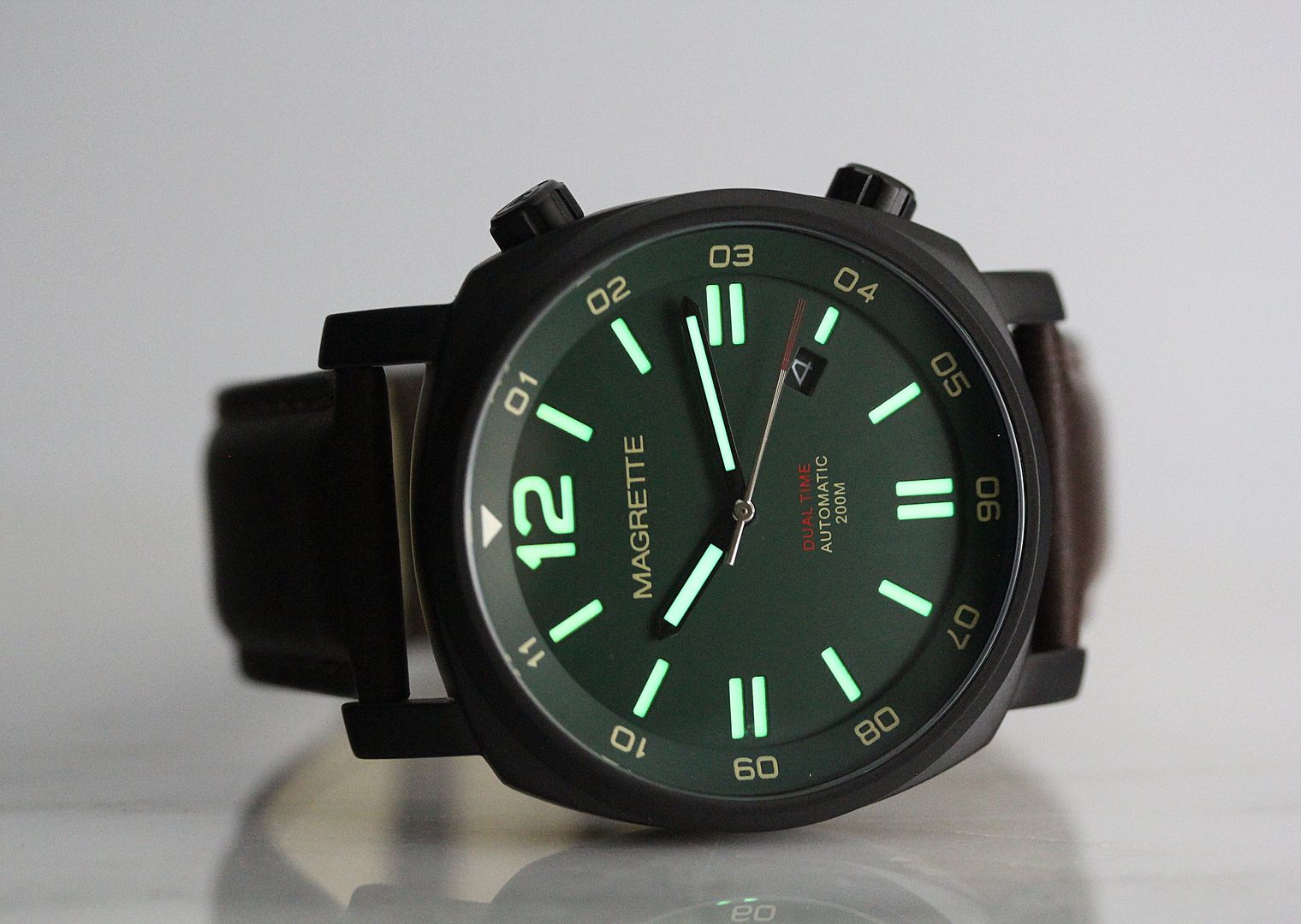 Straps:
The Dual Time comes with a tapered, 22mm chocolate brown leather strap installed. The strap has a smooth texture along its length, with matching stitching and finished edges. The strap is fairly pliable fresh out of the box and the quality of the materials used is nice.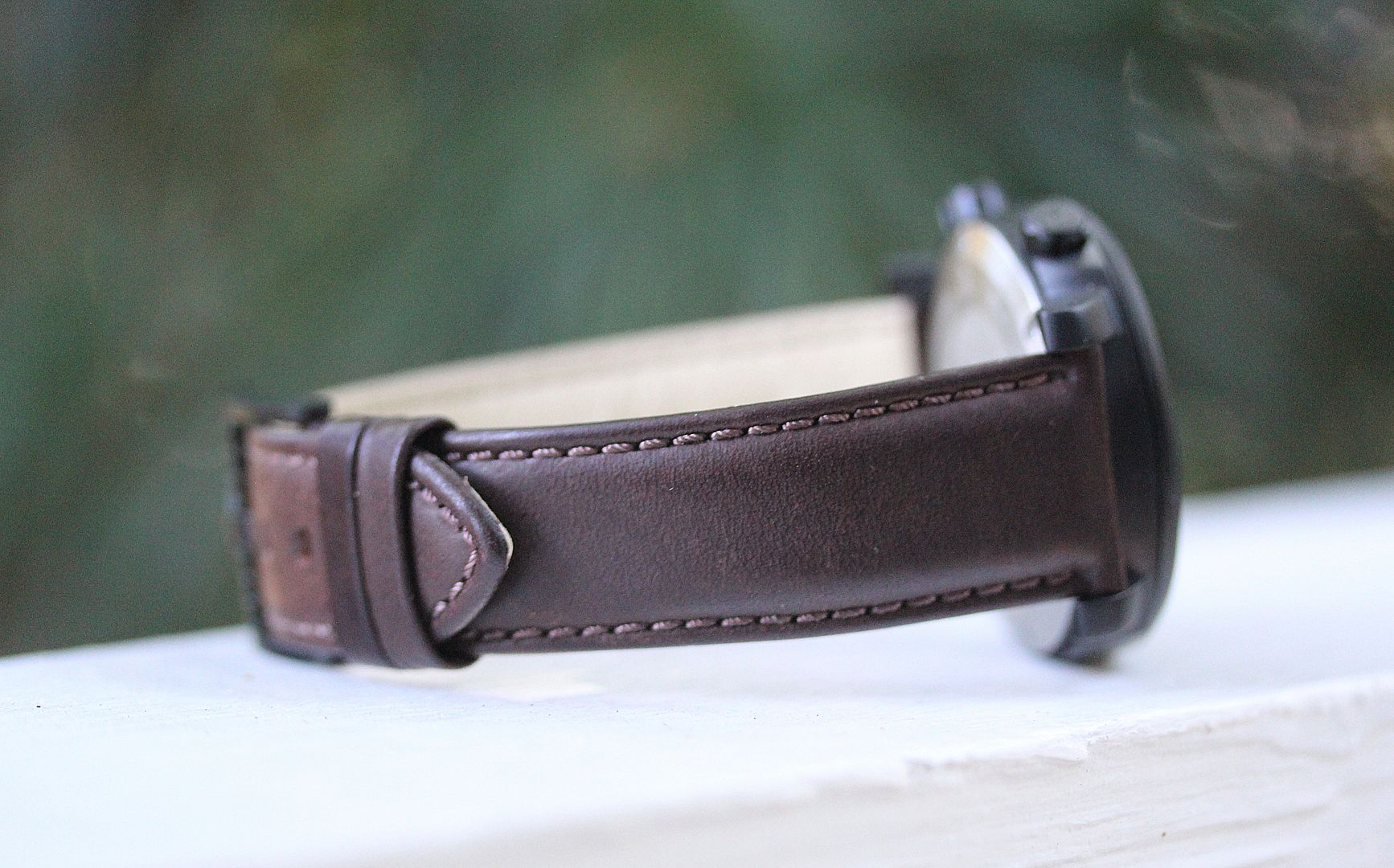 The strap is constructed with a Lorica lining, which is a high-tech microfiber material, with properties similar to leather. The material is known for being lightweight, having good tensile strength, and its scuff resistance. This is a patented material manufactured by Lorica Sud, an Italian tannery.
The material used for the strap lining has a cream color and textured appearance. As you can see from the photo below, the Magrette logo is embossed into the long end, which gives the strap a great, finished appearance.
The watch comes with a good quality 316L stainless steel custom buckle with a bead blasted finish and black PVD coating applied. The buckle itself is very visually appealing, especially the polished Magrette logo, which is engraved into its end.
Movement:
The Magrette Dual Time utilizes a Citizen Miyota 9015 automatic watch movement. This is a very reliable movement and is well regarded within the watch industry.
Citizen Miyota 9015
(Stock photo)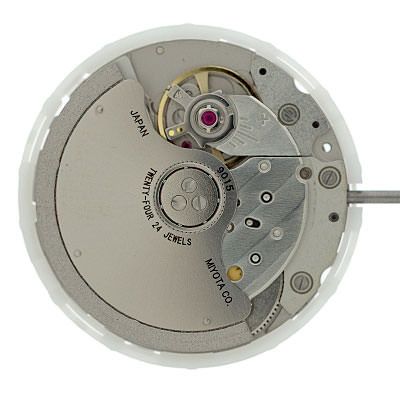 Technical Specifications:
Performance:
I timed the review watch on my timegrapher to check its accuracy. The timing results were +9 seconds per day, which is actually better than the movements stated accuracy specifications from the manufacturer.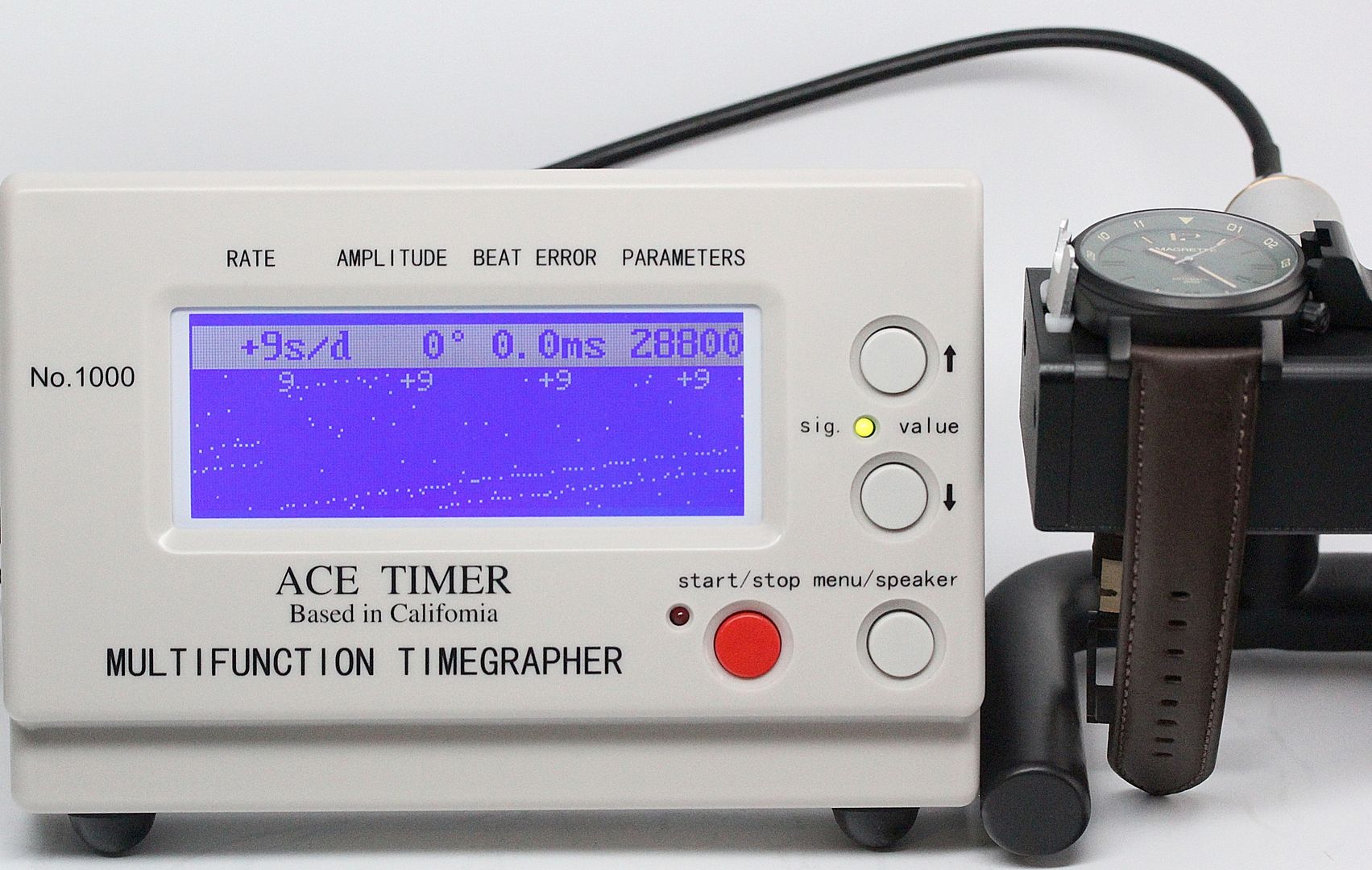 For more information on the movement, please refer to the following link: http://www.citizen.co.jp/miyota_mvt/...c.html#cal9015
-----------------------------------------------------------------------------------------
Wrist Shots:
For reference purposes, my wrist is 7.25 inches.
The Dual Time measures 42.0mm in diameter and 50.0mm in length. With these dimensions, the watch is the perfect size for MANY and is certainly a popular size in the WIS community. It wears very comfortably on the wrist and will fit nicely on most wrist sizes.
Overall, I have to say, this watch is outstanding on the wrist. It has great balance, fantastic proportions and its overall appearance in person is excellent.
-----------------------------------------------------------------------------------------
Overall impression and final thoughts:
Overall, I feel that the Magrette Dual Time is an excellent casual/sport watch. I was thoroughly pleased with the finishing on the watch and very impressed with the company's well thought out design. In my opinion, it is an excellent option if you are looking for a unique sport watch, with a dual time zone complication.
While preparing my review and evaluating the watch, I found it difficult to come up with any shortcomings of the Dual Time's design or execution. However, as I do with all of my reviews, I have compiled a couple items that warrant mention. Please note, these points are fairly nit-picky and the watch has a fantastic design and excellent quality notwithstanding these few points:
- The current second hand does not have lume applied to its tip. I always prefer to have lume applied to second hands, because it just creates a more complete appearance when viewed in low lighting. With that being said, the current red painted tip is perfectly fine.
- The date window on the watch currently does not have a "frame" around it. I would have liked to see a tan border on the window to help the date stand out a little more against the green dial. There is nothing wrong with the current design, but that is a personal preference of mine that I wanted to mention.
- The second time zone bezel is a great feature, especially with an internal bezel. However, I would have loved to see lume applied to its triangle. This is absolutely not needed, but would have been a fantastic addition to the overall design.
Well, that is all that I could find…fairly benign. As I said previously, these points are fairly minor or nit-picky.
Well, that concludes my review …Thanks for reading and I look forward to your comments ~
Mark