Name of Reviewer:
Mark (AKA andrema)
Strap Reviewed:

Vintager Straps (Micah) "Brindle"
Strap donated for review.
-----------------------------------------------------------------------------------------

Company Contact Information:
Website:
http://www.vintagerstraps.com/
Email:
[email protected]
Facebook:
http://www.facebook.com/pages/Vintag...s/143807242122
Twitter:
https://twitter.com/Vintagerstraps
"About" from the Company Website:
Vintager Straps is an established strap maker that is well known for high quality handmade watch straps. Micah Dirksen, the owner, is a Panerai enthusiast that has been crafting his custom watch straps for over 5 years for watch community. He stands behind his work and offers a no questions asked guraranty.
Vintager offers automatic discounts for orders of2 straps or more (even for groups). The discount starts at 10% and goes up as more straps are ordered.
Here's how it works:
1 strap = regular price
2 straps = 10% discount
3 straps = 15% discount
4 straps = 20% discount
5+ straps = 25% discount
Guarantee:​
If your strap ever gets ruined or fails for any reason I will replace it expediently and free of charge. This guarantee includes: Use, misuse, abuse, exposure, the need to burn your strap for warmth, your dog eating it in a fit of rage... whatever. If it's ruined I will replace it, no questions asked (unless the story sounds interesting).
Return Policy:​
If for any reason you are not satisfied with your strap I will replace it, free of charge, as many times as it takes until you are satisfied. If I'm unable to make a strap that satisfies you I will refund your money in full.
This policy is meant to cover returns and exchanges on new straps (please see Trial Period below), not as you get new watches, your tastes in straps change over the years etc.
Trial Period:
When you receive your strap, if you don't like it PLEASE: Wear it! Wear it for a week or two, get used to it, see if your opinion changes, get it wet, put leather lotion on it, distress it, whatever! If you still don't like it after all that... just let me know. I will replace it with a different one.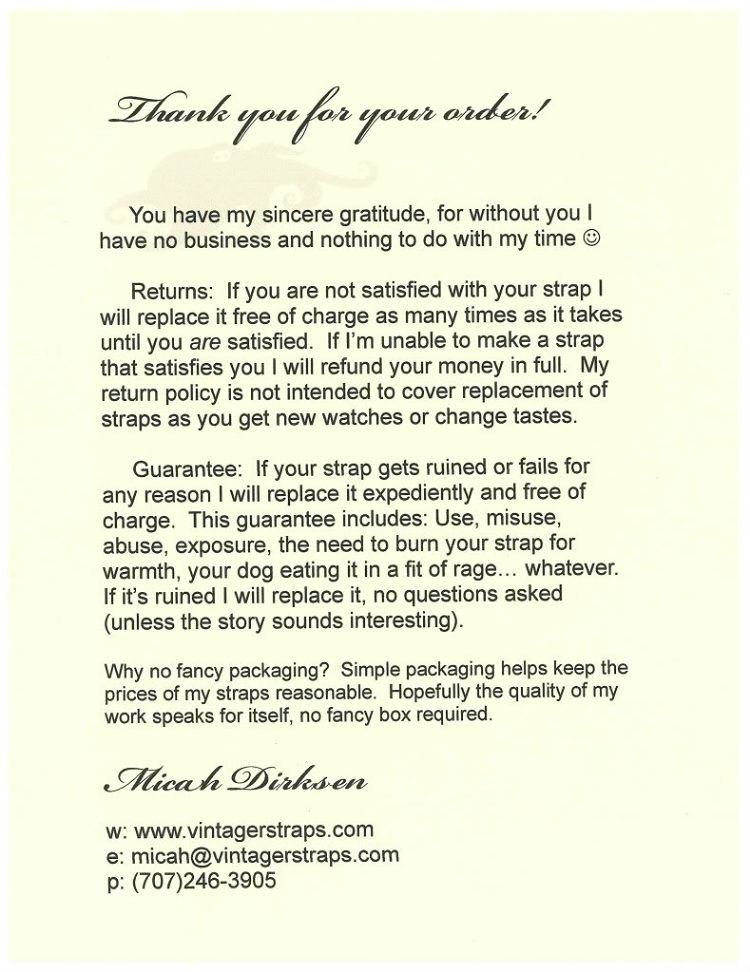 -----------------------------------------------------------------------------------------
Description of the strap from company website:
Brindle is a great, soft and comfortable brown strap with tons of style and character. A nice texture brings Brindle alive and makes it as much of a pleasure to look at as it is to wear.
Color: Medium brown

Texture: Striations and light texture

Thickness: 4.5mm (Thicknesses are approximate)

Stiffness: Soft and very pliable

Water resistance: Will soak up water, may darken slightly with water exposure.
Stock Image:
Specifications:
Style: Brindle
Length (mm): 130/80
Width (mm): 24/24
Thickness: 4.5mm
Stitching: Green with open ends
Hole Style: Oval
Buckle Type: Polished Pre-V
Other: Tubes
Price: $175 (Includes shipping)
-----------------------------------------------------------------------------------------
Packaging:
The strap arrived in a padded envelope. Inside the package were the strap and a letter from Micah describing his return policy as well as customer service approach. For those who are unfamiliar with his policies, Micah offers the following for all of his handmade straps: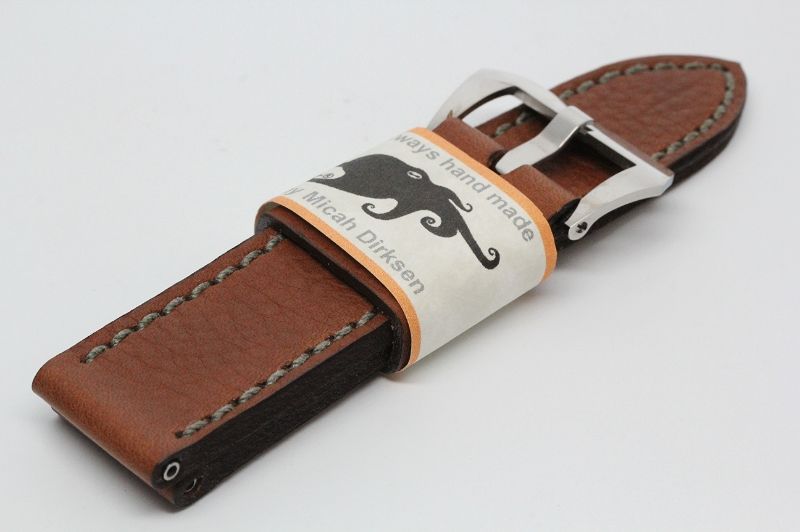 Photos of Strap:
If you have been a watch enthusiast for a while, you cannot help but hear about Micah Dirksen's work. His straps are all handmade and highly regarded within the watch enthusiast community.
First of all, in full disclosure, I feel that it is necessary to mention that this is my third Vintager Strap. When I was provided with the opportunity to review another one of their models, I jumped at the chance. I have been very pleased with the quality and finishing of my previous purchases, so my expectations for the "Brindle" were fairly high.
The "Brindle" is part of the Vintager "Regular" series of straps. A first glance, the strap has a fantastic "wrinkled" texture with an amazing medium brown tone to its surface.
The fit and finish on this strap is excellent. The strap features moss green thread, which is hand sewn in an open-ended style at the lug ends. The stitch work is superbly done and is evenly applied throughout the strap.The edges of the strap are very crisp and are sealed to provide a more finished appearance to the strap.
This strap is, by far, the most comfortable leather strap that I have had the pleasure to own or review to date. At 4.5mm in thickness, the strap just melts around your wrist and immediately conforms to slight variations in wrist dimension. This is quite a nice characteristic as compared to many other similarly designed straps in the market today, which tend to be rather stiff and have a break-in period.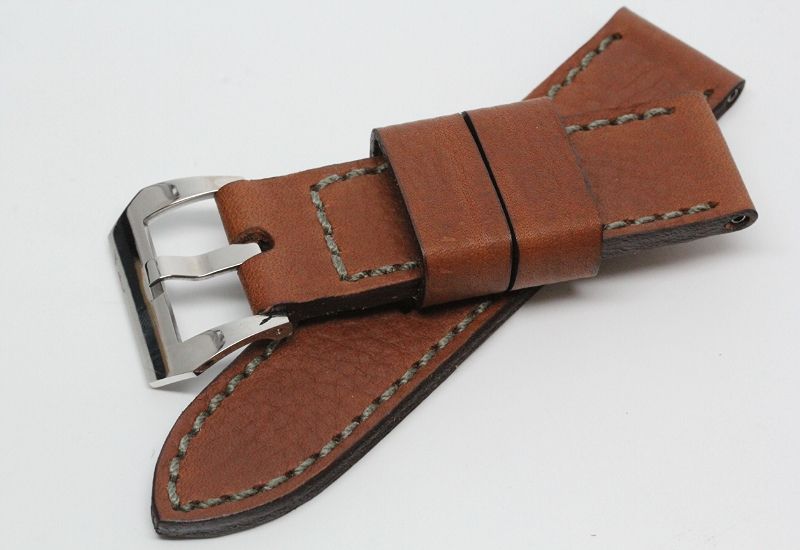 The Brindle includes two wide leather keepers and optional lug bar tubes.
As with all of their straps, the Brindle features an embossed Vintager octopus logo on the strap's lining.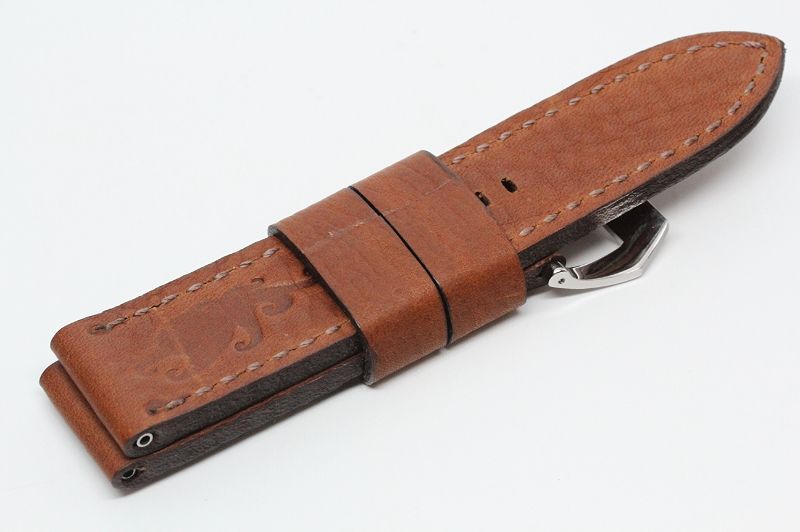 The strap features a screw-in Pre-Vendome (Pre-V) style buckle with a high polished finish. The buckle is very good quality and the finish is very nice.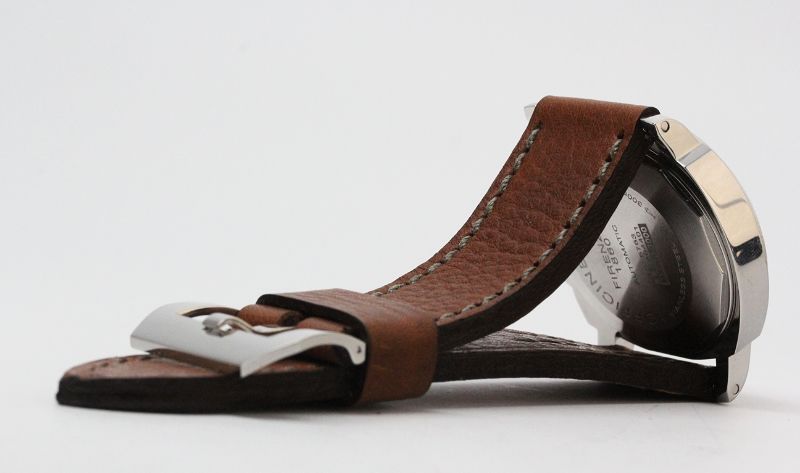 -----------------------------------------------------------------------------------------
Wrist Shots:
For reference purposes, my wrist is 7.25 inches.
-----------------------------------------------------------------------------------------
Overall impression and final thoughts:
In summary, the overall quality of Vintager's Brindle strap is superb! This, coupled with Micah's superb customer service and quick delivery certainly make the "Brindle" worth the price of admission. I am extremely pleased with this strap and I will definitely consider ordering another strap from Vintager very soon!
Thanks for reading ~ Mark