Discussion Starter
•
#1
•
imported post
Reviewer: Don aka Tattoo Chef

Strap was purchased for collection/review purpose

Strap being reviewed:
Vintage Swiss backpack canvas strap.

The Strapsmith Website

About:

Raised in NW Montana, Grad School in N. Ireland where I met my wife and moved back to Montana. We spend most of our time traveling abroad, backpacking, mtn. biking, rock climbing, rafting, skiing and snowboarding, snowshoeing, snowmobiling, playing with our two golden retrievers, Titan and Tucker, and with our two cats Tuffy and Jaxx. I am on the forums as either The Strap Smith or Rob Montana.
Each strap is individually made custom to your specs. Each keeper is fit perfectly to your strap. I use only the finest leathers from around the world. One of the main time consuming portions of the strap is the stitching. Mine are each hand stitched which takes up to 30-35 minutes where as with a sewing machine it takes 60-90 seconds. So, some of the other makers are claiming all hand made when they are truly not.
The Strapsmith on Facebook
The Strapsmith on Twitter
[email protected]
Stock Photo: (example of vintage canvas strap from website)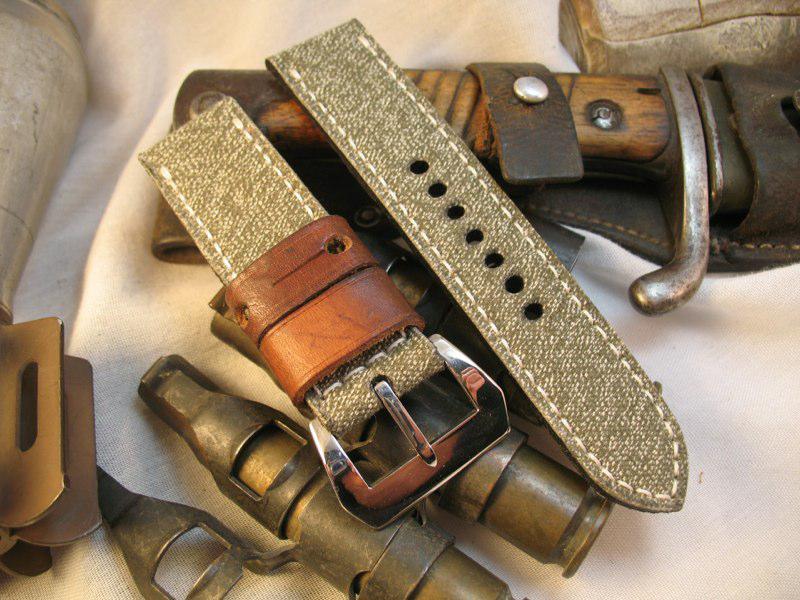 Strap Description: (from website)

Custom works of art! These straps are unique in that the backpack straps are made of finely woven vintage Swiss backpack canvas. They are authentic and have a great look to them.
They have leather backings.
Strap specifications

Width:24/24mm
Lenth:135/85
Thickness: 3.8mm
Keepers: floating, 3 included, 2 vintage leather, one canvas
Stiffness: scale of 1-10 , 4
Stitching: white
Holes: round
Buckle: sewn in brushed Pre V
Price Paid: $179(normal price $189)


Packaging:

I believe this to be new packaging for Rob Montana. It comes in a padded envelope and inside is a tan microfiber Velcro pouch that holds your strap, and also comes with a Montana post card and a StrapSmith business card.
Nothing super flashy here, but its a nice signed pouch and better than just tissue paper and twine.





My Photos:






Thoughts and Impressions:

I got a newsletter email from Rob Montana a few weeks ago, and it was about his new travel pouches.
So I went to the site and looked, and started scanning the strap sale section.
This was a strap that was already pre-made, as Rob does have some ready made straps available. I was looking through it and saw the canvas. I didn't know that Rob made canvas straps, so I was intrigued. I saw one that was perfect for me , size wise, so I emailed him for some info, and then I ordered it.
What drew me to this canvas first was the pattern and color of the canvas. It is very different from most other canvas straps I have seen. It is an faded military green with white specs, almost making it look grey in certain lights. Best way I can describe it, is it looks like a digitized pattern to me and that is what attracted me.
It is also more refined than many canvas straps I have seen. The stitching, the sealing of the edges is all very neat and clean, where as many canvas straps have that rugged look to it. Now I own some of those straps as well, and while this still has the rugged appeal because of the canvas itself, its almost like an upscale version of the canvas straps many of us know.
It comes with 3 loose keepers, 2 vintage leather, and 1 canvas, in case you want to change up the look a bit. It has a natural leather backing that is signed by Rob, and is very smooth and comfortable. The strap is just about 4mm thick. Perfect strap thickness in my opinion, for most watches. Thick enough where it doesn't warp easily, but not too thick where it is hard to bend and strap to the wrist.
As I said, this one was a pre-made strap and came with a sewn in brushed Pre V buckle. Not my first choice as I like to change up buckles, so I prefer screw in, but I hadn't noticed when I ordered. In the end, I think the buckle compliments it perfectly and I wouldn't change it, as its not too flashy or too thick, and allows you to concentrate on the strap and not the buckle.
The whole strap just wreaks of great craftsmanship. Yes, it is a pricey strap, actually it might be the most expensive canvas strap I have seen, but it might be the best canvas strap that I have seen as well, at least for my taste.
It is super comfortable on the wrist, and just forms to my wrist perfectly. With the Bathys I show it on above being titanium and this strap , it fits so well, its almost like I am not wearing anything.
I am very happy with this canvas strap from Rob Montana. This is my 3rd strap from Rob, and have not been disappointed yet. I honestly can not give a negative about it personally, I absolute love it.
Thank you for reading.
Don