Discussion Starter
•
#1
•
imported post
Reviewer:
Mark A. (andrema)
Strap Being Reviewed:
Teenage Grandpa Strap
Strap was donated for review



[line]


About (from company website):

Teenage Grandpa is a unique source for accessories and accoutrements for fashionable men. Silk pocket squares and handmade watch straps for your favourite timepiece are what we currently stock, but this vision will expand over time.

Designed by Matt Smith-Johnson, Teenage Grandpa seeks to change the perception of fine men's accessories the world over by putting a modern colloquial twist on classic pieces.


Company Website:
http://www.etsy.com/shop/TeenageGrandpa
Contact Info:

Twitter:

https://twitter.com/TG_Accessories
Facebook:

https://www.facebook.com/pages/Teenage-Grandpa/111087499049509


[line]
Teenage GrandpaLeather Strap




Strap Specifications:

Color: Reclaimed Mid-brown leather

Length (mm): 130/85
Width (mm): 24/24
Thickness (mm): 3.5
Stitching: Cream - waxed thread
Buckle: PVD coated springbar Pre-V

Price: $100



[line]


Teenage Grandpa is a Toronto based accessory company that produces a wide range of handmade leather straps as well as silk pocket squares. Thestraps are 100% handmadeand are rather unique and are made of one piece of solid leather, with no edge stitching, padding or additional bulk materials. Based on my conversations with Matt, the owner, heutilizes absolutelyno mechanical or automated machinery for any step of his strap making process. This enables him to add a handcrafted aesthetic and personal touch to his work.

Packaging:

The strap arrived at my homewrapped safely in tissue inside a nice cardboard box. The box was tied closed with green twine, with a nice personalized message written on a manila tag attached.From a presentation standpoint, the packaging was better than most. The personalized touch made theexperience of opening the package pleasant and set a nice tone forwhat was inside.





Photos of strap:

The strap material is medium brown in tone and made from a repurposed leather belt. It is a "stitchless" style and only has minimal stitching at the lugs. The thread used on the strap is waxed and cream colored, which matches nicely with the tone of the leather. The knife work on the strap is very precise and the edges are nicely finished. The strap has oval holes, which allow the tang to easily pass through without leaving excess space or unsightly gaps. The Pre-V buckle supplied with the strap is good quality and works well with the leather tone as well as the thread utilized.

One special feature that Teenage Grandpa applies to their straps is the edge finishing. The edges of their leather straps are flame treatment and wax sealed. This provides a very unique finish to the edge and adds a warmtexture to the strap.As you can see from the photos, the edge finish works well with the tone of the leather as well as overall design of the strap.

Another design element that you may notice is that the black finish of the buckledoes not match the brushed stainless steel finish of the case. This is a common feature that is intentionally incorporated by Mattinto his designs. The purpose for the mismatch istohelp coordinate thebuckle finish with something other than the case finish toadd interest to the design as well ascoordinate the buckle color with another feature such as the hands, dial orother feature...or maybe just withthe strap itself.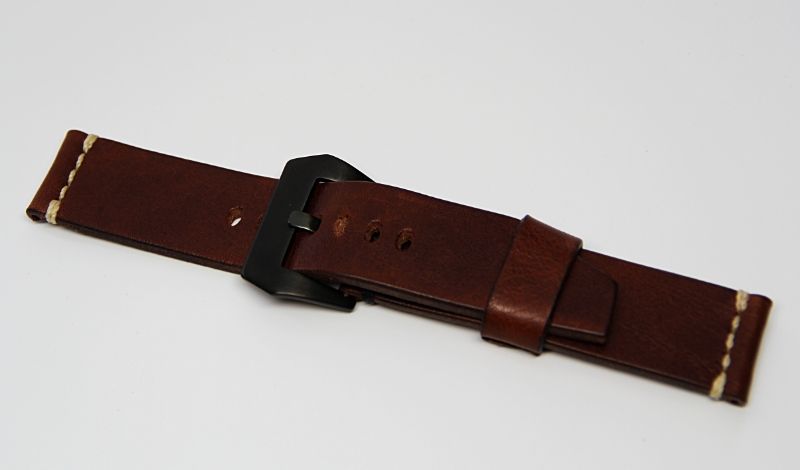 Because TG uses a single piece of leather for their straps, the straps tend to be thinner than a traditional "Panerai style" strap. This enables the strap to be very flexible andnot too rigid as some other straps within the market. With this being said, these straps suit a wide range of watch sizes and wear very well on a mid to small sized wrist.As you can see from my wrist shots below, the strap conforms very well to the wrist, which makes it very comfortable to wear.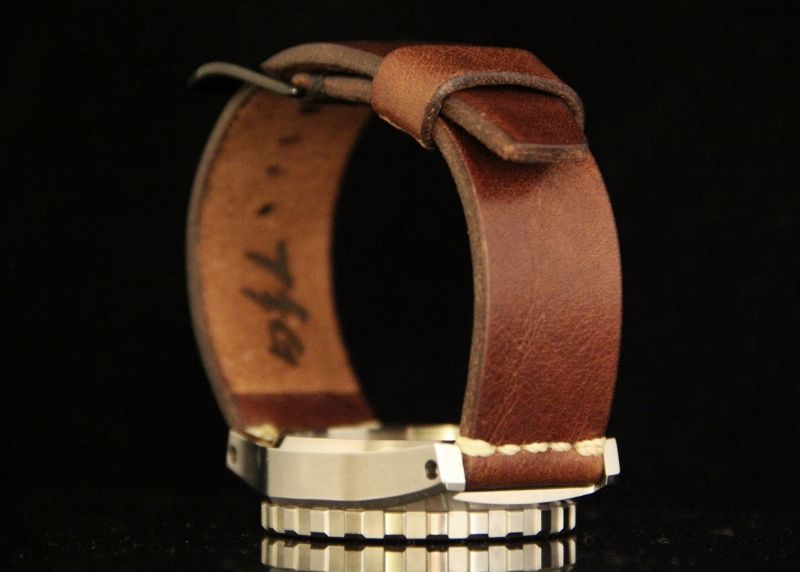 Each Teenage Grandpa strap is signed on the underside with the "TG" logo. This is nicely applied and well executed.




Wrist Shots:




Please note:

For reference purposes, the pictures below are taken on a 7.25 inch wrist.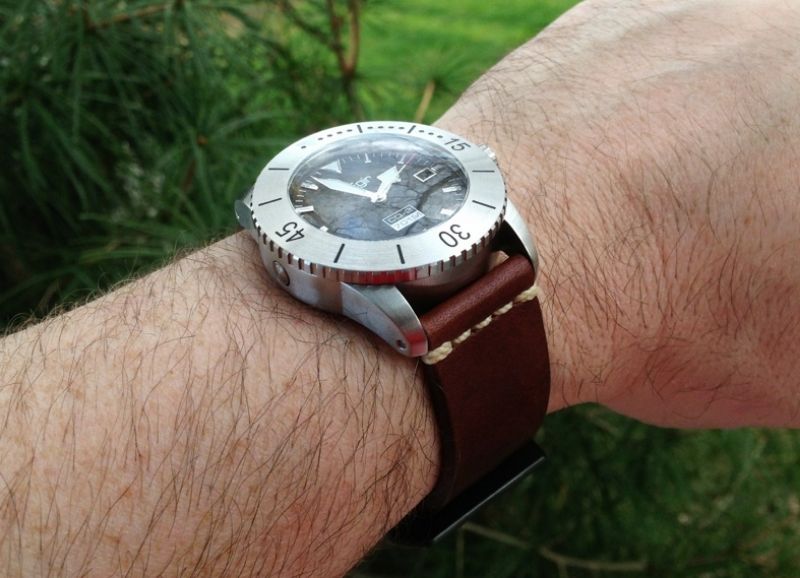 [line]



My Thoughts and Impressions:

When I first received the strap, I was impressed by the rich color of the strap. The leather material that was used is has a great texture and is very rich looking. The color of the leather is amedium brown tone and will work well with many styles of watches.As you can see from the photos, the strap's stitching is a cream color and works well with the tone of the leather used.In my opinion, this strap works very well with "tool diver" styles andthe tone of the strap will work well with many different watch finishes.

When received, the strap had a soft texture andwas fairly pliable. The edges are sharply cut and have a very nice, warm appearance. The stitching is well done, with straight, even and precise stitching. The craftsmanship of this strap seems to be on par with similar straps within or even above its price point.

Overall, I am pleased with this strap and I would recommendTeenage Grandpato anyone looking for a nicely made leather strap at a reasonable price. However, as I do with all of my reviews, I have compiled a list of few areas that could be improved or changed to accentuate the look of the watch. These points are nit-picky, but warrant mention:

- In my opinion, the leather used was on the edge of being too thin. Perhaps it would work better with a Panerai style watch or flieger with 24mm lugs.

- I would have preferredastainless steelbuckle. Iunderstand Matt's approach and can appreciate why he likes toutilize different finishes, but it would be my preference to match the buckle with the case finish.

As I said these are fairly benign points, but they warranted a brief mention.




Thanks for Reading ~ Mark