Reviewer:
Mark A. (andrema)
Strap Being Reviewed:
SPNR Leather Works "Horween Black Derby"
Strap was donated for review.
-----------------------------------------------------------------
About:
My name is Joe D'Agostino and I am the owner, designer, maker of SNPR Leather Works. Specializing in American Handmade Custom watch straps and leather goods. I have been an artist all of my life and I pride myself on thinking outside the box when trying new designs. I can keep things simple and classic or I can push things to the edge. I personally hand make every product I sell and I will not rush a job nor will I place my mark on a strap if it does not meet my approval. Im a self taught leatherworker and I'm always looking to expand and develop new skills to perfect my craft. Some of my work can be seen here on the HOME page by accessing the gallery menu on the right corner. However please take a look using the social media links below for a more in depth view. I use only the best Hides and skins to ensure your strap lasts and is of exceptional quality. All leather goods are made right here on the east coast in the USA.
Company Website
:
http://snprstrap.com/
Facebook:
https://www.facebook.com/SNPRStraps
Twitter:
https://twitter.com/snprstraps
Instagram:
http://instagram.com/snprstraps
#
Email:
[email protected]
---------------------------------------------------------------
SPNR Leather Works "Horween Black Derby"
Stock Photo:
Strap Specifications:
·

Style: Horween Derby Black
·

Length (mm): 130/80
·

Width (mm): 24.0
·

Thickness (mm): 4.0
·

Stitching: Black
·
Buckle Type: Pre-Vendome (Pre-V) Style
Price:

$175
Description of Strap from Company Site:
Derby is a vegetable tanned side leather that utilizes the same traditional tanning extracts as our Genuine Shell Cordovan. Derby, took Horween nearly three years to develop and protect. This tannage is marked by a high oil content and ages beautifully over time and displays the grain in the leather.
Packaging:
The strap arrived in a plain brown cardboard box which was packaged within a padded mailing envelope. Inside the box, the strap was lays nicely on a bed of white padding. I am not a real big fan of elaborate packaging for straps, so I was pleased with this presentation and found it to be a nice touch.
Photos of
strap:
I had heard good things about SNPR Leather Work's straps for a while now, so when Joe offered me the opportunity, I was keen to take a closer look at one of his straps.
The "Black Derby" strap is constructed of black Horween vegetable tanned side "Derby" leather with a black semi gloss to matte finish. The surface of the leather has a slightly wrinkled appearance and has a nice casual character to it. The strap has one 16mm floating keeper which helps to hold any excess strap securely in place when the watch being worn.
The "Horween Black Derby" features black thread, which is hand sewn in an open-ended style at the lug ends. The stitch work is superbly done and is evenly applied throughout the strap. The edges of the strap are very crisp and are lightly burnished to provide a more finished appearance to the strap. Given the fact that SNPR is a relative newcomer in the custom strap maker marketplace, it is my opinion that Joe's workmanship is as good as the most respected and regarded top tier makers in the market today -- The fit and finish on this strap is excellent!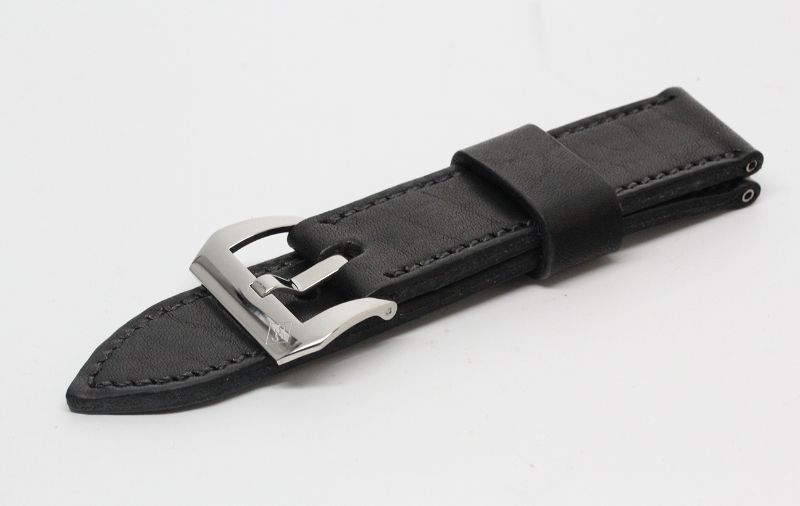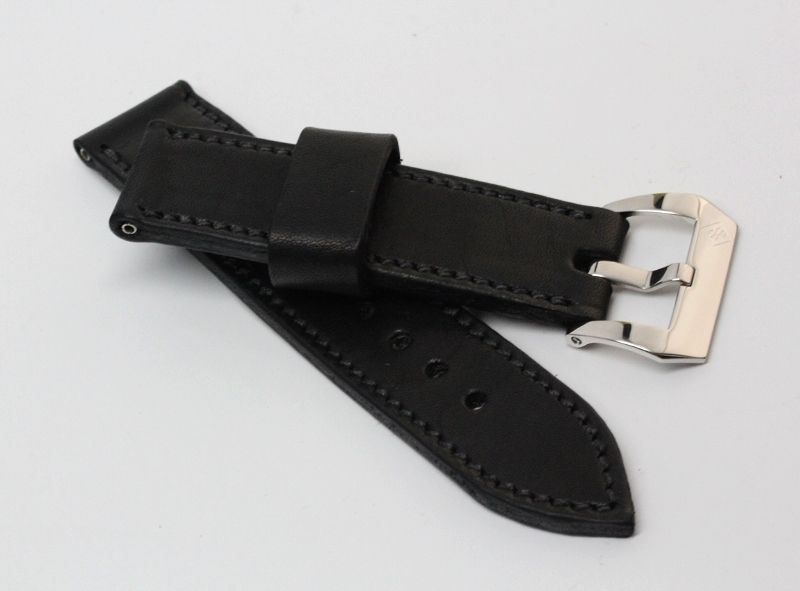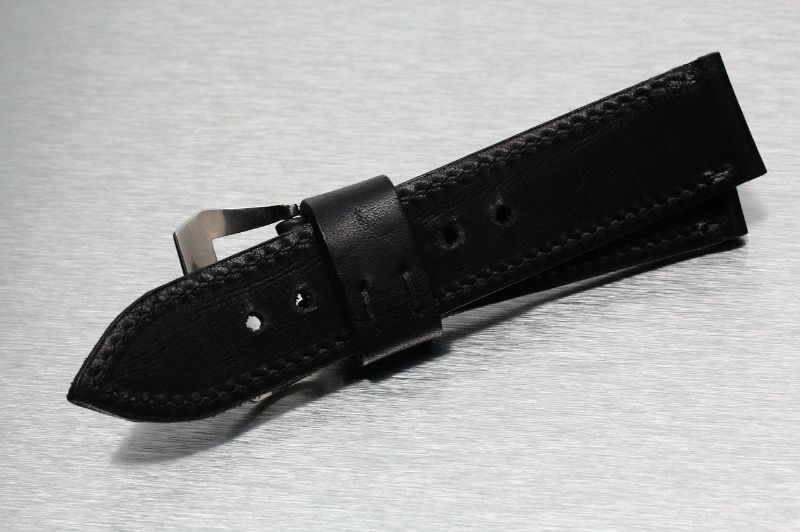 As with all of their straps, the Black Derby features the SNPR embossed "SS" logo on the strap's lining.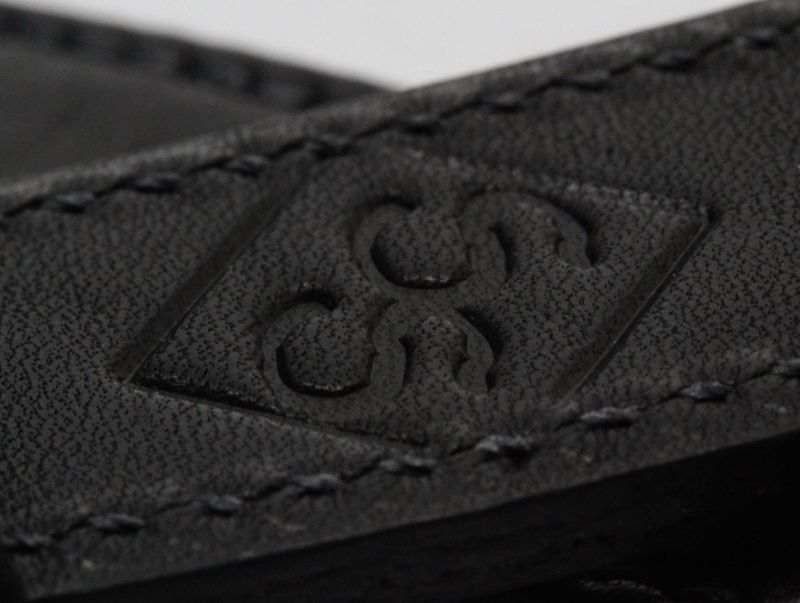 Here is a close-up photo of SNPR "SS" logo that is engraved into the Black Derby's polished buckle. The engraving is very nicely executed and adds a nice touch of refinement to the strap. This is an example of something that Joe does that is over and above the norm…it shows his attention to the details and his dedication to his craft.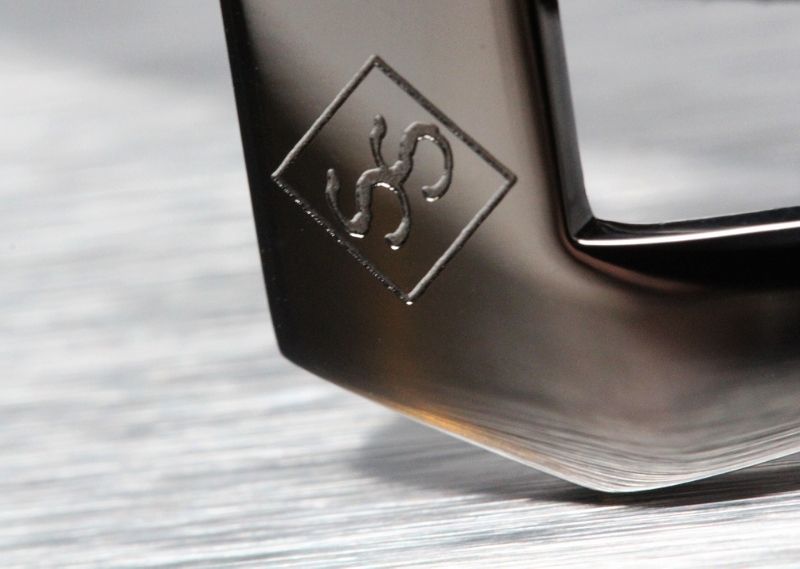 For review purposes, I mounted the strap onto a Panerai Luminor Marina 104. I feel that the black strap is a perfect match to the black dial and polished finish of the watch's polished finish.
Wrist Shots:
Please note:
For reference purposes, the pictures below are taken on a 7.25 inch wrist.
This strap is one of the most comfortable leather straps that I have had the pleasure to own or review to date. At 4.0mm in thickness, the strap just melts around your wrist and immediately conforms to slight variations in wrist dimension. This is quite a nice characteristic as compared to many other similarly designed straps in the market today, which tend to be rather stiff and have a break-in period.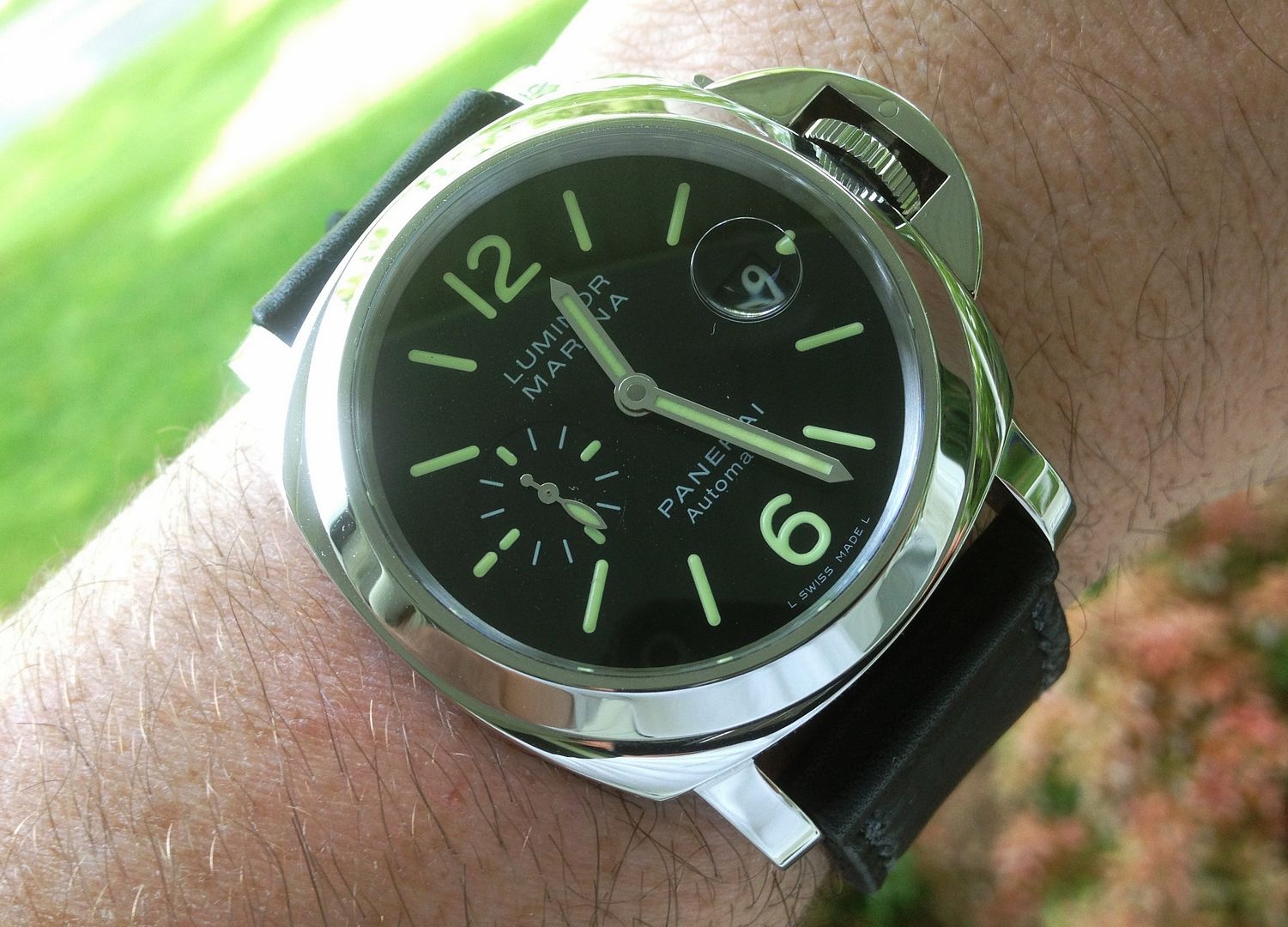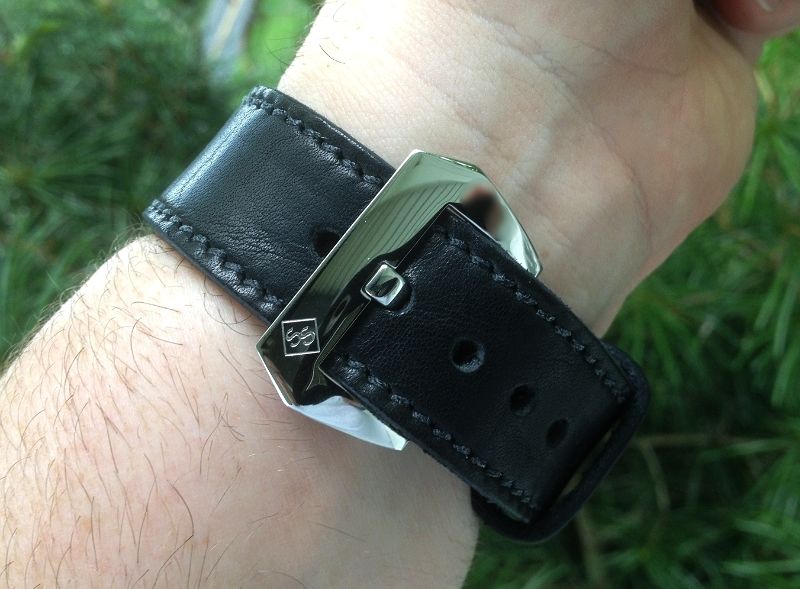 My Thoughts and Impressions:
In summary, the overall quality of SNPR Leather Strap's "Horween Black Derby" strap is superb! This, coupled with Joe's superb customer service and quick delivery certainly make the strap worth the price of admission. I am extremely pleased with this strap and I will definitely consider ordering another strap from SNPR very soon!
:smileyface_hand_cla