Reviewer: Erik aka- four20
strap donated for review
Strap Reviewed: The Strap Smith WWII French Ammo Pouch
Company Info:
Website:
http://www.thestrapsmith.com/
Contact info:
[email protected]
About:
Raised in NW Montana, Grad School in N. Ireland where I met my wife and moved back to Montana. We spend most of our time traveling abroad, backpacking, mtn. biking, rock climbing, rafting, skiing and snowboarding, snowshoeing, snowmobiling, playing with our two golden retrievers, Titan and Tucker, and with our two cats Tuffy and Jaxx. I am on the forums as either The Strap Smith or Rob Montana.
Specifications:
Size: 135/85, 22/20 tapered
Thickness: approx. 5.25mm at lugs to 4.5mm at tail
Buckle: polished thumbnail
Keepers: 1 fixed, 1 floating
Holes: round
Price: $189
Stock Photo from -
http://www.thestrapsmith.com/categories.php?cat=6#31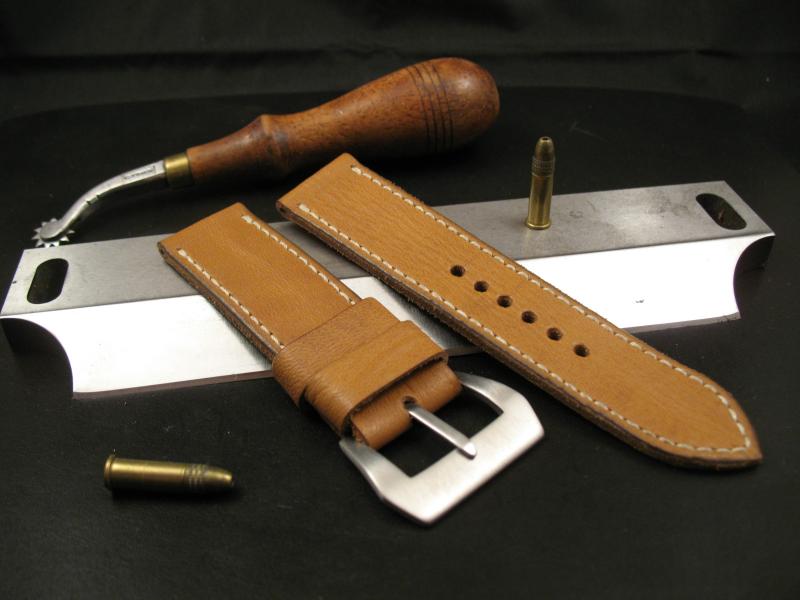 Packaging-
No unnecessary packaging- just a small branded storage sleeve, tissue and a nice handwritten note (that my 3 y/o got a hold of before i could get a photo). The envelope was a more than adequate padded mailer. Overall, i'd say the packaging was "Goldilocks"- just right.
Thoughts and Impressions:
First impression-> Wow. Just.. WOW.
Random Thoughts-
-The color is beautiful and a bit darker than i expected. As a photographer, I know that color doesn't always translate well on the Internet for a number of reasons, but i was not in the least bit disappointed.
-I generally prefer an off-white for contrast stitching, but for this shade of leather it is spot on. From a slight distance, it appears very straight- almost machine straight- but closer inspection and you can see that it is indeed hand-stitched and you can see the time Rob spent in doing this. Very nice work.
-The leather has some texture that reminds me a bit of sharkskin.
-The smell of the leather is intoxicating- Like walking into a leather goods store. I've gotten numerous, highly positive comments on this. At first it was almost Isofrane-like in strength but has mellowed a bit. I still find myself giving it a little sniff from time to time :redface:
-The noise this strap makes when it is flexed is fantastic. The type of sound you hear when climbing into the saddle- kind of a "creaking" sound that makes you think of True Grit or John Wayne.
-I prefer a 2mm taper to my straps and bracelets for comfort as well as for visual impact. I was planning on wearing this on my new acquired Longines Legend Diver and i felt a taper would compliment the watch head better. Most handmade straps are non-tapering and I was pleased that Rob could do this for me. The length of the strap is enough that the taper is very subtle.
-The strap at the lugs when i first installed it was quite a bit thicker than the lugs on the LLD, but it has since settled down a bit and doesn't ride too much above the lugs now (maybe .25mm) and barely noticeable. I expect it to settle a little more with age.
PHOTOS:
Of course with Rob being a custom strap maker, you can get this french ammo in any length and with an array of stitching colors, different buckles, (thumbnail, Pre-V and custom laser engraved buckles as well).
Overall this strap is fantastic and seems to only get better with wear.
If you never have, check out this and other straps on The Strapsmiths Website.
Thank you for reading.