Reviewer:
Mike W aka UKWolfeman
Item being reviewed:
NEW NATO Green Isofrane Dive Strap
Company Website:
http://isofrane.com/
Facebook:
https://www.facebook.com/pages/Isofrane-Dive-Straps/259012627472407
Twitter:
https://twitter.com/synchron_group
About/History:
"When the makers of some of the most iconic dive watches of the 60s and 70s needed a rubber strap they chose ISOfrane!
Sometimes the simplest design is the most advanced.
When the ISOfrane dive strap debuted, it quite literally changed the shape of diving - or at least the shape of dive straps!
Before, the ISOfrane dive straps were usually made from rubber. They were sticky, uncomfortable and would often blister and crack in extreme conditions. These straps were even harder on the divers wearing them. Without ventilation, the skin doesn't breath.
The ISOfrane strap changed all of that.
The ISOfrane strap was the result of a more humane design. ISOfrane straps were manufactured from isoprene.
ISOwhat?
The original ISOfrane straps were manufactured using a compound called isoprene. And just what is isoprene? Isoprene is a colorless, liquid hydrocarbon that is obtained in the processing of petroleum and/or coal tar and is used as a raw, chemical material. Isoprene was far more durable, and maintained its looks."
Stock Photo: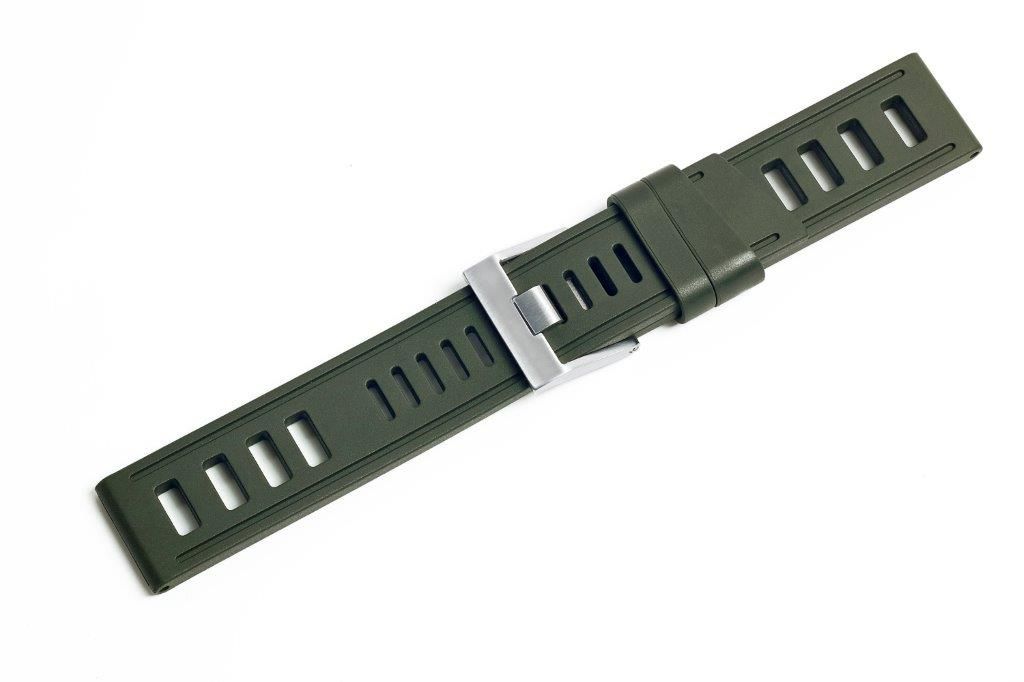 Specifications:
Physical Length = 200mm*
Effective Length = 195mm
Strap width = 22mm
Strap buckle width = 22mm
Thickness at lug = 5.5mm
Thickness at end = 3.5mm
Strap Color = NATO Green
*This strap will accommodate wrist sizes up to 250 mm (10 inches) depending upon the actual length of the watch
The NATO Green Isofrane strap comes currently in 2 sizes 20, and 22mm with the "RS" buckle
Pricing:
Introductory at $99 USD "RS" buckle or $109 USD DLC buckle
***At this very moment the NATO Green is available for purchase using this link only:
http://www.isofrane.com/green.htm
It should be a standard option shortly on their website as if you were ordering any of the other available colors.***
Thoughts and Impressions:
Yes Isofranes are made for divers but I also believe they are perfect for military style watches as well. So do not pigeon hole them into one type of strap classification. I think you will clearly see my point when we get to the photos. The general specifications again are 22/22mm in width, Length Physical 200mm/Effective 195mm, 5.5mm at thickest point (lug), 3.5mm at thinnest point near buckle. Surprisingly a 22mm rubber strap that doesn't taper to 20mm at the buckle which I prefer. I really hadn't paid attention in the past to my other 22mm Isofrane straps. Strap as reviewed comes with "RS" buckle which has Isofrane engraved on underside.
I have owned numerous Isofrane Dive Straps in varied sizes and colors as well as several of the alternatives to Isofrane. Isofrane straps are by far the best rubber strap on the market and it really is not all that close. As far as design every Isofrane comes with double keepers with one keeper angled at the end. Vent openings are present on both sides of an Isofrane serving a specific purpose in allowing your wrist to breathe while maintaining a pleasing aesthetic appeal. Comfort is where I personally believe Isofrane separates itself from other similar straps on the market. Pliability, hypoallergenic, stain and water resistant, great vanilla scent, and finally resistance to dirt and lint are huge features of Isofrane. I have noticed that the orange and blue Isofrane straps I've experienced didn't feel quite as pliable as the black but not the case with the green. While some rubber straps may have similar qualities none are equal in every aspect.
You will not be disappointed with your purchase of an Isofrane. In the past options were limited to black, blue and orange colors but now NATO Green is an option and I foresee others down the road making Isofrane straps an even bigger player in the strap market as more options mean more flexibility which I know we all appreciate. NATO Green was a great choice for a new color due to its neutrality. I'm hoping to see at some point a desert tan (khaki), gray and a brown which will be a huge option for bronze watches. I almost forgot to mention FedEx shipping. Instead of waiting a week or more an Isofrane can be on your wrist in a couple of business days. I look forward to your comments about the newest color option from Isofrane as well as your thoughts about Isofrane not just being a dive strap option.
My Pictures: