Reviewer:
Mark A. (andrema)
Strap Being Reviewed:
Maddog Elephant Hide Watch Strap
Strap was donated for review
****************************************************
maddog-straps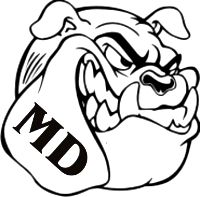 Company Contact Info:
Company Website:
http://www.maddog-straps.com/
Ebay store:
http://stores.ebay.de/Maddog-Thies-Custom-Straps
E-Mail:
(In EU):
[email protected]
(Outside EU):
[email protected]
About (from company website):
We, the team of Maddog-Straps, are strap makers from Germany and Austria and are specialists in making custom made straps. Baseball straps from orig. vintage baseball gloves from approximately the 1950´s. Football straps from original vintage football balls. Ammo straps from original Swiss army leather goods from approximately 1945. Ammo canvas straps from original Swiss army goods. Exotic straps like shark, stingray, lizard, snakes, crocodile and top new genuine elephant hide.
****************************************************
Maddog-Straps Elephant Hide Strap
Sample Photo from Company Website: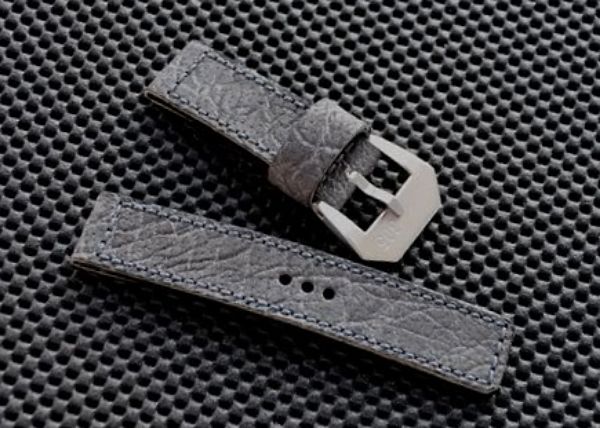 Strap Specifications:
Style: Elephant Hide (CITES certified)
Strap Color: Grey
Length (mm): 130/80
Width (mm): 24/24
Thickness (mm): 4.50
Stitching: Grey
Buckle: Maddog "Heavy Plain" Buckle
Maddog "
Heavy Plain" Buckle
Description from Company Website:
The Maddog "Heavy Plain" buckle is made with time consuming and laborious manual work. As the labor process is so extensive, only a handful buckles can be produced. Each piece is unique. Nothing is machine but all made by hand. Each buckle is bent by hand and on the back so that the beveled band beautiful on the wrist can cling . At the end of the closing will be rounded clean. We offer new surface treatments. In addition to brushed and polished glass beads can also be offered blasted.
Sample Photo from Company Website: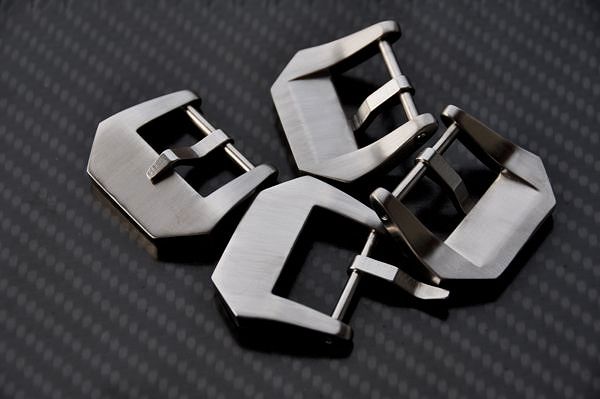 Specifications
:
Buckle Material:
German Stainless Steel - 1.4436 Cold-rolled
Buckle Finish: Brushed
Buckle Style: Pre-Vendome (Pre-V)
Length (mm): 33.0
Width (mm): 39.0
Thickness (mm): 5.0
Pricing:
Strap Only:
$149
($99 for WF members)
Buckle Only:
$109
($84 for WF members)
Note: Shipping included
with Strap + Buckle orders.
****************************************************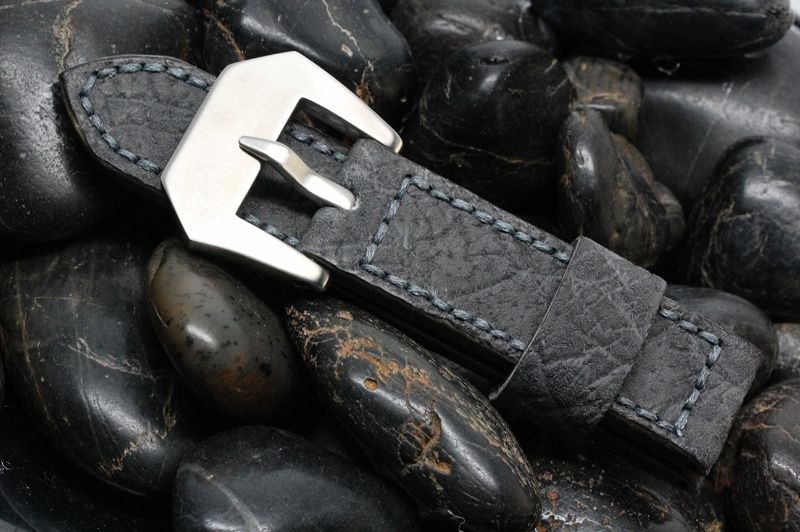 Stock Photo of Strap Material:
This strap from Maddog is made from elephant hide. The hide was sourced by Maddog Straps a CITES certified source and utilized for their watch straps. The hides come in various colors, from a light grey, to brown shades and all the way to black.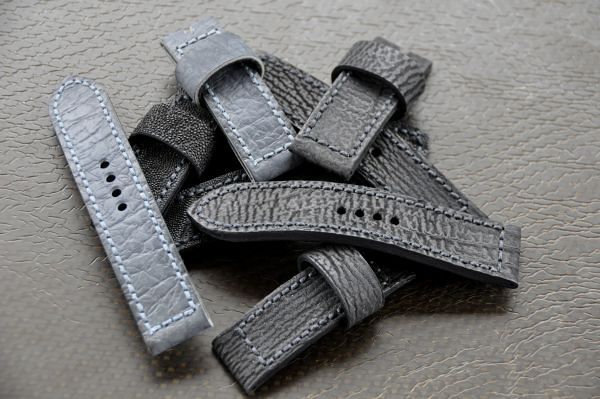 Here is a sample photos of the material as it appears just prior to the strap maker building the strap: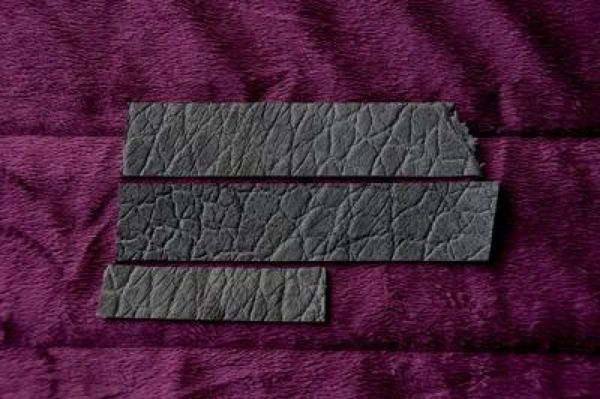 What is CITES?
CITES (the Convention on International Trade in Endangered Species of Wild Fauna and Flora) is an international agreement between governments. Its aim is to ensure that international trade in specimens of wild animals and plants does not threaten their survival.
Because the trade in wild animals and plants crosses borders between countries, the effort to regulate it requires international cooperation to safeguard certain species from over-exploitation. CITES was conceived in the spirit of such cooperation. Today, it accords varying degrees of protection to more than 35,000 species of animals and plants, whether they are traded as live specimens, fur coats or dried herbs.

Each protected species or population is included in one of three appendices.
CITES works by subjecting international trade in specimens of selected species to certain controls. All import, export, re-export and introduction from the sea of species covered by the Convention has to be authorized through a licensing system. Each Party to the Convention must designate one or more Management Authorities in charge of administering that licensing system and one or more Scientific Authorities to advise them on the effects of trade on the status of the species.
Why is a CITES Certificate important?
The CITES certificate is necessary for the successful delivery of goods, which without a valid certificate would then be automatically returned to the sender. A CITES certificate provides support that the goods comply with the provisions under the trade convention and provides proof to the purchaser that the goods were procured in a fashion to ensure

that
commercial demand does not threaten their survival in the wild.
For more information, visit the CITES website:
http://www.cites.org/
Packaging:
The strap arrived at my home in a padded envelope. Inside the package, the strap was wrapped and safe from damage during transit. This packaging is more than adequate and helps the company to keep their costs and, therefore, prices at a relatively low level.
Photos of strap:
When I first received the strap, I was impressed by the rich tone and texture of the strap. The grey elephant hide that was utilized for the strap has a medium tone and the wrinkles throughout its surface add great character and interest to the strap. The stitching on the strap, like all of Maddog's straps is done by hand. For this strap, the stitching has a "boxed ends" and is evenly applied throughout the piece.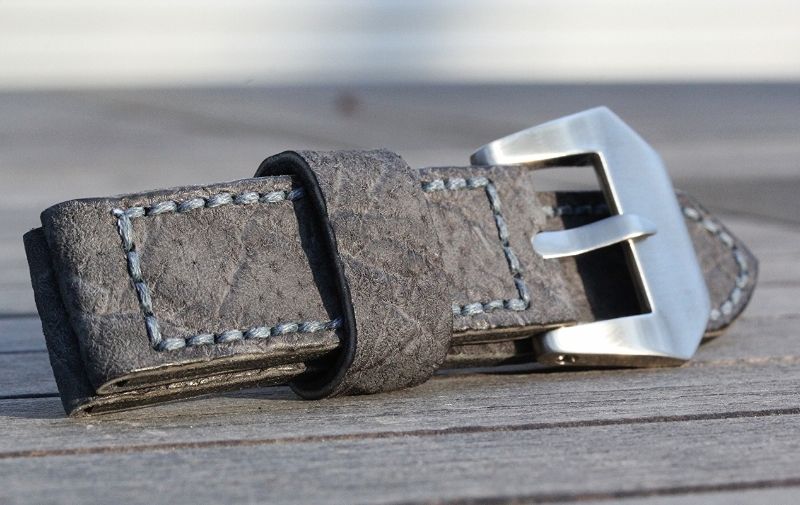 Although it is a fairly thick strap, the elephant hide strap has a soft texture and is very supple. The unfinished edges are sharply cut and have a very nice, refined appearance. The edges of the hide are lightly burnished, which gives the strap a nice clean appearance.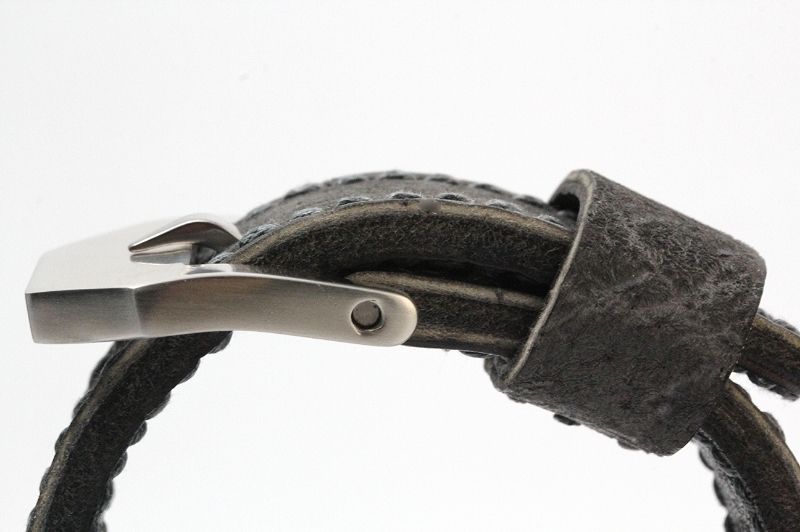 The buckle on the strap is one of Maddog's handmade buckles, which they have named the "Heavy" buckle. All of Maddog's buckles are custom and are made in their workshops. The buckles are done in the Pre-Vendome (Pre-V) style.
The "Plain" version of the Heavy buckle was provided with the elephant hide strap and it coordinates very well with the overall style as well as tone of the strap. The buckle is constructed of cold-rolled German stainless steel has a brushed finish. The finishing on the buckle is very nice and the brushing is evenly applied throughout its surface.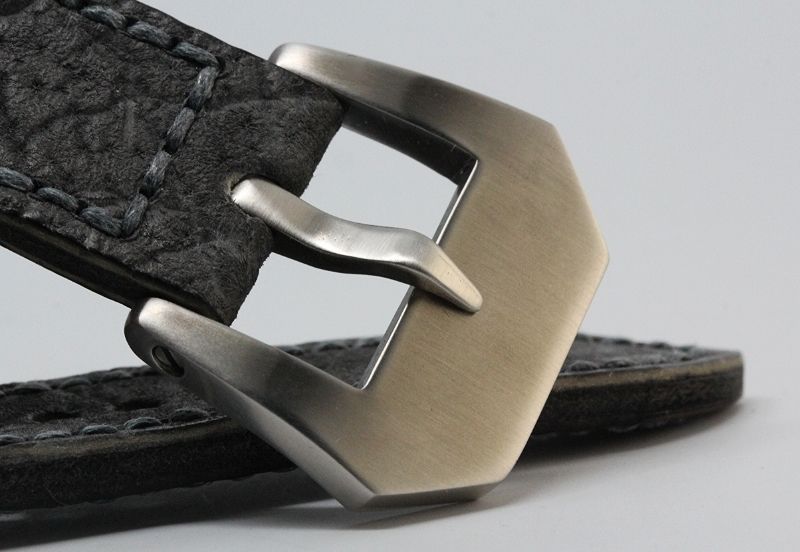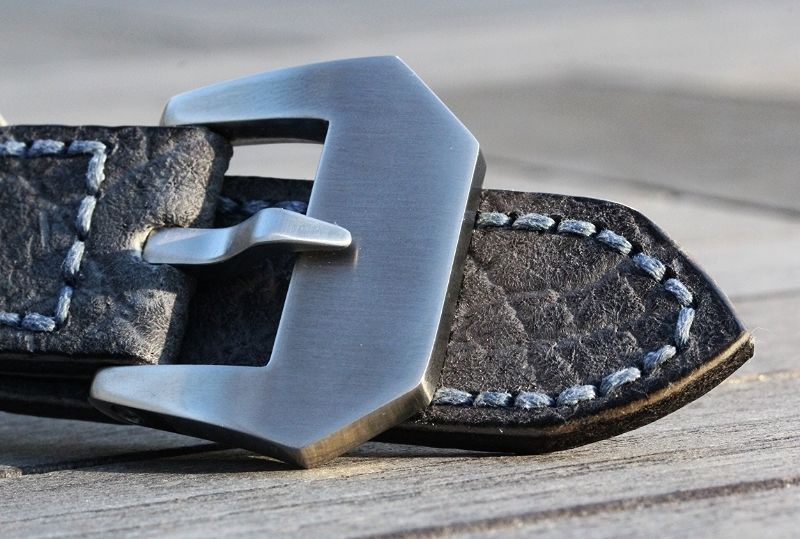 For review purposes, I installed the strap on a Panerai Luminor . The tone and texture of the strap contrast nicely with the polished surfaces of the case and provide a great look. Although it is a fairly thick strap, it does not overpower the watch and the fit at the lugs is very nice. As you can see from the photos, the buckle is fairly large and does take some time to get used to.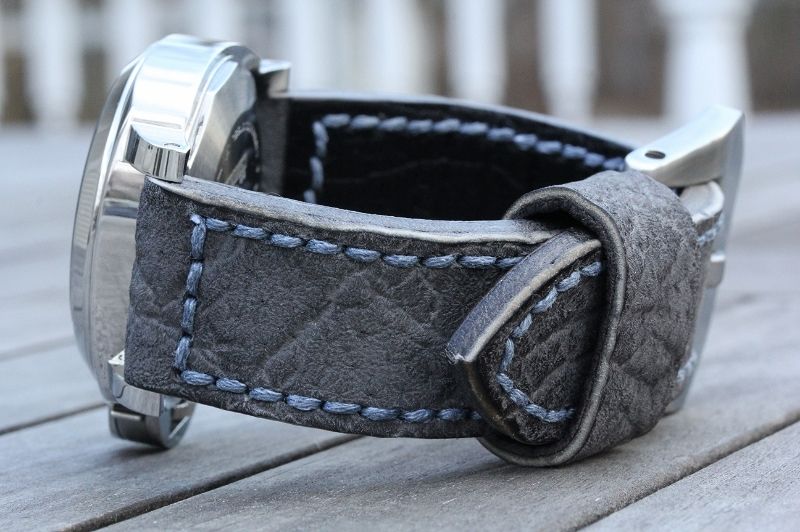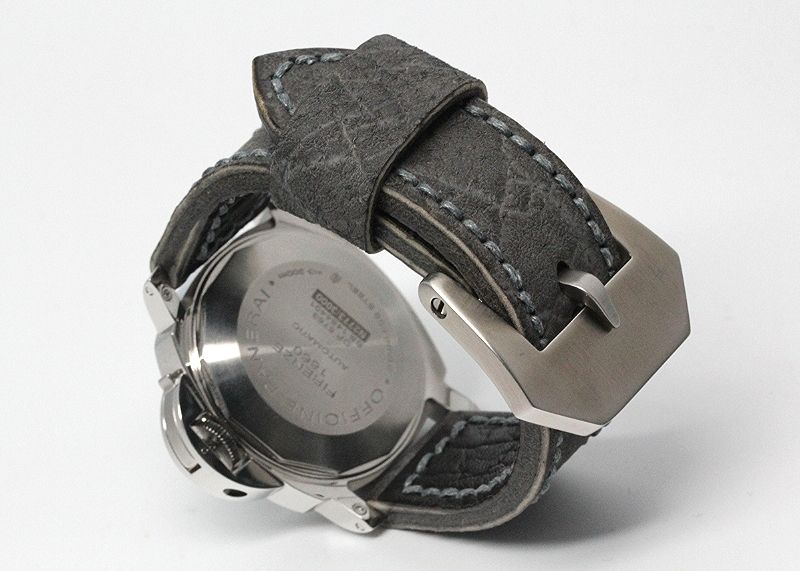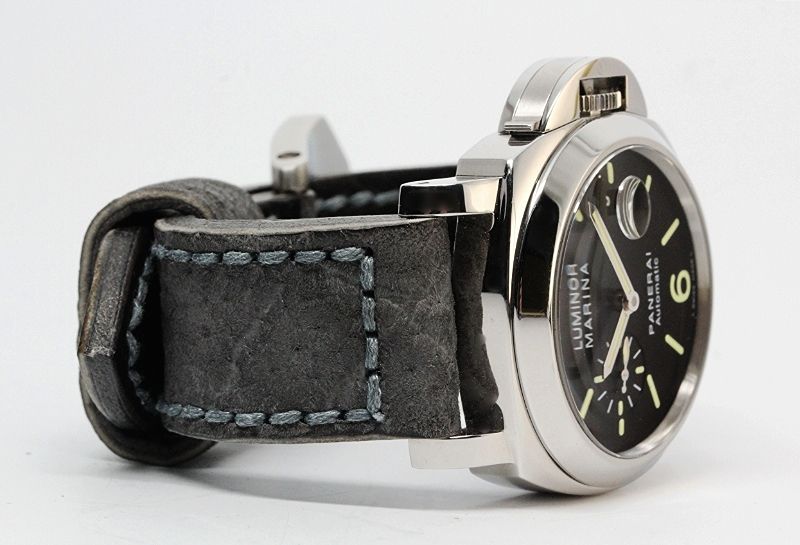 Wrist Shots:
Please note: For reference purposes, the pictures below are taken on a 7.25 inch wrist.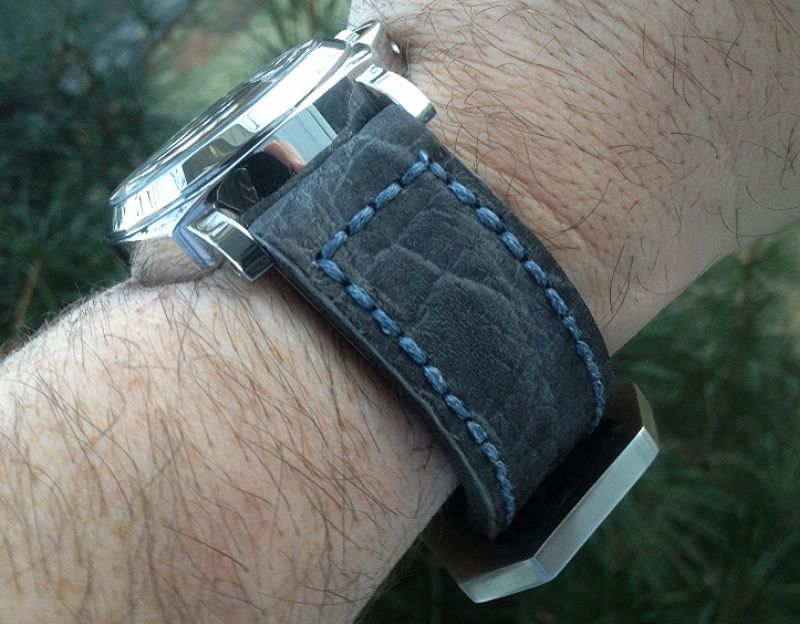 ****************************************************
My Thoughts and Impressions:
Overall, I am very pleased with this strap and I would recommend Maddog to anyone looking for a nicely made leather strap at a great price. The craftsmanship of this strap and buckle seems to be on par with similar straps within or even above its price point. These factors, coupled with the fact that it is a custom made strap constructed of a fairly uncommon material, definitely make it a very good value and a nice alternative for someone looking for something that not just plain vanilla.
Thanks for Reading ~ Mark