Reviewer:
Mark A. (andrema)
Strap Being Reviewed:
DiStefano Straps - "Historic Sharkie" (DS008)
Strap was donated for review on WatchFreeks
----------------------------------------------------------------------------------
DiStefano Straps
About from the comany website:
DiStefano Straps are steeped in history and leather tradition...four generations of knowledge and experience working with high quality leather products -- A true labour of love.
Simona DiStefano continues the family leather tradition first started by Great, Grandfather Menotti Allegrini who originally imported leathers from Argentina to Italy around 1899 and treated the hides at his Livorno tannery on the Italian West coast.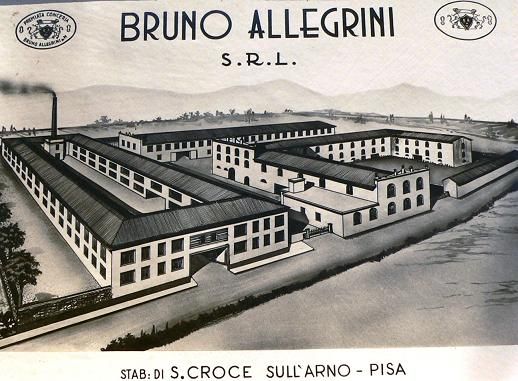 Some of those classic leathers were used by Grandfather Bruno Allegrini during the second world war when producing leather products to military specification for the Italian army. Indeed to this day Simona still produces a beautiful strap dedicated to her grandfather aptly called "The Bruno". Father Mario DiStefano, husband of Gioia Allegrini, did much to move the company forward in the post second world war era by supplying such fashion icons as Gucci, Ferragamo and Prada with the high quality leather they required.
Today Simona DiStefano is able to utilise her own personal experience of working for the Panerai Watch Company, calling upon the vast wealth of experience and leather know how that only four generations of experts can collectively bring. Recognised as one of the very best strap makers the company motto remains "quality not quantity" Still hand made by artisans in Florence Italy whose skills were taught and passed down from their own forefathers . . . the old fashioned way. Father Mario Di Stefano now retired is no longer involved in the leather business however he remains a fountain of knowledge in all things leather. In the latter part of 2008 Simona's English born partner Steve joined the company bringing with him other skills and qualifications from a military background and former director of marketing at Harrods of Knightsbridge London, coincidentally long time Panerai watch collector and enthusiast also. Steve's influence on the actual strap collection has increased and is now the main driving force behind the actual product, it's constant developement, and the marketing thereof. Is a labour of love, but a full time busy labour of love for both!
Contact Info:
Simona Di Stefano
Via Pietro Tacca n.3
50125 Firenze Italia
Phone: 00393385099368
E-Mail:
[email protected]
Company Website:
http://www.distefanostraps.com/
----------------------------------------------------------------------------
Stock Photo: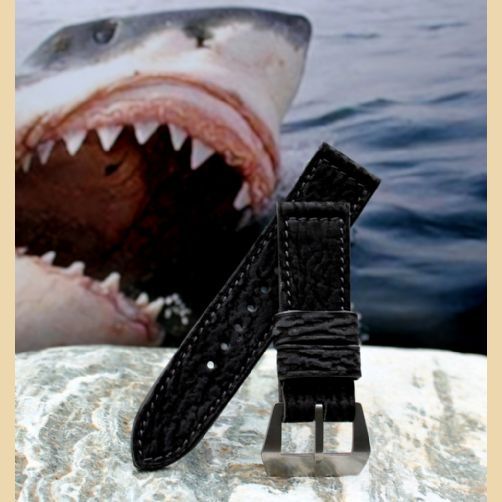 Strap Specifications:
Style: DS008 "Historic Sharkie"
Length (mm): 130/85
Width (mm): 24/24
Thickness (mm): 3.5
Stitching: Black/Matching
Buckle: Black PVD Pre-V
Price: 145 Euro
-----------------------------------------------------------------------
DiStefano Straps DS008 - "Historic Sharkie"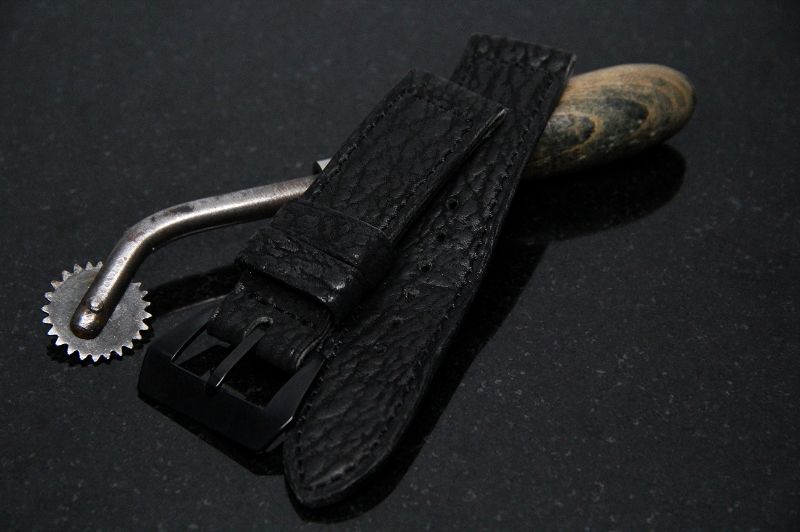 Description of Strap from company website:
Just when you

thought was safe to swim back in the sea !!! . .
Historic Pre-V vintage sharkie range . . squalo in Italian . . But Jaws style for sure.
Colours carefully researched to match old vintage models . . Mare Nostrum and others but wonderful strap on any Panerai.
Pictures really say it all . . kelp sea green – vintage Mare Nostrum blue – old school tan – Acrtic blue /grey . . and ever popular Black /Grey . . . Some colours specially dyed hide for authenticity but limited availability for this year 2012.
Packaging:
The strap arrived in a padded envelope. Inside, the strap was packaged in a nice, brown leather travel pouch. The quality of the pouch is very nice and it is a great touch to include with the purchase of a strap from DiStefano Straps.
Photos of strap:
The DS008 is one of many premade straps that is offered by DiStefano. It is constructed of shark skin, which is very soft and pliable when it is delivered. The strap is dyed black and has matching black stitching to help it blend in with the strap color and showcase the beautiful texture of the shark skin. The strap has open ended stitching, which is evenly stitched throughout the strap and very nicely done.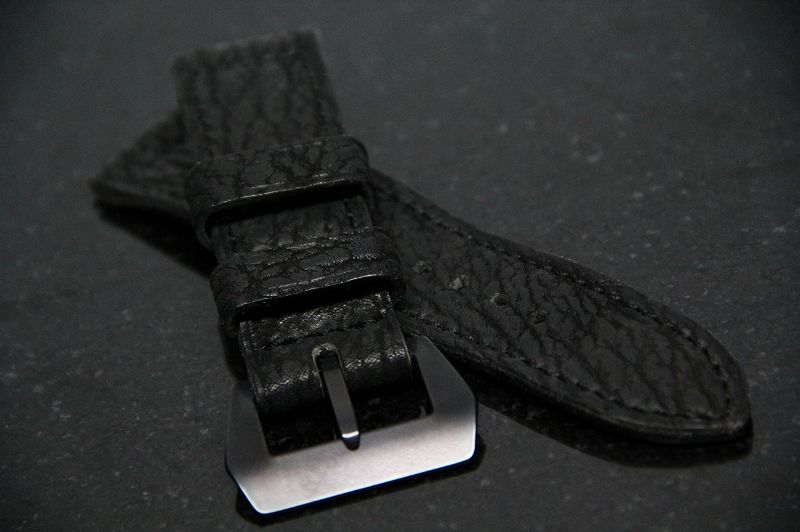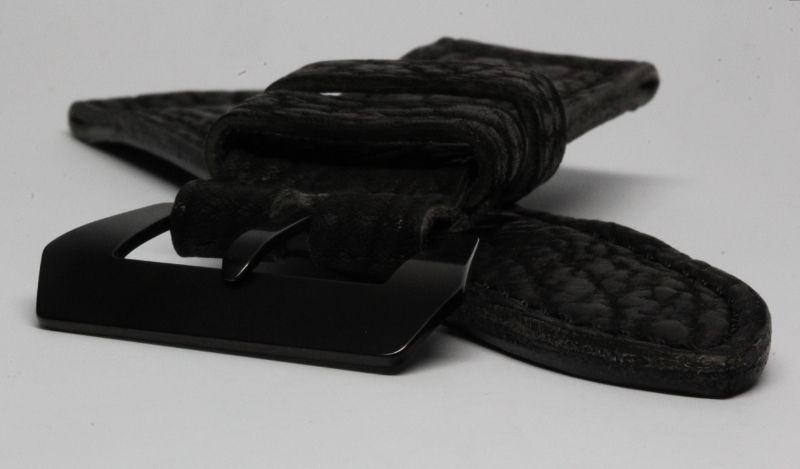 As you can see from the photo below, the strap is very pliable and soft when it is delivered. This makes the strap very soft and comfortable on the wrist.
The strap has the company's logo embossed on the underside. This is very well done and is precisely positionsed as well as refined.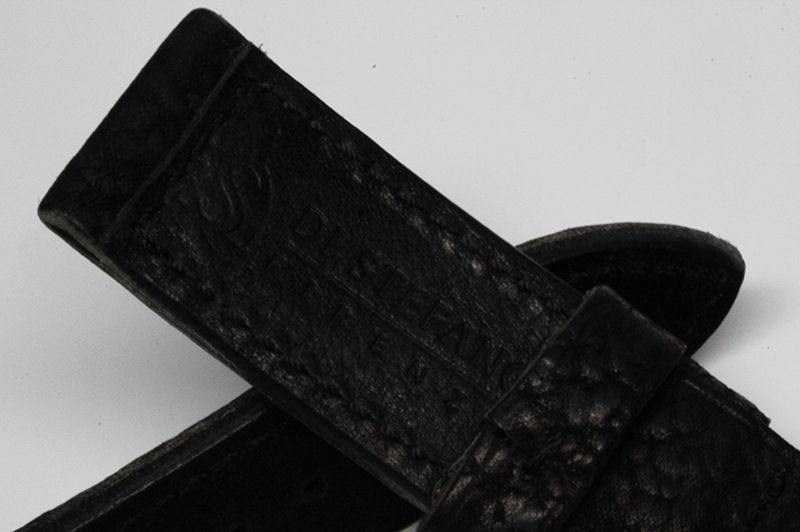 The edges of the strap and two keepers have a raw cut finish. This helps the strap have a more casual appearance and adds a nice character to the strap. The buckle is a screw-in type, which is custom made and signed.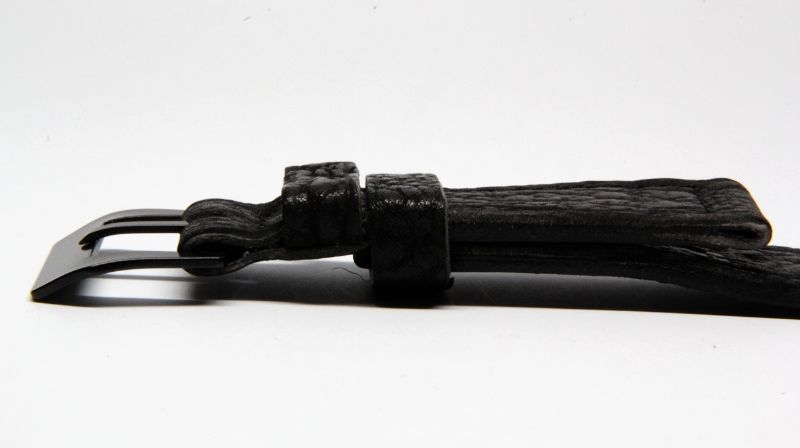 The buckle that I chose for the strap is a sewn-in black PVD Pre-Vendôme (Pre-V). The quality of the buckle is very nice and helps give the strap a nice tactical appearance.
The photo below shows the strap texture very nicely. As you can see, it has a random, raised pattern with smaller marks within the entire surface of the strap. In person, this looks absolutely fantastic!
As you can see below, the Buckle also has a great engraved logo on the underside.
For review purposes, I paired the "Historic Sharkie" with my Aegir CD-2 DLC diver. In my opinion, the strap works very well with a black watch finish and helps to complete the tactical look of the watch.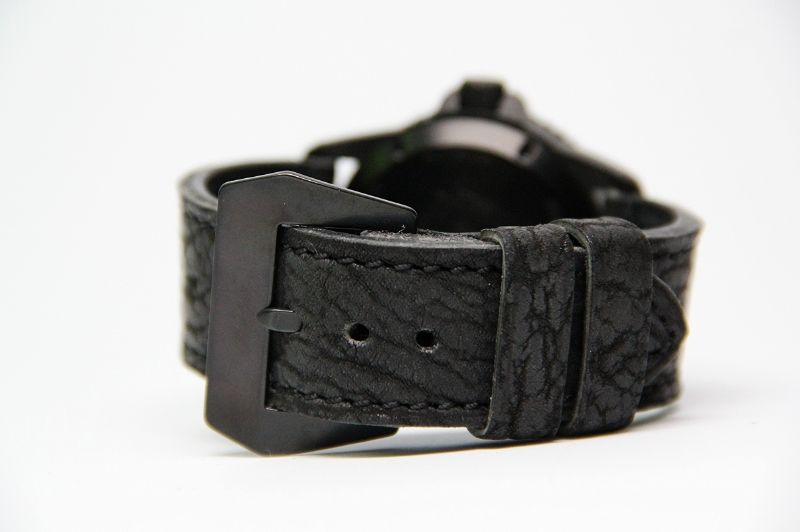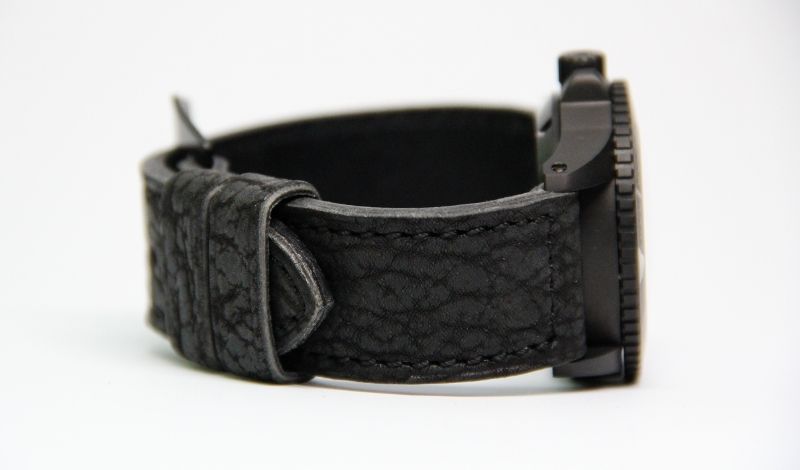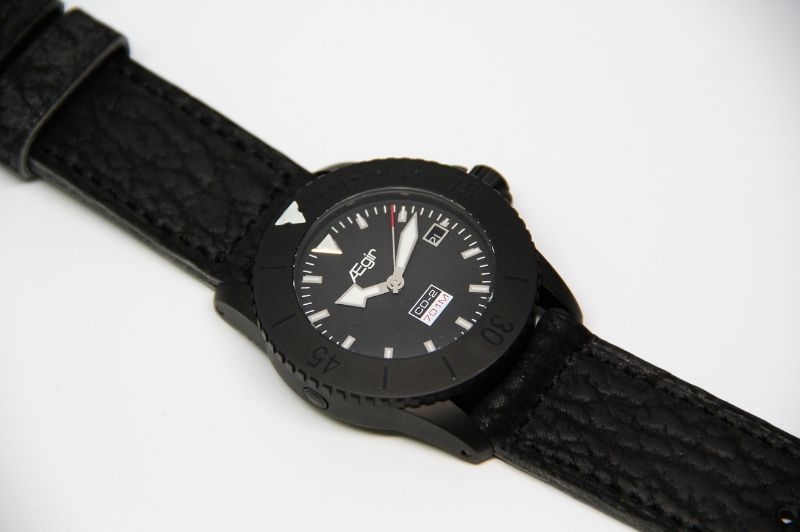 Wrist Shots:
Please note:
For reference purposes, the pictures below are taken on a 7.25 inch wrist.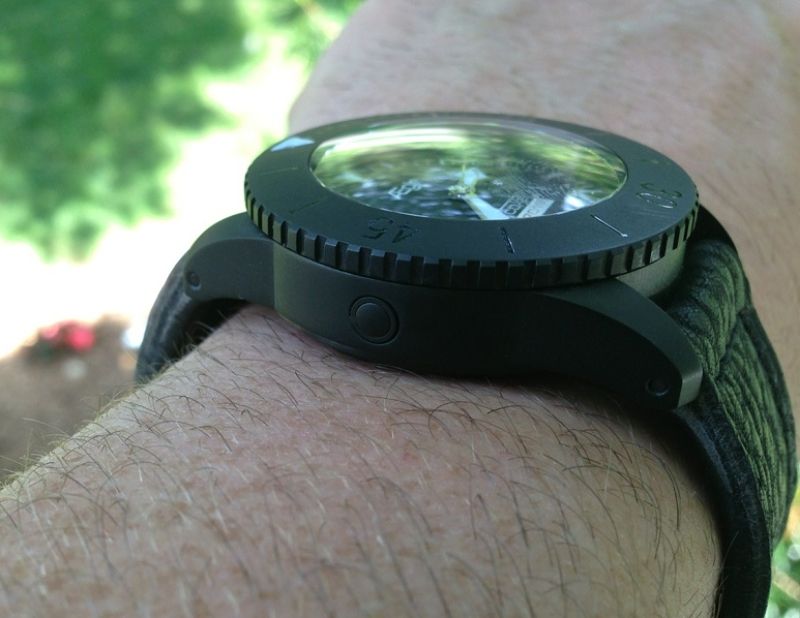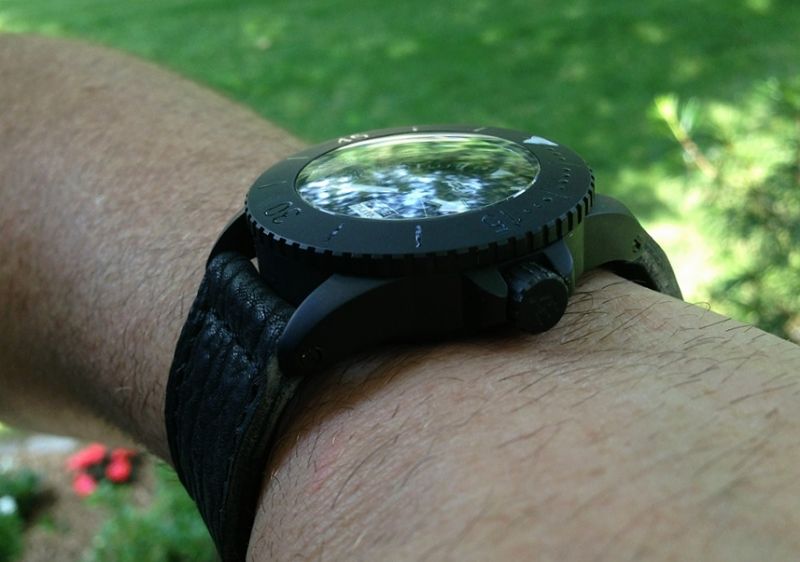 ------------------------------------------------------------------------------------------
My Thoughts and Impressions:
Although the DS008 is not a custom made strap, its quality is certainly on par with those made by well-known custom strap makers. The material is excellent quality, the strap work is well done and the customer service that I received was fast and courteous. This strap is part of DiStefano's "Shark and Seal Straps" which includes a wide variety of styles and textures.
At first glance, the DS008 has a beautiful, textured appearance. The finishing is very well done and the materials used are first rate. To me, this is a very good indication of the efforts and craftsmanship employed by the strap maker.
The shark skin is very soft as well as pliable, with raw cut edges that have natural appearance and add a casual look to the strap. The stitching is well done, with straight, even and precise stitching.
Perhaps my favorite feature of the strap is the texture. This provides a very unique finish as well as adds a custom look to the strap. This is the feature that first attracted me to the brand, and I am very happy that I was able to review a great example of one of their exotic offerings.
The quality of this product is very nice. This, coupled with the relatively low price as compared to similarly styled straps, makes the strap a very good value. I am very pleased with this strap and I would highly recommend DiStefano to anyone looking for a well-made leather strap. I can guarantee that I will order yet another one very soon!
T
hanks for reading ~ Mark