Reviewer:
Mark A. (andrema)
Strap Being Reviewed:
"Cavalcanti "Iron Bunker"
Strap was donated for review.
-----------------------------------------------------------------

About:
Named after a legendary leather craftsman, Cavalcanti, an inspirational, a wonderful, and they say a legend.
You can just find any other strap from another store, but if you want a true masterpiece, you are in the right place.
Stay away from your idealism, get back to vintage for your beautiful premium watchstrap. Every single one
are a truly handmade masterpiece, each of them are manually distressed and "vintagized" to give their
own unique character.
Designed truly from a heart filled with joy and passion for the beauty of luxurious watches. This authentic masterpiece meets the desire of your pleasure and it becomes a genuine splendid artwork.
Cavalcanti Mestiere serves the best taste of military, vintage, elegant, exotic, and limited edition of artwork for a true watchstrap admirer.
Company Website
:
http://www.cavalcantistraps.com/
Facebook:
https://www.facebook.com/CavalcantiMestiere
Twitter:
https://twitter.com/CavalcantiStrap
Email:
[email protected]
--------------------------------------------------------------
Stock Photo:
Strap Specifications:
·
Style: Elegant Series
·
Model Number: ELG-R18
·
Length (mm): 125/80
·
Width (mm): 24.0
·
Thickness (mm): 4.0
·
Stitching: Natural, Boxed End
·
Buckle Type: Pre-V
Price:
$160
Description of Strap from Company Site:
"Solid.. Strong.. and Exotic.. Those are words that can describe this strap.. A masterpiece ever created…"
Packaging:
The strap arrived in a padded envelope. Inside, the strap was packaged in a dark blue cardboard tube with folded over ends. I am not a real big fan of elaborate packaging for straps, so this is perfectly acceptable.
Photos of
strap:
This strap is part of Cavalcanti's Elegant series of straps. At first glance, the strap has a medium to dark grey appearance with a slight hint of blue and a fantastic texture along its entire surface. The best way that I can describe the strap is that it looks to have slight wrinkles throughout its entire surface. This gives the strap a slightly casual appearance, which lends itself to work with a variety of situations -- From being paired up with your favorite pair of jeans and a t-shirt to business casual situations.
All of these features combined allow the strap to be worn on a wide variety of watches and watch styles.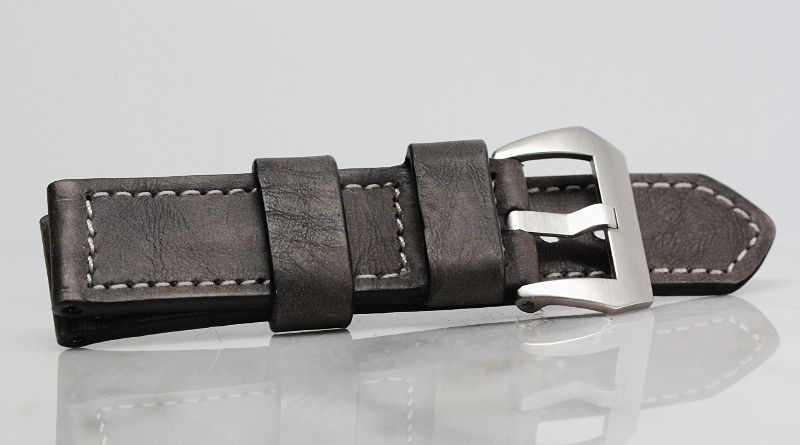 The strap stitching is light grey with boxed ends at the lugs. The stitching throughout the strap is precise and evenly applied. The photos below provide a closer look at Cavalcanti's stitching as well as the finished strap edges.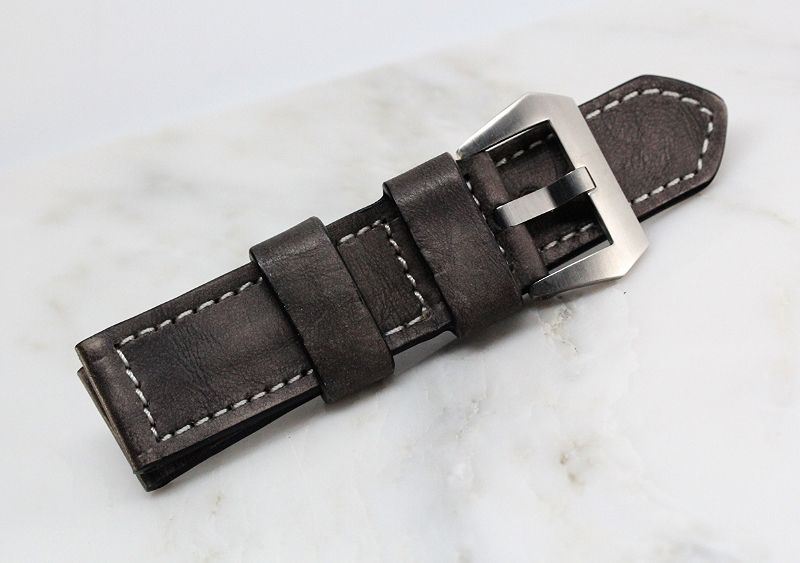 The fit and finish on this strap is very nice. The craftsmanship applied by Cavalcanti to produce the tone, texture and feel of this strap is excellent. The edges of the strap have precise cuts and the finished edges fit the overall feel of the watch and add a bit of refinement to the strap. When received, the strap is very comfortable on the wrist and has a nice, supple feel.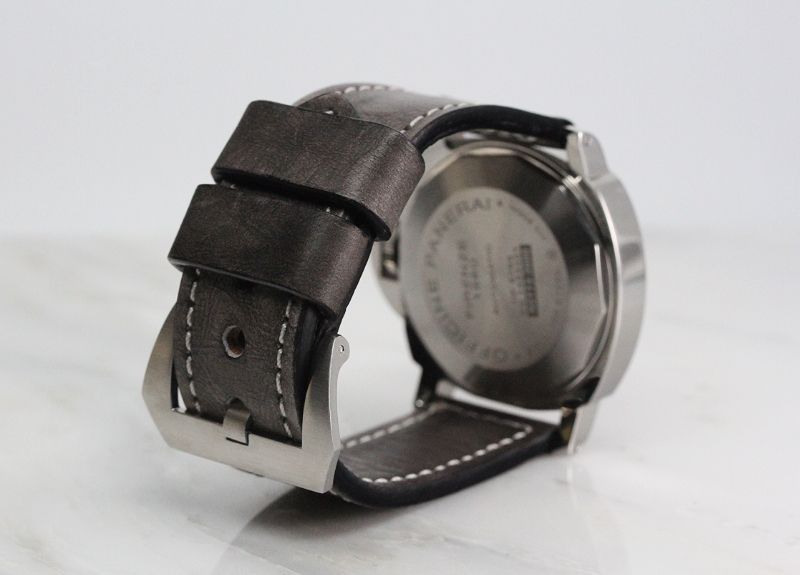 In the photo below you can see the strap's sealed edges at the lug ends. Within the lug holes the strap includes steel tubes, which is a very nice addition for watches that utilize lug bars or screws.
For this strap, I selected a screwed-in Pre-Vendome or "Pre-V" buckle with a brushed finish. The quality of the buckle is very nice and the finish works very nicely with the tone and overall appearance of the watch.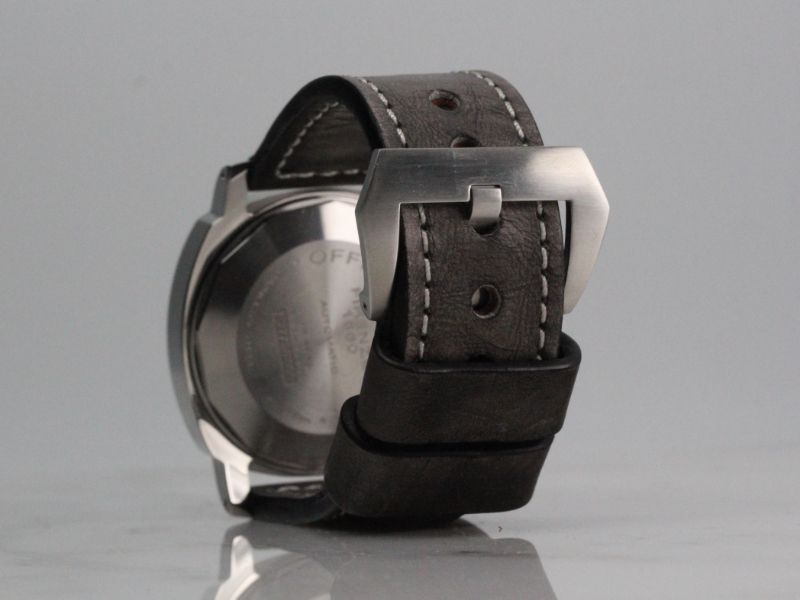 The following photos were taken with the strap mounted onto a Panerai Luminor Marina 104. The tone of the strap works very nicely with the watch and, although the Pre-V buckle's surface has a brushed finish, it looks perfectly at home when paired with the "Iron Bunker" strap and watch's polished case finish.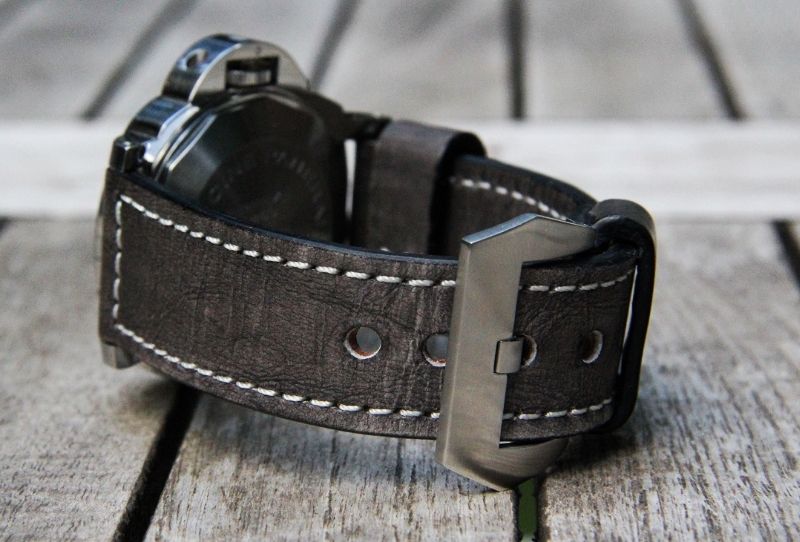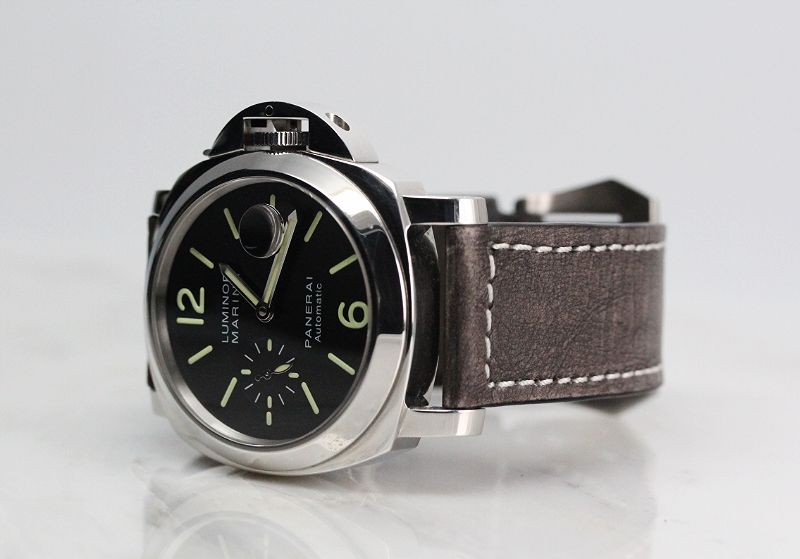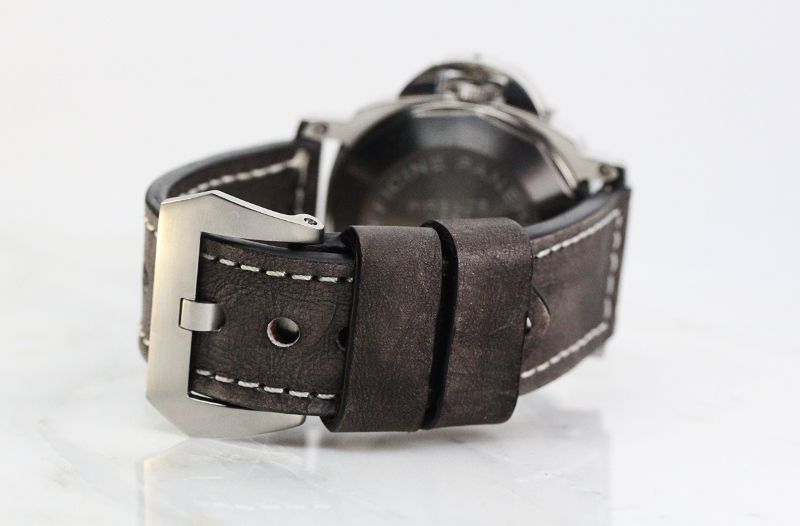 Wrist Shots:
Please note:
For reference purposes, the pictures below are taken on a 7.25 inch wrist.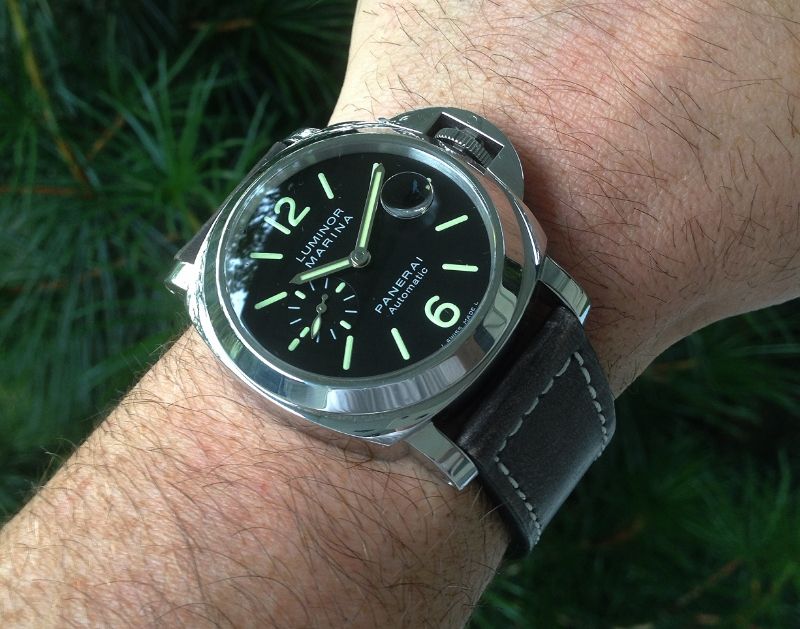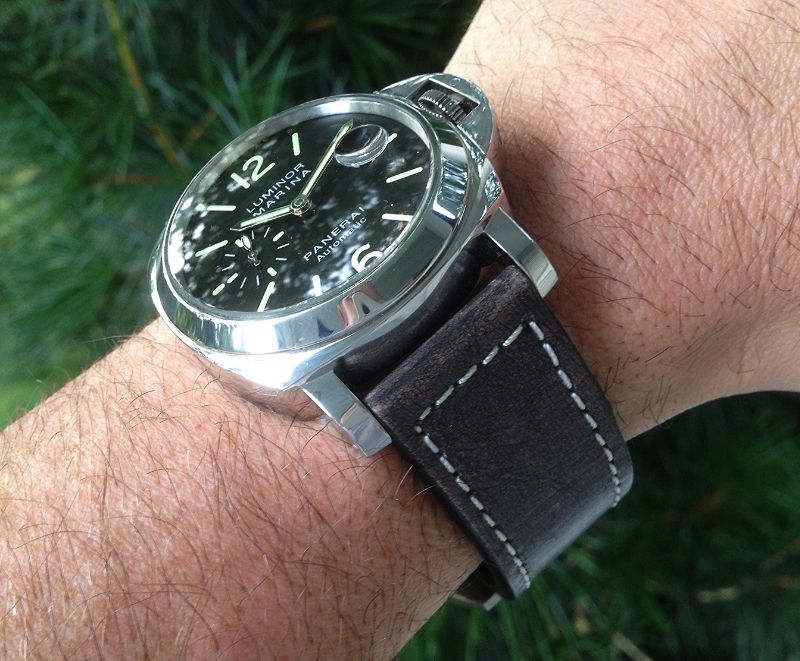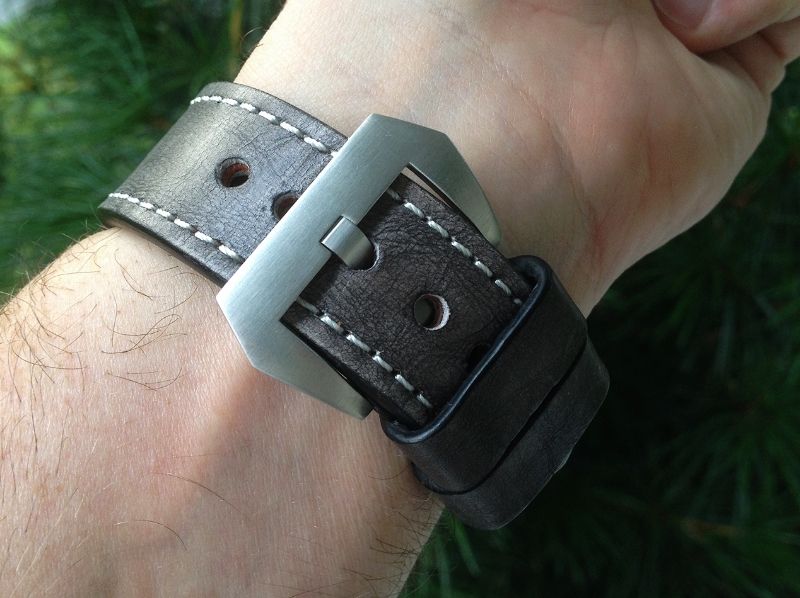 My Thoughts and Impressions:
I found the quality and finishing of the Cavalcanti "Iron Bunker" to be very nice. Most notably is the hand dyed color and texture of the strap, which really make it look fantastic in person.
So...If you are considering a new strap, I would definitely suggest take a closer look at the Cavalcanti offerings. Please see the next post for examples of their other designs.
Well, that concludes my review …Thanks for reading and I look forward to your comments
~ Mark