This morning I took a trip to a local watch doctor (to resize the bracelet) as I didn't want to mark it up. Apparently it was quite a chore as it took them awhile. He removed two links and tightened up two clicks on the fastener. Now that I'm home I notice he took both links off the same side leaving the clasp off-centered. I'll wear it this way for a few days, to ensure I'm happy with the fit - then return to have him balance the clasp out.
Side note: I've now ordered a 22mm leather strap from The StrapSmith; just in case I decide against its' (heavy) bracelet. It'll have an oversized buckle with an airplane carved out (for this pilot watch), and RED stiching instead of the black X's ( matching its red second hand), Plus an angled tip cut. Actual pics will follow once received.
Custom hand built watch straps from the finest leather and other quality materials.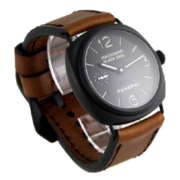 www.thestrapsmith.com
.