Watch came in this afternoon, took photos but don't have time right now to display them.
1st impressions, not nearly as large as what reviewers on the Web are saying. Wears like any, normal 42mm diver. The hand set also doesn't appear large and clownish, in fact I cancelled my idea of modding this watch with 62mas baton hands would look too small IMHO.
Fit, finish, dial and bezel are superb! Bezel rotates smoothly without any play whatsoever. Chapter ring and Bezel alignment are perfect. Crown unscrewing is a little stiff (update this cured with a little dental floss), yet winding is butter smooth. Rubber strap wears just right and is super smooth and comfortable.
Will get back to everyone tomorrow with photos and a continuing critique
Update:
1st 24 hour accuracy, +-0 seconds, dead on, Wow. Maybe too good, can only go downhill from here.
Inspection under a loupe, completely pristine except for some lint between the crystal and the bezel, removed.
1st impressions, as I said before the arrow hour hand which looks a little off putting in photos really isn't that bad it doesn't appear as large on the dial as it does on the Monsters.
This watch is perfect size for me, not too big like my Orient Nami, and not too small like my Oris 65 which appears a little larger then it is due to the wider dial and the smaller bezel.
I have a DiModell Water Proof Pilot strap coming in today, this is by far the most comfortable leather strap I have ever worn and is pool friendly. It's the one on my Nami in the below photo.    
Lume
62mas Vs. Orient Nami
62mas vs. Oris 65
62mas on Panatime leather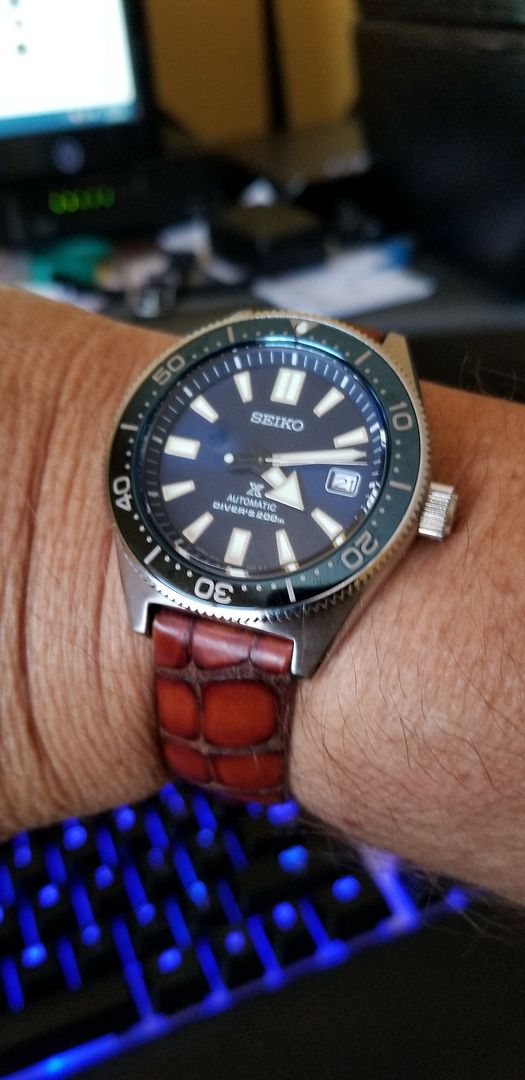 62mas on Shark Mesh
On DiModell waterproof (100m) leather Pilot strap.