Discussion Starter
·
#1
·
imported post
STRAIGHT FROM GEORGE FOX.
Hi Bruthas & Sistas,
First, sorry for not being around much in the past week. Been working very hard in the NFW Batcave on numerous interesting projects.
Plus, Mrs Fox is now just a week away from birthing the new little Fox. So, she's definitely got me hoppin' at home, with a long list of baby-prep projects!!!
Regarding the ViperFish, I have some updated news for you. Now, some of you make take this as bad news, but I want you to know that I'm doing what I feel is the RIGHT thing and am thinking of you, and the watch design, versus simply thinking of my bottom line.... I always put the watch designs and our customers best interests before even thinking about the "money" side of NFW.
That said, I've been wearing the prototype cases of the ViperFish auto & chrono cases for the past week. Folks give me a funny look when they see me wearing an empty watch case (no dial, no movement). But that's okay. I like to keep 'em wondering about my sanity! Well, let me say that the watch case feels fantastic! The wrist fit is extremely comfy and the presence on the wrist is undeniably powerful. That's the good news.
Now here's the bad news: There are some things on the case, just some tiny details, that I want to improve. I could let it go as is and it would be a fantastic watch. But, I really get wrapped-up in the tiny details and I feel that I need to make a few very small improvements. Doing this means adjusting the tooling. And since this is a complex case, comprised of 27 parts, when I make these little adjustments there is a domino effect that happens, meaning multiple toolings need to change for each adjustment I'm making. Doing this will now put the launch of the V-Fish into January, not November. Believe me, most business analysts would tell me to just let it go so that we don't miss out on all the Holiday sales. But I just can't do that. I want to make the watch AS NICE AS IT CAN BE. And I do this with you guys in mind, which, in my opinion, makes smarter business sense than rushing a product to market to capitalize on holiday sales.
So, if you've been saving your money to get one, keep saving and rest assured that when we have them you'll know that it was worth the extra couple months that I'm spending to make them right. If you were planning to get one as a Christmas or Hannukah present, then give yourself a raincheck and just pick it up in January (that's one way to make January a litte more fun!).
Lastly, I want to now show you the final color concepts: 8 automatics, 4 quartz chronos:
Automatic 1:
Automatic 2: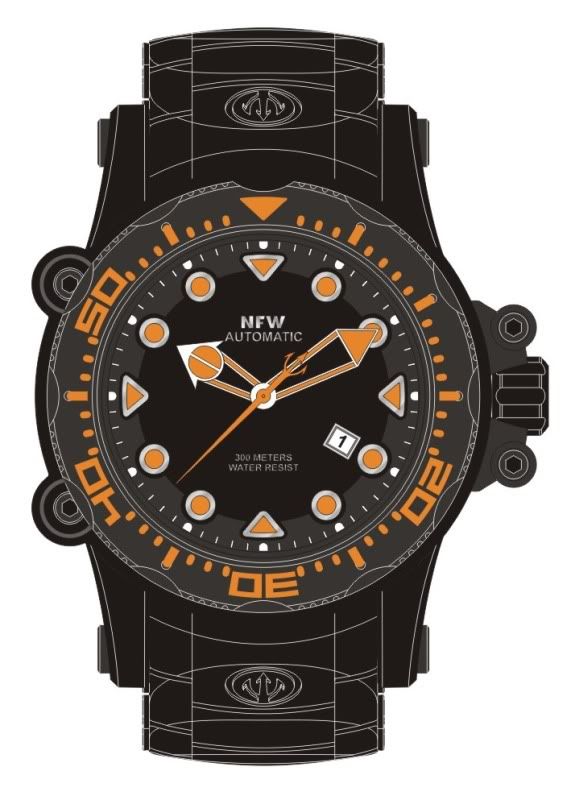 Automatic 3: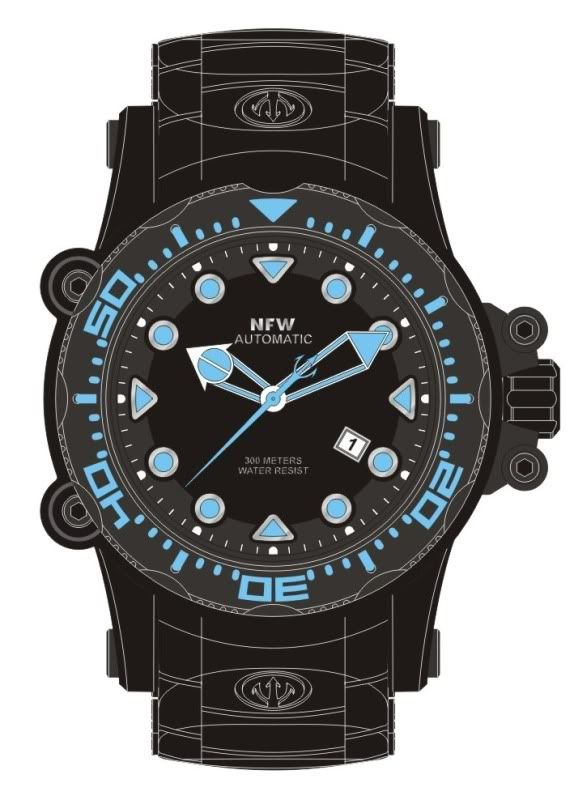 Automatic 4:
Automatic 5 (NOTE: Dial is Full Lume SuperLuminova C3 light green):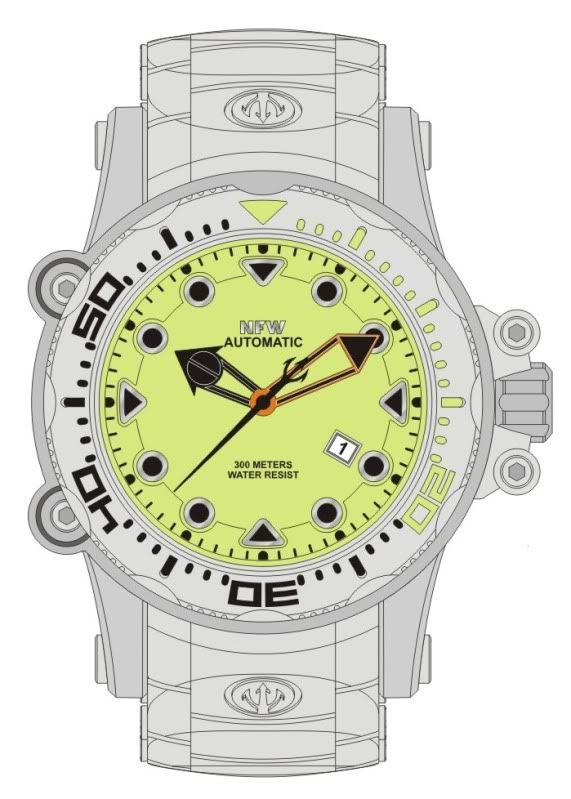 Automatic 6: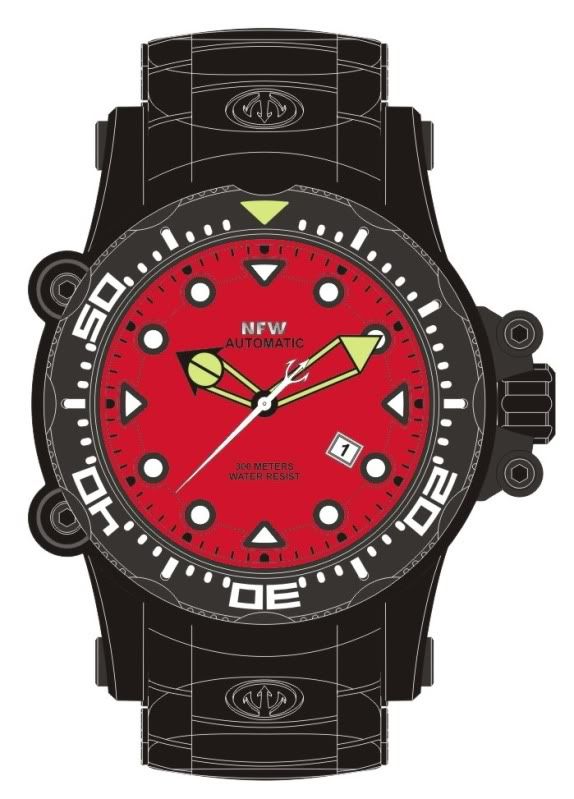 Automatic 7 (NOTE: this is a LIME/ACID green dial, Pantone 389):
Automatic 8 (NOTE: Dial is FULL LUME):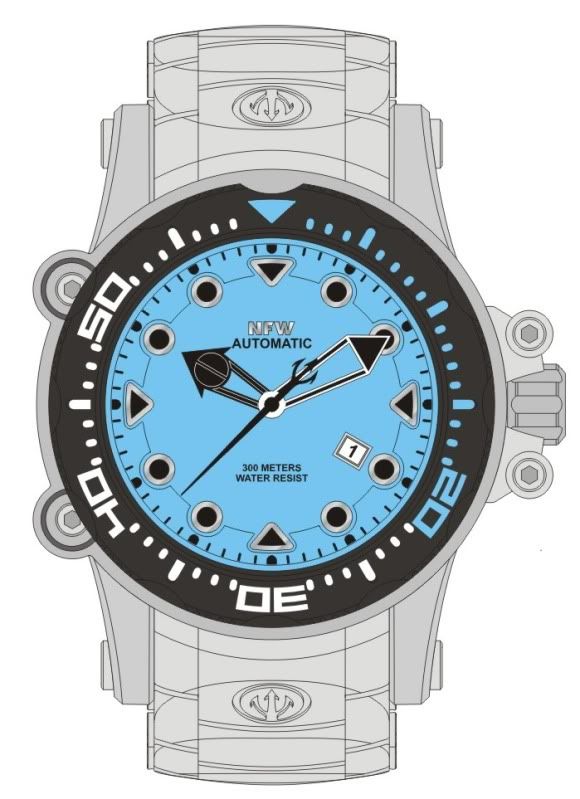 Chronograph 1: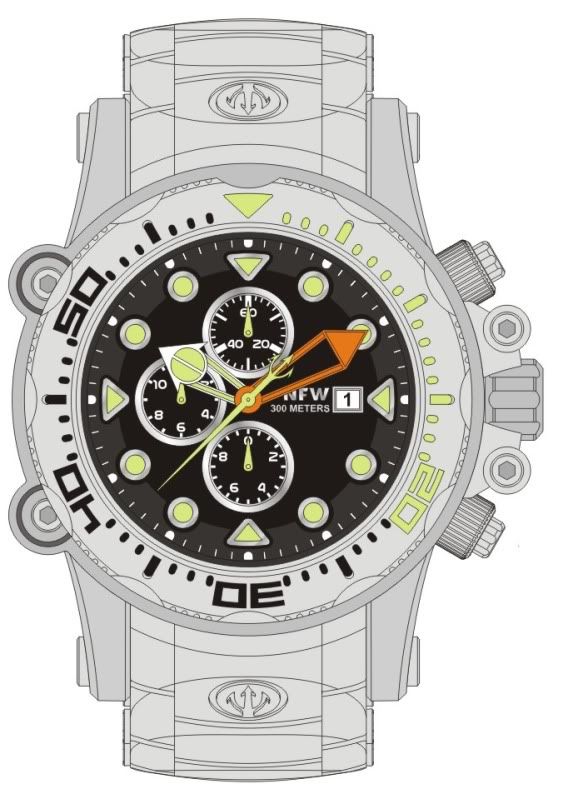 Chronograph 2:
Chronograph 3:
Chronograph 4 (NOTE: Dial and sub-dials are FULL LUME):
Our next step is getting dial & hand assembly mock-ups based on these color specs. It's possible that after receiving the samples 1 or 2 of these might get dropped if I don't love 'em. But at this point they're all planned to go forward.
Thanks, everyone. I like to keep y'all in the loop thru the entire development process.
All my best,
George
NFW