Discussion Starter
·
#1
·
Greetings all!
About 24 hours ago I launched a crowd funding campaign on Indiegogo. You can view that here.
https://www.indiegogo.com/projects/minuteman-independence-assembled-in-the-usa/x/9147943#/
As part of that we just rolled out a press release and here is part of that.
Illinois-based watch brand Minuteman Watch Co. has launched a new series of watches inspired by patriotic American heroes both past and present. The new watch series has been named Independence.
As many of Minuteman's current customer are former and or active duty military. The company decided to offer an updated version of a classic Hamilton W10 military watch circa 1970's. The new series is available in a black canvas strap with black dial and natural stainless steel case finish or in a black canvas strap with black dial and military grade black PVD finish.
These rugged watches are powered by Swiss quality Ronda 515 quartz movements, and are intended for wear by both men and women. These fine watches will be proudly assembled in Mentor Ohio by highly skilled American watchmakers. Despite the fact the watches will be assembled in the USA using quality components the watches are being offered for prices as low as $250 via their crowd funding effort on Indiegogo.
For those of you that don't know Minuteman Watch Co donates 25% of their net annual profit to charities that assist veterans and their families. For 2016 Minuteman is raising funds for Fisher House.
The Indiegogo campaign launched on Tuesday, March 21, 2016, and will have a duration of 40 days. The initial funding goal is just $9500.
Here are the 2 versions we are offering.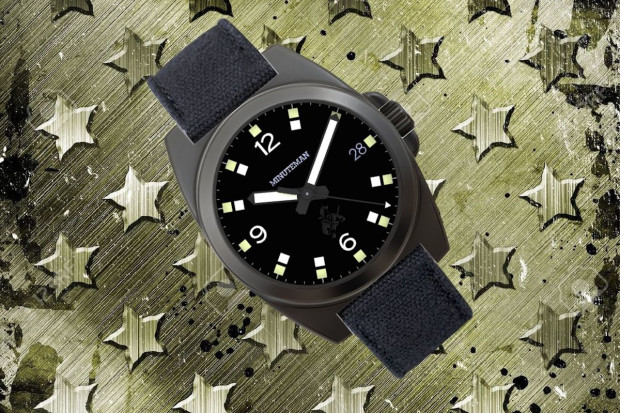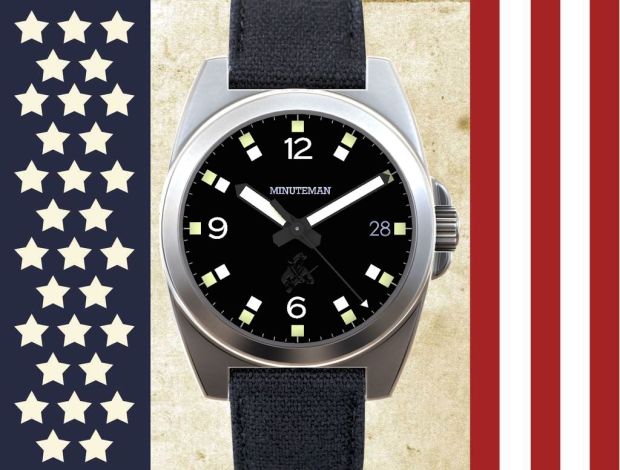 I sure would appreciate it if you fine folks could help us get the word out about this.
I believe given the fact we will be sourcing these from Chris at Lum-Tec. That our pricing represents a solid value for the quality.