Discussion Starter
·
#1
·
imported post
First of all, let me say that I don't want to 'put a bee in anyone's bonnet' ...
...


... over the 'issue' of Homage (aka 'Tribute') VS. Replica (aka 'Fake') watches! ...
​

______________________________________

Nevertheless, before I go on (and on), let me FURTHER stipulate that, IMHO, 'Fake' Watches, per se, (generally) have another "Haute Horology" name emblazoned on their dials and/or case backs and make every attempt to 'coattail' off these very expensive designs.

And, FWIW, having researched 'rep' watches for years (and - HUGE GASP! - even purchased a rather nice/upscale 'rep' myself), I think they're now mostly 'all show and no go!'


... and they're NOT anything close to the REAL thing; i.e., Panny's "Marina Militare" ...​

[align=center]
[/align]
______________________________________

On the other hand, I ALSO think that some (not ALL) watches that take a "Haute Horology" Design and, in the inimitable words of Larry M. w/Stuhrling, "make it their own!", are therefore, IMHO, definitely NOT fakes, ...


... but, rather, "Homage" and/or "Tributes" to those upscale designs! ...​

... and at the pinnacle of that "Heap of Haute Horology" is the Panerai PAM00127 "1950" (aka 'Fiddy') ...​

[align=center]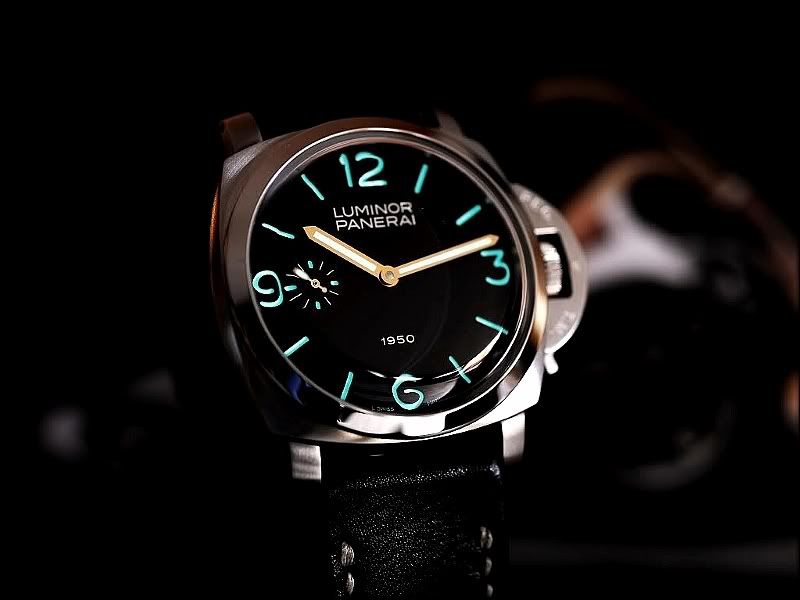 [/align]

And, what's MOST-INTERESTING about the 'Homage Genre' is the fact that, after ALL this time, ...


... one 'homage' watch STILL stands out among ALL the 'others'; i.e., ... the Rock-X-Watch "MM20" ... ​

[align=center]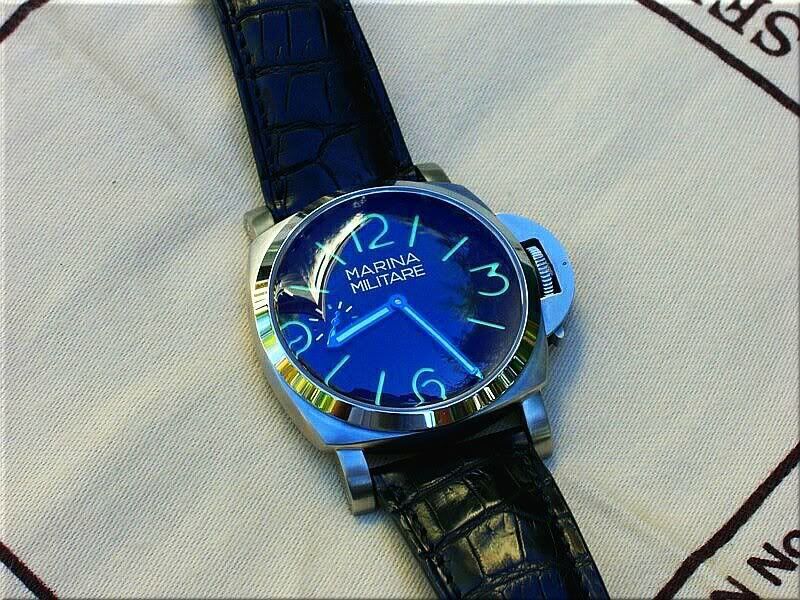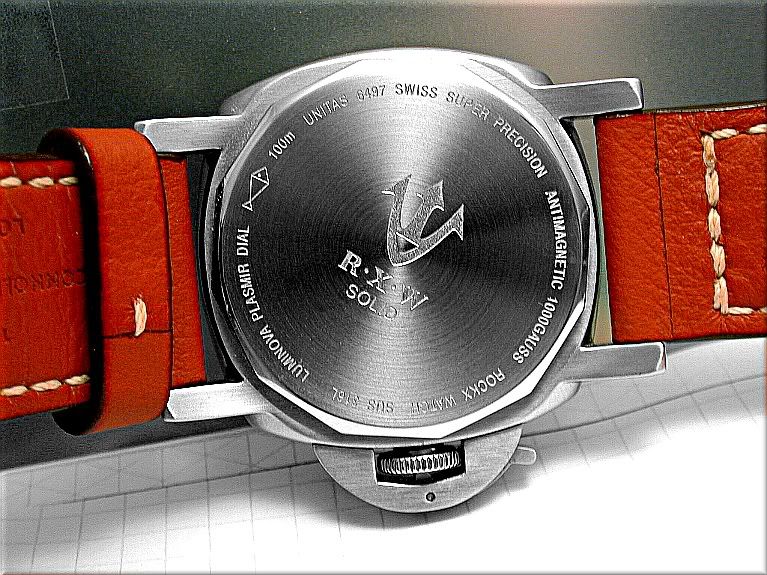 [/align]
______________________________________

For better or worse, even tho' I think the Rock-X-Watch 'MM20' IS a TRUE Homage, the courts in Japan didn't and, in a lawsuit launched by Panerai, Mr. 'Ken Trading', the 'purveyor' of MM20's in Tokyo, was issued a 'cease & desist' injunction from EVER making anything like the 'MM20' again!

I further understand that, after all the lawyers 'left the bldg.', Mr. 'Trading' consigned several hundred of his 'leftover' MM20's to Orient Trading in Thailand. I've even found the e-mail addy for this outfit (from a website in the Philippines), but, since it's been explicitly stated that Orient staff in Thailand do NOT speak/read ANY English, ...


... I'm fairly certain that any message I might send them would be "lost in the medium!"​

______________________________________

BTW, as I've stated in other posts in here, I've heard that 'someone in the Orient' more or less 'inherited' all of Ken Trading's MM20 'tool 'n dies' and is making the best 'rep of a homage' currently available; i.e., ...


... the "James123Chen" RXW ... ​

[align=center]
[/align]
______________________________________

Anyway, I continue to research MM20's (REAL ones! - not the "fakes of the homage MM20" that are sold on e-Bay, 'et al') and, occasionally, I make an offer to someone who has a GENUINE MM20 in pristine condition!


... BTW, I MUST say that, as far as I know, all the 'fake' RXW's currently being sold on the web ...​

... are the ONLY 'fakes of a homage/tribute' designs I personally have EVER seen! ...​

... I guess that alone speaks to the desirability of the REAL RXW! - but I digress! ... :madd​


______________________________________

Having said ALL that, I'd like to pass along to the readers in here a RETORT to a post made on a 'way-distant forum' where someone attacked RXW as nothing more than a 'fake!' ...



RE: Ken Trading NOT Selling Fakes

I am a personal business partner with Ken Trading. Back in the 1990's I started doing business with them. By the way Ken is only his cover name. I don't need to divulge his real name, but he is probably the most knowledgeable guy I know about watches. He taught me a lot about Rolex,and he helped me make some serious money from selling used Rolex.

He actually asked me to help him research the idea of making watches using ETA movements. His thinking was simple. He knows about quality watches, and he wanted to make them more affordable to the average guy. He is a true watch enthusiast and a very nice guy as well. Over the years he has made many contributions to watch magazines in Japan, and the magazine editors greatly respect his knowledge.

To make a long story short, he never intended to make fakes. He hates fakes, but a good look-a-like is another thing.

Now in my research I will blew you a way, and I think I will reveal a secret which is the real reason that Panerai and other snobs like Rolex went after him. A pity, because Ken Trading made Rolex models in Japan popular through his marketing and his articles in watch magazines. When Ken spoke the Japanese watch collectors listened. If he said buy this model, then they did by the thousands. He made the Explorer I popular. I made a fortune selling these in Japan. He was my source of knowledge, He told me to stock up on Explorer I and I did. The price increase by 4 times within 6 months of his articles . I even believe Rolex read his articles for ideas of what to produce.

Anyway, buddy, you really don't know what you are talking about. You are another parrot of the media. In my research I found that a Panerai has an ETA movement, cases made in China. We estimated the production cost of some models and we figured nothing would cost more that $500 and yet they make you pay $4,000.

You tell me who is the villian and who is the hero?

I have dealt with Rolex for years, and I think they are representative of the snobbish attitudes these brand watch owners display. (By the way Swatch now won't sell ETA outside its long time partners, probably from pressure, for these guys who fear the Chinese watch outdoing them)

They are getting rich off people's ignorance. For example, Swiss law only requires 50% of parts to be made in Switzerland in order to have "made in Swiss" stamped on the dial. Where do you think the other 50 % comes from? I will give you a hint. I have seen many "fakes' over the years, and most fakes were quite obvious.

However, in recent years, they are as good as the real thing. Why? Technology transfer. Watch parts made in China are now in Swiss watches.

I had a very good friend, whose family has been in the Rolex Service business for over 50 years. He confessed to me that to get a 100% all Swiss parts watch, you need to go back 15 years or so, otherwise there is a high chance that some parts are made in China!

So dear friend, you can see who the real criminals are. I think that, instead of going on the defense, somebody should sue these companies for false advertising and investigate their fake "Swiss-Made" watches.

I would never buy a new watch from any of these guys. They are as phoney as the fakes out of China. The only difference is that they have an ETA movement or a Swiss movement, and some fancy lawyers. Otherwise, the rest of their claims are a lie.

Put that in your pipe and smoke it.

Brian​

______________________________________

Now, I don't know about any of youZe guyZ, ...


... but I find all this kinda interesting!
​
... anyone else care to express their opinion on any or all of this? - anyone? ...
​