Discussion Starter
•
#1
•
imported post
Back in March of this year, I was contacted by the US Special Forces to see if we could possibly produce some AutoPilots using their insignia. NFW has an excellent reputation among our military customers, including members of certain Special Forces units. Our L.E. Skull & Tridents artwork got them thinking, since, coincidentally, it is very similar to an emblem that's used by the Special Forces, known as their "Nous Defions" skull & arrows emblem.
Of course, I was honored that they even asked us to do this special project. They ended up sending us two different emblems/insignia so that we could get to work on the design concepts. As soon as we had the concepts ready I flew down to Fort Bragg in NC to present the concepts. The guys originally just wanted us to make one watch. But when they saw the drawings they liked them both so much that they decided to make both of them.
And the good news for you guys is that, in addition to the quantity we're making for Special Forces personnel, they are allowing us to make some additional quantities of the exact same watches for our customers!
However, the BEST part of all this is:
FOR EVERY SPECIAL FORCES WATCH THAT WE SELL, WE ARE GIVING $50 TO THE SPECIAL FORCES ASSOCIATION, CHAPTER 7.
THE SFA PROVIDES FINANCIAL SUPPORT TO THE FAMILIES OF OUR SPECIAL FORCES SOLDIERS WHO ARE KILLED OR WOUNDED IN COMBAT. HENCE, WE ARE EXTREMELY PROUD TO BE ABLE TO GIVE BACK TO THE SPECIAL FORCES WHO DO SO MUCH, AND WHO SACRIFICE SO MUCH, FOR ALL OF US.
And now for the unveiling of the Special Forces AutoPilots. Here's both of them together (below I'll describe the significance of each emblem and show each design individually)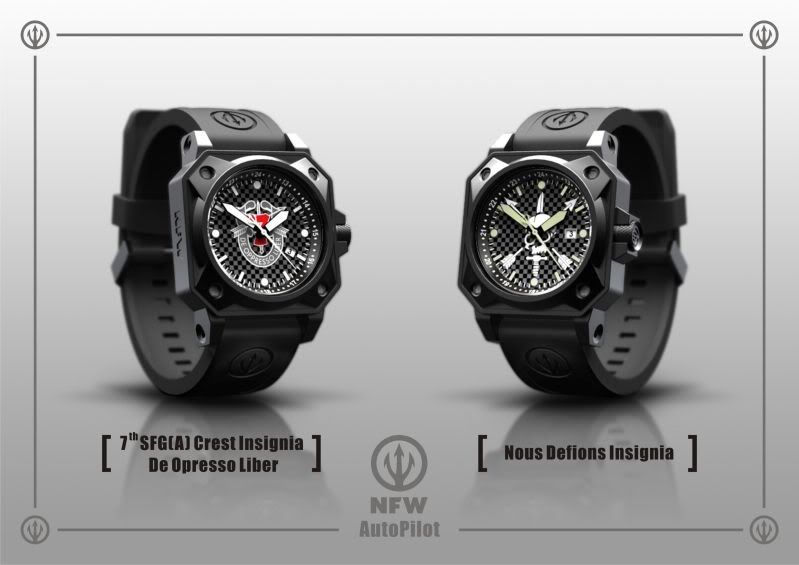 NFW AutoPilot
Movement: Miyota 9015, automatic, 24 Jewels, Hacking
Sapphire Crystal (front & back)
SuperLuminova on hands & dial markings
Tactical-Black IP Case & Bezel
Black Rubber strap
Black Carbon Fiber Dials
200 Meters Water Resistant
HOW TO GET ONE:
We are only making a couple hundred pieces above & beyond what the SF orders and will begin accepting reservations with a $100 deposit, with the balance due when the watches arrive. To place your reservation, just shoot me an email at:
[email protected]
asap.
WHEN WILL THE WATCHES ARRIVE: October 2011
PRICE:
NFW Regular Price: $500
WF VIP Price: $400
And remember that you'll be contributing $50 to the SFA, Chapter 7 when you purchase the watch.
BACKGROUND INFO ON THE INSIGNIA SHOWN ON EACH WATCH:
"Nous Defions"
Like most anything else that is associated with Special Ops, the motto "Nous Defions" (French for "We Defy", or "We Challenge") has a somewhat mystified origin. Most in the US Army Special Forces community agree that the motto, and accompanying skull and crossed arrows logo, was born from the early days of the development of modern direct action and counter-terrorist tactics, techniques and procedures (TTPs) at a training area in Mott Lake, 11 miles west of Fort Bragg. Members of Special Forces that conducted training in Mott Lake generally agree that the phrase "Nous Defions", and its commonly associated logo – the skull and crossed arrows – was born there.
There is some uncertainty as to the true origin of the motto itself. Some assert that it first emerged during World War II, with the French resistance movements. It is very possible that the motto was then adopted by elements of the Office of Strategic Services (OSS) that organized, trained, equipped and operated with the French resistance. Today, the insignia is used by an advanced skills Special Forces school, Special Forces teams that focus on direct action, as well as select companies within each Special Forces Group. The symbol has even been adopted by entire Special Forces battalions.
"Nous Defions" is a challenge, a brash statement, an in-your-face phrase that illustrates the aggressive nature of the "Quiet Professionals". At the same time, just like the men that originated it, its history is shrouded in mystery, lore and legend.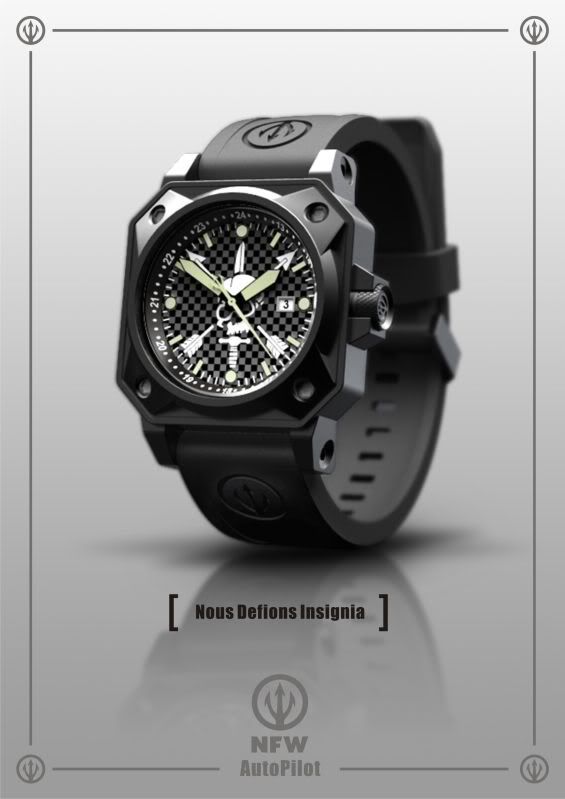 "7th Special Forces Group (Airborne): De Oppresso Liber! Crest Insignia"
The 7th Special Forces Group was activated on 20 May 1960 in Fort Bragg, NC. It is one of the most deployed formations in the special operations community and it has a combat resume that place it as one of the most combat experienced units in the US military. Because of their high deployment rate, the 7th SFG has suffered many casualties, thus making the contributions from the sale of these watches all the more relevant.
As a unit of the US Army Special Forces Command, the 7th Special Forces Group is organized, trained and equipped to perform seven special operations missions: Unconventional Warfare, Foreign Internal Defense, Special Reconnaissance, Direct Action, Combating Terrorism, Counter-proliferation (of Weapons of Mass Destruction), and Information Operations.
At times referred as to "Green Berets" – due to their distinctive headgear, the quintessential Special Forces Soldier exemplifies the "Quiet Professional". Like their other Special Forces brethren, the 7th Special Forces Group have been, and will remain deployed, throughout the world displaying their dominance in full-spectrum operations through their unconventional warfare expertise. They have been far forward of the front lines of every modern conflict, operating quietly, covertly, out of the limelight, in constant contact with the enemy and in the protection of freedom the world over. From humanitarian assistance and training of indigenous forces, to direct action and special reconnaissance missions, all Special Forces Soldiers live up to the Special Forces motto: "De Oppresso Liber!", to Free the Oppressed.
This dial shows the Special Forces Crest, featuring the crossed arrows behind the banner that reads "De Oppresso Liber." The "7" signifies the 7th Special Forces Group.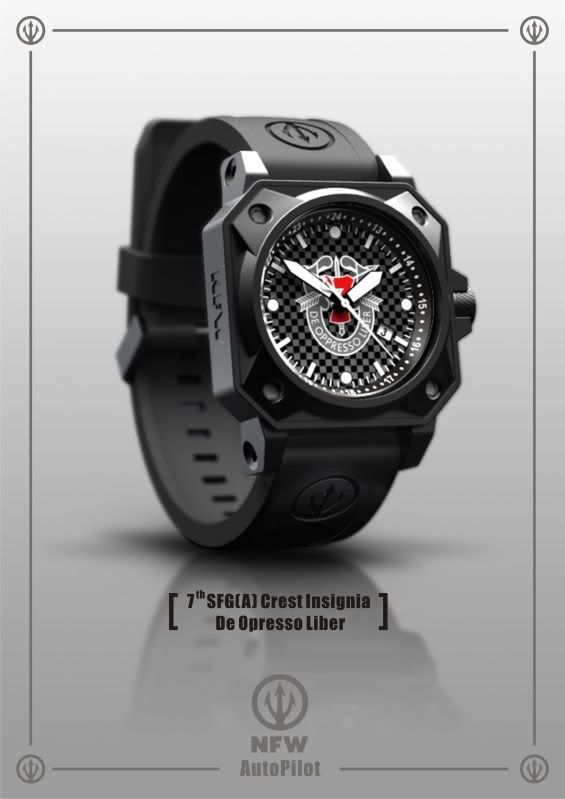 On behalf of myself and of NFW, I am extremely proud and honored to have been asked to make these watches, and to support our Special Forces by giving a significant contribution back to the Special Forces Association, Chapter 7. And for any active and retired SF personnel who may be reading this: Thank you for your service!
If you'd like to reserve one of these Special Forces watches, by all means come & get 'em!
If you'd like to learn more or donate directly to the SFA, here's a couple direct links:
7the Special Forces Group (SFA Chapter 7):
http://www.sfa7.com/Home_Page.php
SFA:
http://specialforcesassociation.org/
Thanks in advance, everyone.
Best,
George Fox
NFW