Discussion Starter
·
#1
·
Just got word that this beauty is coming in sometime this week!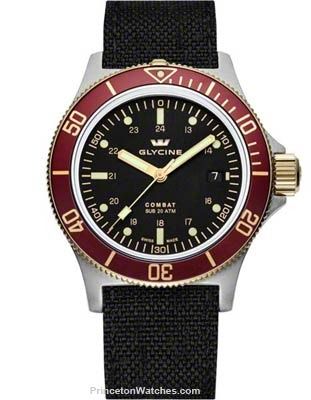 I've been hunting for one of these for quite a while now. Found one on IguanaSell.com for $815 (lowest price, as Amazon sells it for $1,450) but it ships from Spain, so I figured I'd wait for a used one and get some sort of a deal from a fellow WIS. Interestingly, no one wants to part with theirs (I can probably understand why). Scoured the Bay and other sites, but most of what I could find were the blue bezel version or the "Golden Eye" version. Seeing that I already had a Squale Root Beer, the Golden Eye wasn't exactly something I wanted to get.
Cue the wifey hinting that I'll be getting something in the mail sometime soon as a late anniversary gift. Found out that she got me what I wanted, and for a good price too! Gotta love a woman who knows a man's passions.
If you're looking for something similar, check out Princeton Watches online. They're having a closeout sale on most Glycine models. Apparently, the wifey bought out the last one of the red bezel.