Discussion Starter
·
#1
·
I am not at all a 'Watch Freek' and this will be my first and only post in this forum
But I felt I had to make an entry to praise and promote the company Harold Pinchbeck.
My story is that I retired last year at the age of 63 - when I was 21 (all those years ago) my Dad & Mum bought me a Longines UltraChron watch and that watch has sat on my wrist for 42 years and done a sterling job. Although extremely good quality it is simple and effective - just a second hand and the day of the month - semi automatic and its been very accurate. Its been serviced only once in its lifetime and I've loved it.
Earlier in 2015 it began to show signs of age and began to gradually lose time. My Mum sadly died in January 2015 but my Dad had apparently logged that my watch was 'dying'
as on Christmas day - out of the blue - I was presented with a Harold Pinchbeck - George.
It comes in a stunning wooden box - and mine has a personal inscription ....
Inside the excellent box nestles my old Longines ...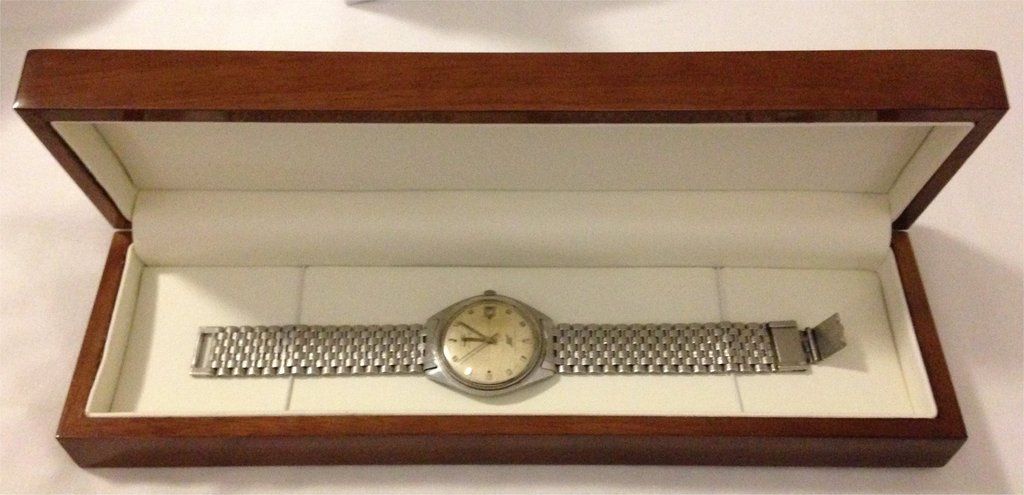 Here's the watch with the beautiful leather strap ...

A close up ....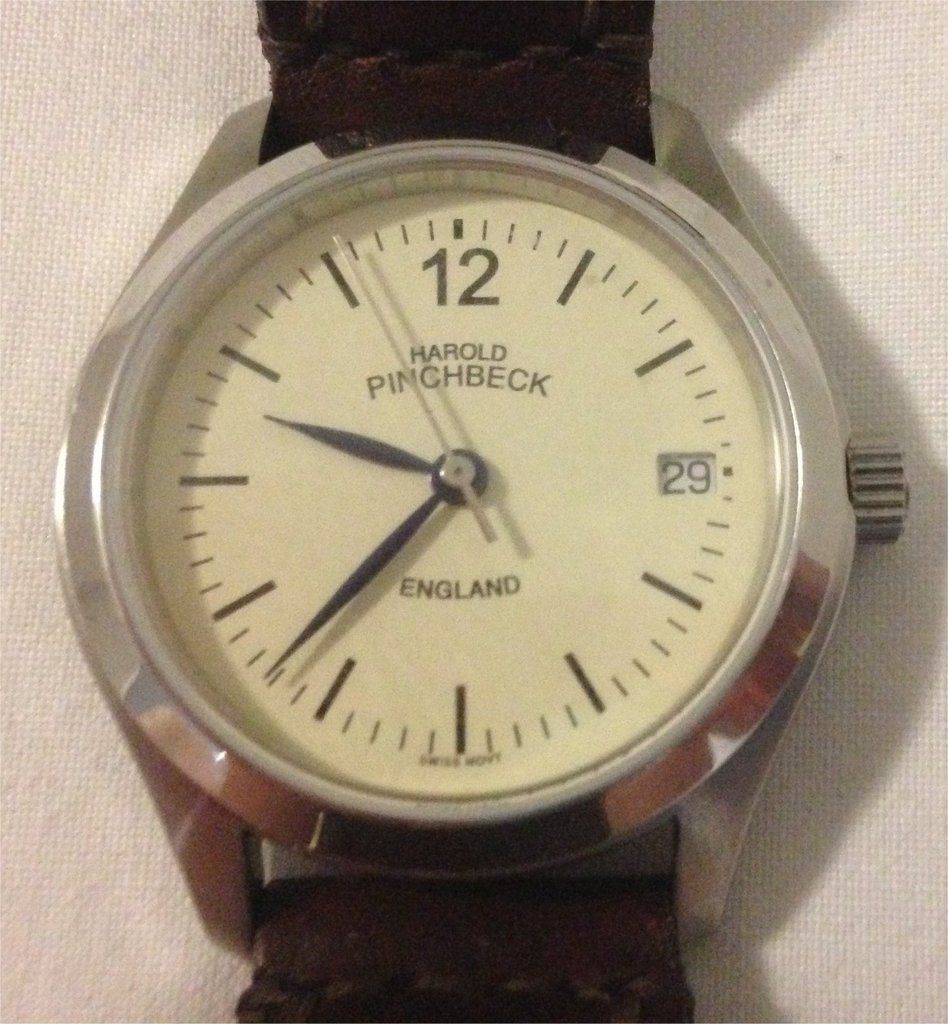 And on the wrist - I HAVE to wear my watch below my wrist bone and have it tight enough so it doesn't move about ...
My Dad told me that the dealings with the company Harold Pinchbeck in the purchase of the watch were exemplary - communication was second to none and nothing was too much trouble.
Since owning it I've emailed them once with a question and got a VERY fast response from Paul Pinchbeck - most impressive.
I have seen lots of narrative on the internet that this is a 'rather small' watch - and is considered a 'dress' watch
Well - my Dad obviously knows me very well as it suits me down to the ground - it tells the time accurately and reminds me the date...
I don't know how big people want a watch but this one is perfectly adequate as a timepiece at 35mm and I wouldn't wear a watch any bigger. I don't want phases of the moon, stopwatches, how much air is left in my aqualung and other poncey stuff - nor do I need to see guts, innards and moving parts
As for a 'Dress' watch - My watch is on my wrist 24/7 365 - I never take my watch off unless in the shower or swimming (or in the old days when under the car with spanners) - so I don't understand the concept of 'Dress' - why on earth would I own 2 watches
So - its a beautiful and unique handmade watch by an excellent company and, by coincidence for my Dad, the company is based in Lincoln where he was born
I cannot praise Harold Pinchbeck and this particular watch highly enough and I know it will last me until ... well ....whenever
http://www.haroldpinchbeck.co.uk/george/4522422710