*WITHDRAWN*
Up for sale only is my custom made Debaufre CSAR aviator watch that was completely finished and assembled by Jay at Motor City Watch Works.
Please read the entire ad as this watch comes with some special items and has some very unique features that comprise its value.
The watch started life as a Debaufre CSAR. All of the parts except the dial are still interchangeable with many from Steinhart. This is why I am able to offer 2 brand new sets of case and lug screws with this package, one in silver and one in PVD black as they were obtained recently from them.
The case of the watch was hand reshaped by Jay to remove the sharp corners, then treated to a low light bead blast, which is matte, but still very durable.
The watch HAD a perfectly functioning Swiss 6498 handwind movement from Debaufre (included), but I wanted something special. I ordered a finely finished Côtes de Genève tightly striped decorated movement with perlage under the balance assembly, and custom hand cut swirl polished gears direct from Tourby in Germany (junior, not senior).
Added to that is a very custom aviator strap made by none other than Peter Gunny, the master of vintage. This strap was made from his Blackbay leather. Please see the weathered strap and note the brand new leather on the underside. Note also the rivets were not only distressed but also do not come through the back side. Vintage but comfy and modern at the same time.
*** The thick black strap with white stitch pictured with the black hardware is not for sale here ***.
The watch retains its thick domed sapphire crystal in front with medium to heavy blue AR, and mineral glass out back that has a couple of very light scratches that I could not get in a photo.
***There are also 2 very small dings in the case, one at the top and one at the bottom.***
They are as well pictured as I could get them. The front domed crystal and AR actually seem to contribute to this piece looking very much like a flight instrument.; maybe even more so than your average Bell and Ross - The ultimate refined tool watch.
Other than that the watch is in perfect condition and runs +/- 3 sec per day. It is the size as advertised from the manufacturer at 44mm wide, 56mm L2L, and 14.4 thick. 2 layer multi-piece dial. Great lume.
The watch will come with the following, not all, but most, are in the last photo:
Watch head, bead blasted with custom decorated Tourby handwind 6498 Swiss movement, all work completed by MCWW
Included original Swiss Debaufre 6498 movement still running accurately and strong (not pictured) in plastic case
Gunny Blackbay Aviator style strap, distressed with Rivets, - includes matching square bead blasted buckle
Black Rubber strap and Pre-V brushed buckle that were included with the original watch
One set of SILVER case and lug screws
One set of PVD BLACK case and lug screws
2 special Torx head screwdrivers to prevent damage to screw heads (allen keys always seem to damage hex head screws)
Original Debaufre inner and outer boxes
Asking price is a very firm
$825 USD ...
NOW $750
!
shipped and Paypalled to your CONUS only door. This is barely the original cost of the watch and the Tourby movement alone so you could not come close to building another for the price offered here. More pictures are available upon request. No trades please.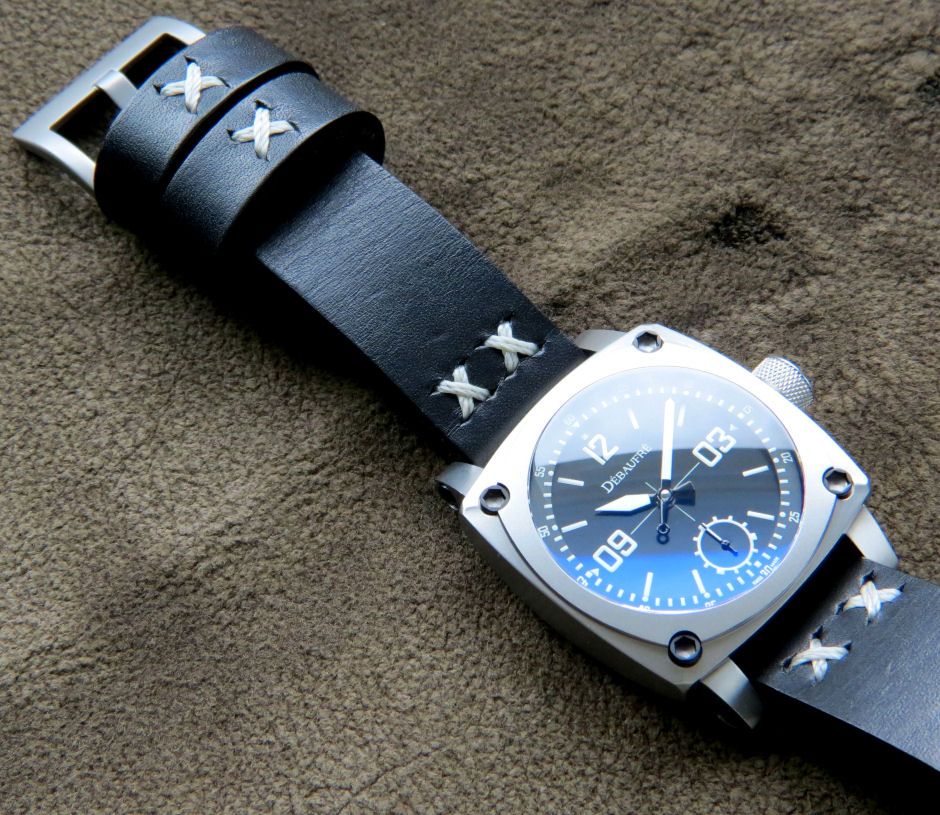 DING ON BOTTOM OF CASE:
DING ON TOP OF CASE: