Discussion Starter
·
#1
·
imported post
So I drove about 14 total hours over 2.5 days for the GGT this weekend. During these long drives I stopped a few times at fast food restaurants like McDonalds, Burger King, Wendy's etc.
I am always amazed at the sheer genius these fast food chains display. This includes everything from the ordering process to the actual items available. sure it might not be healthy or good for you - but it sure does take great, especially when on the run and trying to keep driving.
In my opinion it is at breakfast where the "big brains" at these companies are really putting out some fantastic eats. Here are some examples from my trip that I find genius.
The Cheesy Bacon BK Wrapper at Burger King is brilliant. Take all of the breakfast foods I love (sizzling bacon, crispy hash browns, and fluffy egg nestled into a warm tortilla and drizzled in smoky cheese sauce) and just WRAP THEM ALL UP TOGETHER. Amazing and yummy. This is genius to me
The McGriddle is another yummy combo item. The "standard" McGriddles sandwich consists of bacon, egg and American cheese served on a small pancakes injected with maple flavoring deep inside its griddle folds. Awesome, lol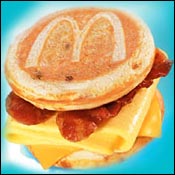 Taking ALL HEALTH issues out of the discussion - what is your favorite fast food restaurant chain and why?
-----------
Poll above and post what your favorite is.
-----------
My 2 favorite fast food chains are
1) Old school been around for a while - WENDY'S and
2) New chain that is growing very fast - Five Guys (over 450 locations)