Here is a truly strange watch. Good luck finding info on it
. For sale here is my Technomarine Royalmarine P1. We all get a little bored with collecting sometimes and search for something off the beaten path. Well … um, yeah, here it is.
For about a year Vincent Perriard who worked for Audemars Piguet and also headed up Concord took the helm at Technomarine and attempted to bring the brand upscale. This watch is a very rare result of that attempt. As we know, management before and after Perriard has seen fit to sell 1K quartz fashion watches. Perriard is now at the ultra high-end HYT.
If you look you can see the Audemars influence, the similarity to the Concord C1 and C2 lines, and the designs of Gerald Genta.
I did struggle to find info on this watch. I really want to know if it is built from grade 5 titanium. I wore this watch … a LOT. It had 2 previous owners that did not seem to treat it overly gently yet it appears largely scratch free. I cannot speak definitively about the Titanium except to say it is lots more durable than a nice Sector Chrono I have and every bit as tough as my Concord C1 which is advertised to be made from Ti grade 5.
You will see only a couple other variants from Tenchno on this design, but nearly all are in Stainless. This thing is curved, light, and comfy despite its size. It has a very unique locking crown system as the crown can only be pushed in if rightside up (logo) and aligned with the pocket in the case. The crown function is really a little work of art.
The only defect - well photographed - is a ding in the case on the lower side of the upper crown guard (please see the 3 photos below) not really apparent when worn. Other than that it has a few hairlines but is in really good shape otherwise.
The watch will come to you with 2 straps. One is a very nice (and pricey) custom made affair from Aaron at Combat Straps; a gray python with blue stitch and blue stingray keepers (2 included) - specially made to use the unique buckle included originally with this watch. The other is the stock blue rubber. Only the one buckle is included.
The first photos are of the watch now on the custom strap. The second set of pics if you will, are from the previous owner (not mine) showing the blue rubber and the absolutely mammoth beautifully done display case this watch will ship in. Manual, hang tag, and warranty card are also included.
The watch is large at 45.0mm not including the crown guards and 11.8mm thick. It has a sapphire crystal and features an ETA 2824 automatic movement as mentioned in the title … very rare and unique for Technomarine. The custom strap will fit up to a 7 1/2 inch wrist and the blue rubber may go up to about 8 or 8 1/4. The lugs are 30mm and the buckle is 24mm. Take a look at a Concord C1 and you will see where they drew inspiration from for that
.
The watch will ship to your CONUS ONLY address including Paypal fees for only a firm
475 USD
SOLD! SOLD! SOLD!
No trades please.
*** DING NOT SHOWN HERE, PLEASE SEE BELOW ***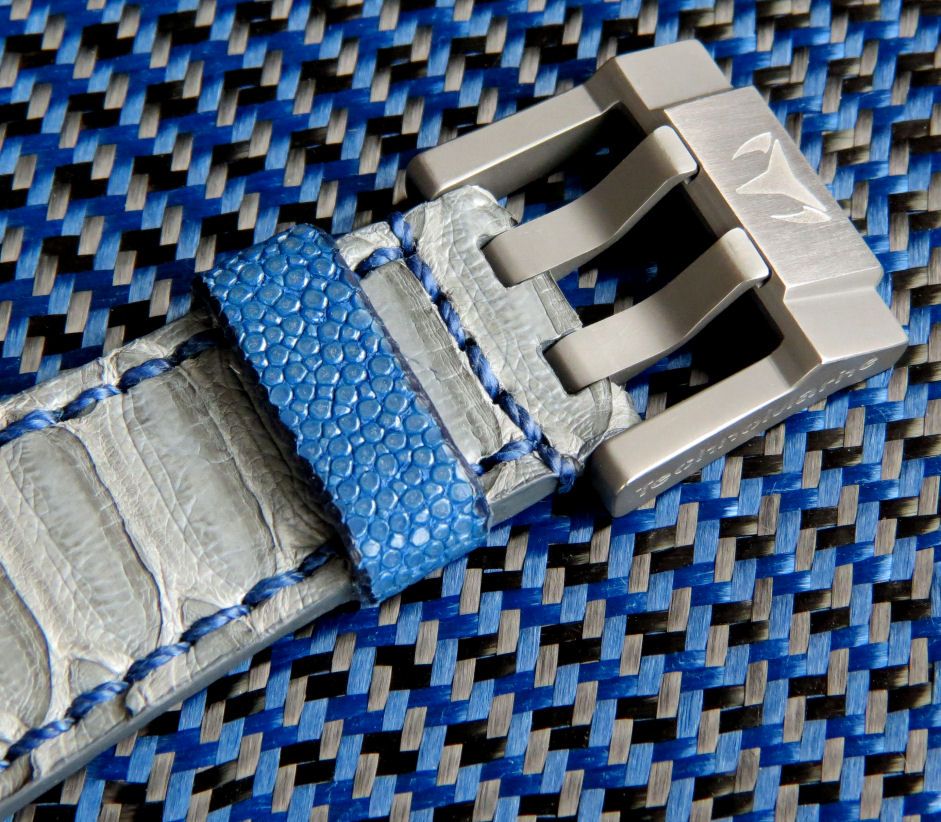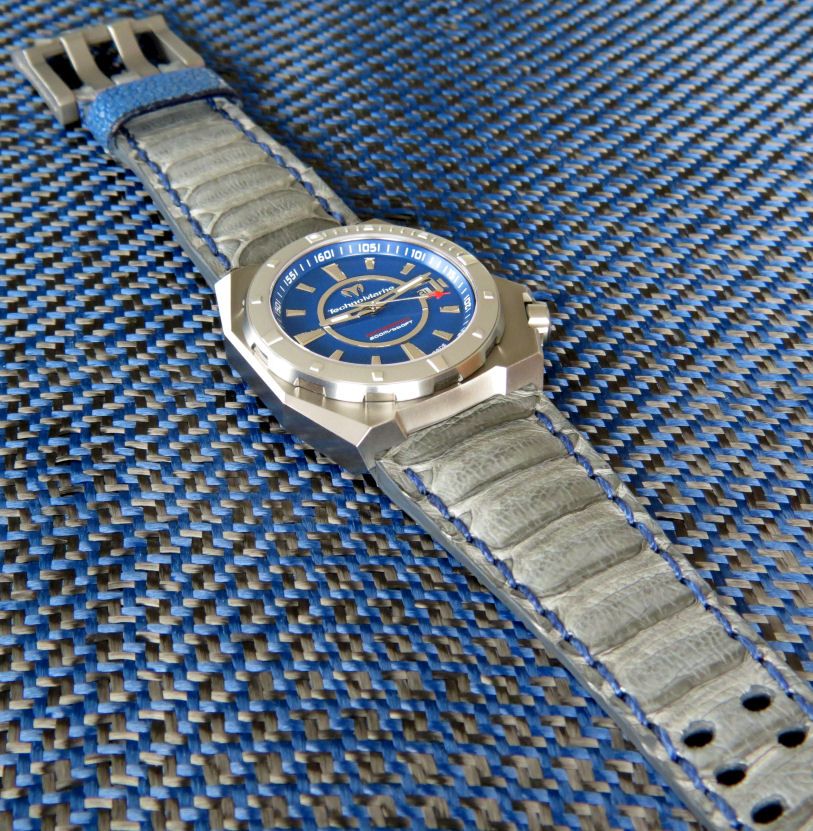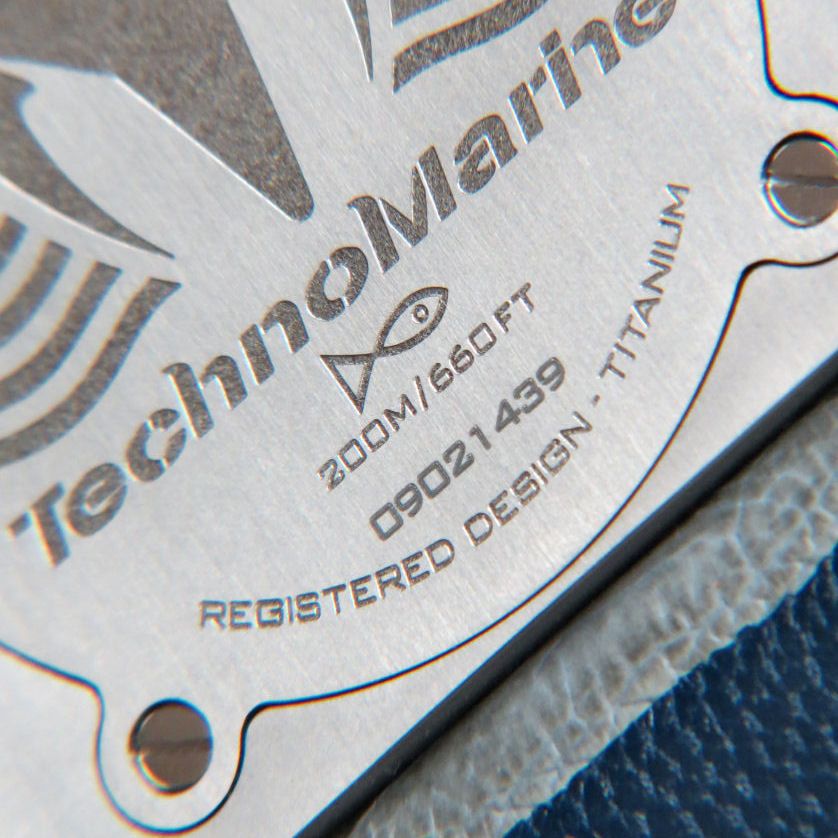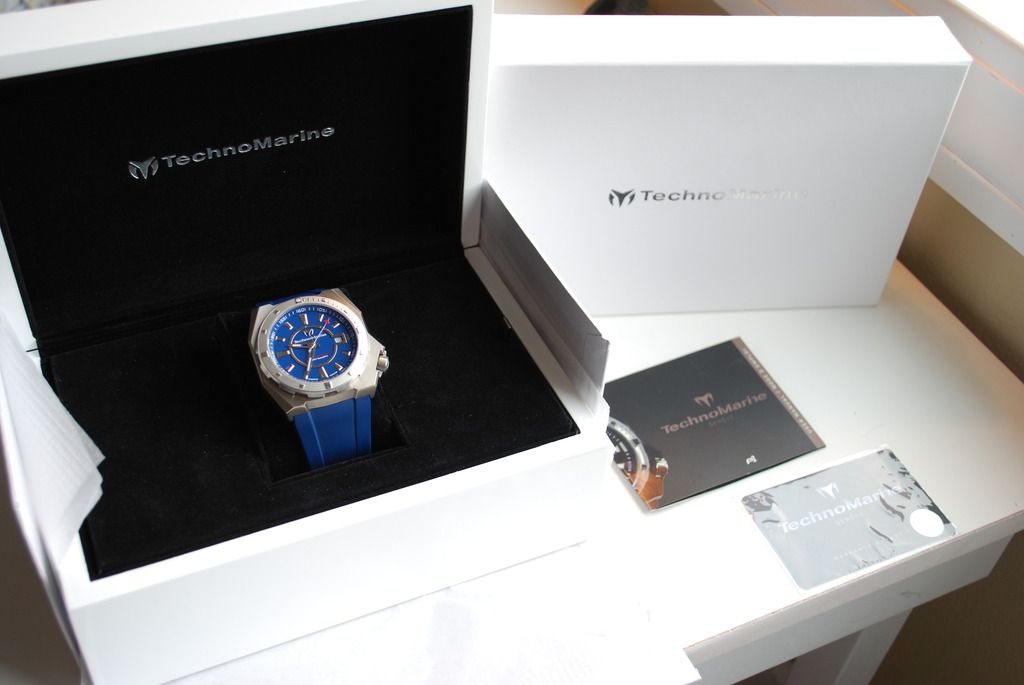 *** Lastly here is the ding as well as I could photograph it ***