Discussion Starter
•
#1
•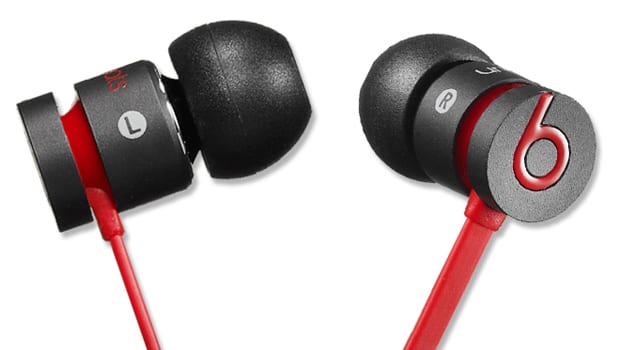 These $39 urBeats headphones are the real thing. Here's why they're so unbelievably cheap.
Some deals really are too good to be true. Others, like our Beats by Dr. Dre Monster urBeats deal, are exactly what they say they are: a deep discount on a great item that's simply too good not to share with our fans.
A few days ago, Tech Editor Mike pitched an idea. We'd found an incredible, no,
mind-blowingly
incredible deal on urBeats earbud headphones at NoMoreRack.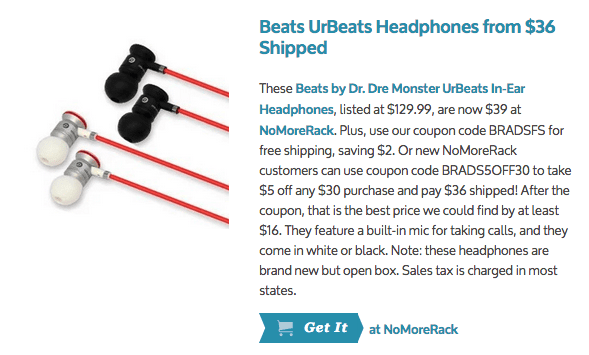 It was so good that he knew that our fans would be suspicious and think they were unauthorized knockoffs. (
Which many of you did.
)
But we knew they weren't fakes.
In fact, we knew the story behind how NoMoreRack came into the inventory and why they were marked down so much. But none of that fit into what we normally put into our deals, so Mike's idea was to tell the story behind the deal here on the blog, where we have more space for details beyond the price and how to get it.
It starts with the Beats-HTC Partnership
Once upon a time, HTC was a majority shareholder in Beats, and they decided to bundle HTC phones, including the HTC One pictured below, with urBeats headphones. Proof of this bundle isn't hard to find. I found this T-Mobile promo from 2013 advertising it pretty clearly: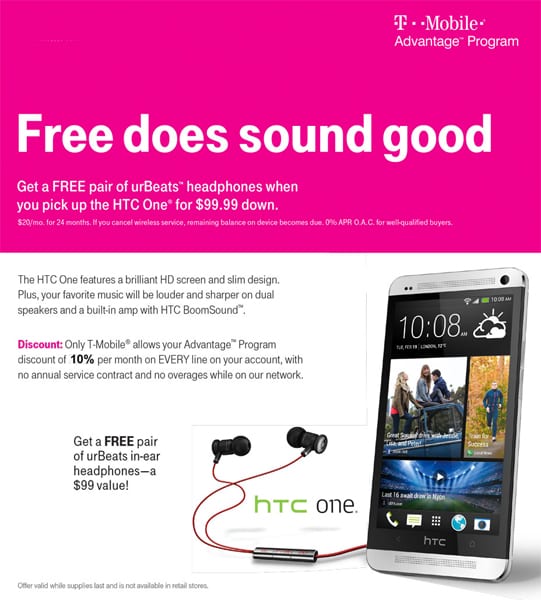 (IMPORTANT: This T-Mobile deal is from 2 years ago. It is not currently available.)
Then HTC and Beats Broke Up.
The Beats venture didn't work out so well as expected, and HTC sold their shares back to Beats (which later was picked up by Apple). When HTC's partnership with Beats ended, there was a surplus of leftover urBeats headphones in HTC's inventory which they couldn't sell. That excess inventory was sold off to third parties like
NoMoreRack
.
It's likely that NoMoreRack bought them from HTC at a substantial discount, which allowed them to sell them at a fairly deep discount in turn. Additionally, Beats will allow NoMoreRack and (merchants like them) to sell well below retail value only if they are removed from the original packaging and sold in an
Open Box manner
- hence why they don't come in the same packaging you'd have if you bought them off a shelf at Best Buy.
The only thing you can't see in the T-Mobile image above is the small white HTC tag attached to the headphones' cord. We've ordered these headphones ourselves and can vouch for the fact that this next photo shows precisely what you get when you order urBeats headphones from NoMoreRack: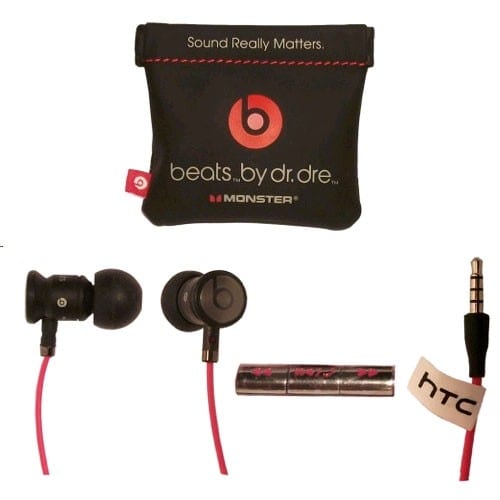 The Brad's Deals Team Finds the Deal!
Like you, we are skeptical when a deal seems too good to be true, and we always conduct extra research when they come up. The Brad's Deals team knew the history of these headphones back-to-front before the deal was posted, and it certainly would not ever be published on our site if anything seemed fishy to us.
We are not in the business of peddling counterfeits, and to do so intentionally would be a huge mistake since it damages the trust you place in us.

Yes, these headphones really are the genuine article, we totally checked it out to make sure before telling you about it. And yeah, we're pretty excited, because it really is a killer deal on something we know our fans love.
Get the deal: Beats UrBeats Headphones from $36 Shipped