rbmbb
- Randy

I really like the Recon 5 and feel it is an extremely well mad timepiece. The lume..the hands..the fit and finish of this watch are amazing for the price point. I like everything but the feel of the strap! It just felt limp and thin...too thin for my tastes.

So...having alot of watches also provides me with alot of strap options. I found that my Reactor's rubber strap would fit the watch, and so voila...I present the following look: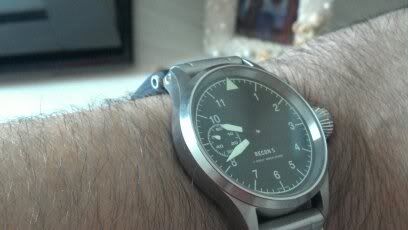 Of course this is subjective...yada..yada..yada..love it or hate it, I just felt like showing you all the new look I gave it.

Hope you enjoy!






____________________
I own 142 watches,but here are my favorites(In no particular order):
Current rotation: Hamilton Frogman,Kazimon Funfhundert,Debaufre Csar,Clerc CXX Scuba,Stuhrling Dynasty Tourbillon,W3 Custom Pilot,Glycine KMU 48,Suunto Core,Prometheus GT Chrono,Glycine SST06,DeepBlue DayniteOps,Stolas Spinnaker,Zixen Trimix Mechanik,Hamilton Pulsomatic,Vintage VDB 2011 Dualtime,Steinhart Aviation Chronograph,BaliHai'Project C,Victorinox Clous de Paris,Magrette Tane:Lord of the Forest,Clerc Icon 8 Double Temps...